Contest helps address distracted driving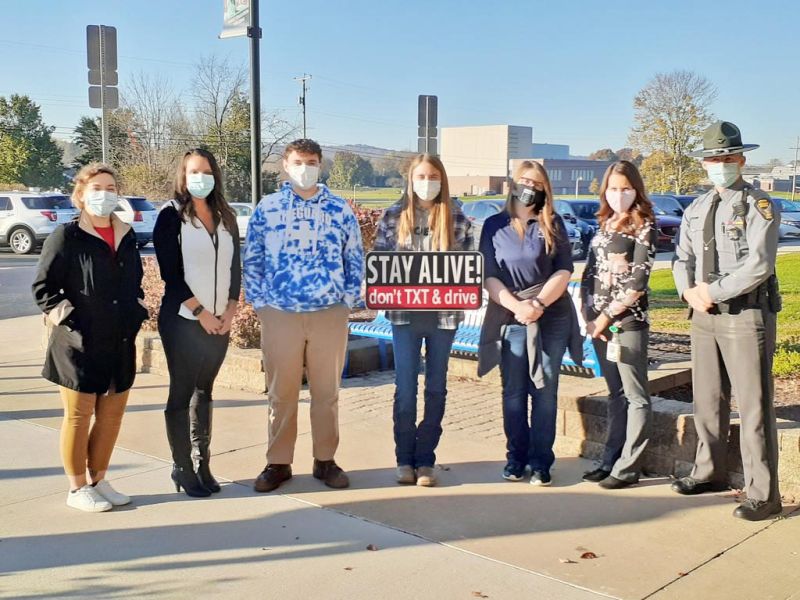 Through the support and partnership of State Farm and local agents Lisa Hoy and Lindsay Adam of State Farm, the Tuscarawas County Health Department's Safe Communities Program issued a challenge to area high school students to create a public service announcement billboard to educate drivers about the dangers of distracted driving.
Students were encouraged to create their own billboard artwork using whatever media they were most comfortable with: graphic design, drawing, painting, photography and more.
Safe Communities received 12 design entries from four local high schools. The participating schools were Buckeye Career Center, Claymont High School, Garaway High School and New Philadelphia High School.
A panel of judges from the Safe Communities Coalition selected two winning entries based on creativity, originality and how well the importance of not driving distracted was communicated.
The final selection process was difficult, and the decision was not a reflection on the quality or merit of the entries but rather a testament to the designs received.
The two winning designs were submitted by students from Buckeye Career Center. Cooper Amelung, Katie Meyer and Katerina Shuba were recognized for designing the winning entries for the Safe Driving Billboard Contest.
Hoy and Adam, Safe Communities representatives Jennifer Demuth and Abigale Raber, and trooper Jesse Hagy from the Ohio State Highway Patrol visited the winners at Buckeye Career Center to present the cash prizes.
The students received $250 per winning entry while their respective program also received $250. The prize money was donated by Hoy and Adam.
The billboard displays were funded through a $5,000 State Farm Safe Driving Grant awarded to the Safe Communities Program at the Tuscarawas County Health Department. The winning billboards will be on display until Jan. 14 at four locations near Buckeye Career Center.
Honorable mention awards went to Emily Bower, Adaera Dingman, Jesse Hays, Katelin Pennington, Kevin Raymundo, Katie Schaar, Hannah Trimble and Blake Warner from Buckeye Career Center; Hayden McDonald and Willard Rainsberg from Claymont High School; Quinten Schwartz and Lexus Troyer from Garaway High School; and Hannah Levengood from New Philadelphia High School.
Each participating high school will receive banners showcasing their students' distracted driving billboard designs. "We want the schools to have the opportunity to show off their students' hard work and talent," said Kelly Snyder, Safe Communities coordinator and health educator at the Tuscarawas County Health Department.
"Distracted driving is not limited to cell phone use. Other passengers, in-vehicle technology, eating or drinking while driving are a few examples of dangerous distractions for teen drivers. Unfortunately, motor-vehicle crashes remain the leading cause of death in teens ages 15-18. That is why we are so passionate about raising awareness about the dangers of distracted driving with our local youth."