Hawks fall to lengthy Pioneers 61-56 in a tough road loss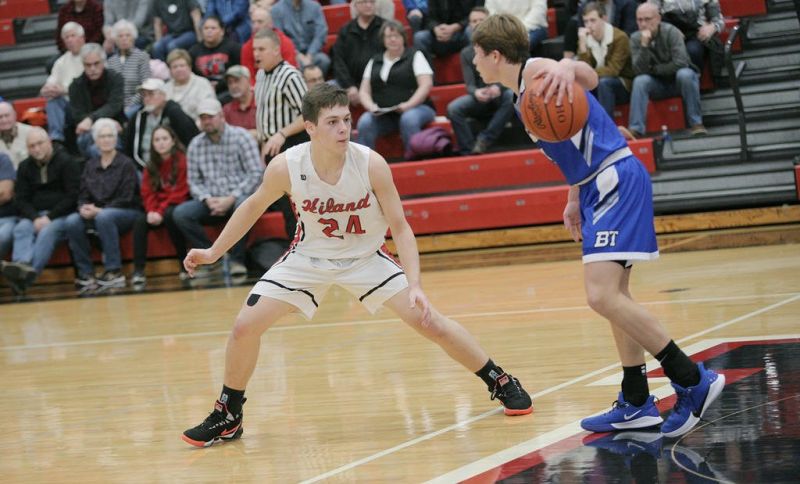 All season long Hiland's boys varsity team has held a height advantage over its opponents, but length proved to be too much for Hiland when it traveled north to face Western Reserve in Hudson.
A surprisingly large contingent of fans made the one hour and 20 minute trek to Hudson on Friday, Jan. 24, only to see their hopes dashed as the Hawks fell to Western Reserve 61-56, marking Hiland's third loss in its last five games.
The determining factor in the outcome of this contest was Western Reserve's great size, normally a Hiland advantage. The Hawks also got a handful from 6-foot, 6-inch nationally ranked sophomore Chris Livingston. With teammates at 6 feet and 6 inches and 6 feet and 5 inches, life was difficult for the Hawks. The trio of bigs intimidated the usually accurate Hawks around the basket and made for a cold shooting night overall from the arc.
Such was not the case for the long-range sharpshooters for the Pioneers. They poured in numerous treys in the first half that put the Hawks at a disadvantage they were unable to overcome. Six first-half 3-pointers thwarted every Hiland attempt to mount a comeback, even though Hiland kept hanging around at every turn.
While the Hawks struggled from the floor, Hunter Sommers slashed his way to 10 second-quarter points, creating scoring opportunities for himself while setting up shots for his teammates, where Ryan Miller added four points off the bench to keep Hiland close at 28-25 at the half.
Hiland came out quickly to start the second half, closed the gap and actually took the lead at 32-31 with two scores inside from Sam Habeger and another from Korrie Hostetler. It was a short-lived lead, but shortly after Hiland got a Will Schlabach jumper and a put-back from Hostetler to knot things up at 35.
Then it became the Chris Livingston Show. At 2:38 in the third quarter, the speedy sharpshooter took over the game. The rangy Livingston countered consecutively with a triple, a full-court driving lay-up and several free throws that pushed the Pioneers' lead back to five at 42-37. That spurt was pivotal, especially in this type of tight-knit game, and his effort proved to be the catalyst for a Pioneer victory.
Throughout the fourth period every time the Hawks took a swing, Western Reserve had an answer, scoring timely baskets each time Hiland surged. With time winding down, Hiland was forced to foul intentionally, but Western Reserve proved deadly from the charity stripe, where they finished the night by making an impressive 17-of-18 free throw shots.
Sommers ended the evening with 18 points while Habeger added 16 and Hostetler pitched in with 12. Miller added six, and Schlabach and Chris Shetler both added a pair to round out Hiland's scoring. Livingston would end the night with a game-high 25 points.
Hiland, Ohio's number-12 team in Div. IV in the most recent poll, fell to 12-4 on the campaign while Western Reserve advanced its record to 6-10. However, that record is deceiving as they have lost to a number of local elites while also hitting the road for travel dates in Pennsylvania, New Jersey and Maryland.
The Hawks headed to Gnadenhutten in hopes of getting back on track and did so by carving out a 57-42 win over the Indian Valley Braves on Tuesday, Jan. 28.
Hiland had to deal with the Braves without Habeger, their top scorer, but overcame that by getting a lot of guys involved on offense.
The Hawks simply inched away from the Braves in this one, leading 10-7 at the end of the first quarter and 25-18 at the intermission. A nice third quarter saw Hiland post 20 points to pull away.
Hiland got 16 points from the red-hot Sommers, who also hauled down five boards and added three steals. Hostetler notched 12 points with a game-high seven rebounds while Schlabach added eight points and Grant Miller and Ryan Miller each added four apiece. The main player to step into Habeger's play was Chris Shetler, who racked up 13 points with three rebounds. Indian Valley was led by Mason Love and Ty Myers, who each scored 13 points.