Love Center serves 500-plus families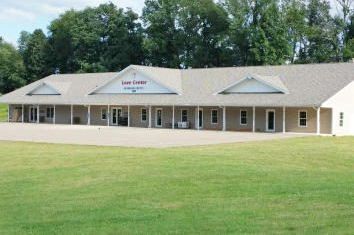 There were a total of 318 different families in March and 257 in April that came to the Love Center during the two-month span. Some families came in more than once, making a grand total of 456 visits in March and 363 in April.
Food from the Akron-Canton Regional Food Bank was 56,634 pounds in March and 36,104 in April, and food donated by businesses, churches and individuals was 8,386 pounds in March and 10,554 in April. Volunteer hours served at the Love Center were 1,211 in March and 904 in April. The Love Center thanks everyone who had a part in this ministry of "friends helping friends."
Food and cash donations from churches and ministires:
March: Berlin Christian Fellowship, Martins Creek Mennonite Church, Presbyterian Church in Millersburg, St John's United Church of Christ in Walnut Creek, St John's Women's Ministry, Union Grove Church of Christ, United Methodist Church and Zion Reformed Church.
April: Berlin Christian Fellowship, Church of God Food Pantry, Community Bible Church, Holmesville Church of Christ, Martins Creek Mennonite Church, St John's Lutheran Ladies Aid, St John's United Church of Christ in Walnut Creek, St John's Women's Ministry and Wolfcreek Baptist Church.
Food and cash donations from businesses, organizations and clubs:
March: Berlin Grande Hotel, Berlin Natural Bakery, Boyd & Wurthmann Restaurant, Charm Family Restaurant, Der Dutchman Restaurant, Encore Hotel, Grace Family Practice, Hershberger Farm & Bakery, Hiland High School, Hillcrest Orchard of Walnut Creek, Holmes County JFS, Holmes-Wayne Electric Foundation, Ivan Yoder Builders, Jitters Coffee House, Kauffman Bakery, Mother Care in Millersburg, Mt Hope Charities, Oak Ridge Cooking, R Crilow Excavating & Transport LLC, Randall Cheese, Twin Springs Farm, West Holmes eLearning, WIC, WKLM Organization and one anonymous.
April: Amish Country Soap, Berlin Natural Bakery, Berlin Comfort Suites, Chance 2 Transport, Charm Harness & Boot Ltd, Coblentz Chocolates, Creative Edge Hair Studio, Denco Marketing, Der Bake Oven, Farmers Charitable Foundation and Farmers Trust Company, Feikert Sand & Gravel Inc., First Federal Community Bank, Hershberger Farm & Bakery, Hillcrest Orchard, Holiday Inn Express in Millersburg, Holmes County Recorder, Kauffman Bakery, Killbuck Savings Bank, Millersburg Rotary Club, Millersburg Tire Service, Mt Hope Country Health Store, ProVia, Sauder Eggs, Stepping Stones Mothers' League, Tate Farms, TC Energy Foundation, Thoughts That Count, Twin Springs Farm and Wilson's County Creations.
Food and cash donations from individuals:
March: Glenda Arnold, Brian Barbey, Ray Casdorph, Lauretta Clark, Jean Cline, Robert Cooper, David and Barbara Crider, Linda Gisinger, Jonathan and Mary Ann Goudy, Elaine Hand, Gail Heraghty, Andrew Hershberger, Rob Hovis, Emma Hummel and crew, Nancy Hummel, Joanne Hunter, Leonard Jorz, Nina Kasner, Neal Malicky, Roy Manson, Sherry Maynard, Wayne McDowell, Jim and Ellen Miller, Mary Miller, Max Miller, Nathan Miller, Terry Morrison, Patricia and Richard Peterson, Robert Pretzeus, Dennis Raber, Dr. John Rehm, Susanna Schlabach, Eleanor Shaver, Leroy and Patricia Shaw, Harold Snyder, Hal and Shannon Stutzman, Calvin Swagler, Jeffrey Tomski, Priscilla Vannatta, Ann Waltman, Earnest Whytsell, Mary Yoder, and 10 anonymous.
April: Dennis and Bonita Agawa, Constance Anderholm DVM, Steve Andrews, Allen Arters, Brian Barbey, Linda Beachy, Blair Bower, Alvin Bowman, Rita Boyd, Mike Butler, Matt Campbell, Ray Casdorph, David Reed Cathcart, Charles Chanay, Paul Coblentz, Sandra Coleman, James Conway OD, Joyce Cotton, David and Barbara Crider, Nancy Dauwalder, Clarence Denlinger, Barbella Drake, Kay Earney, Steven Elliott, David Field, Vince Finney, Stephen Fox, Mike Gerber, Mary Gilmore, Linda Gisinger, Theodore Graebner, Tony Hall, Debra Hartley, Robert Hayes,
Elizabeth Heiser, James Heraghty, Ernest Hershberger, Ivan and Fannie Hershberger, Ruth Hershberger, Kristina Hess, Jane Hochstetler, David Hofmann, Julie Hood, Gary Hoxworth, Donald Huebner, Nancy Hummel, Joanne Hunter, Kenny Jacobs, Leonard Jorz, Nina Kasner, Michael Kline, Raymond Kopack, Robert and Bambi Lloyd, John Lozier, Dona Majka, Margaret Marks, Tim Mast, Beverly McCall, Janet McCombs, Barry Miller, Bryan Miller, James Miller, Jolene Miller, Keith and Gloria Miller, Leon Miller, Marlene Miller, Maynard Miller, Robert Miller, Steven D. Miller, Wayne Miller, Joanne Morrison, Terry Morrison, Harold and Sue Neuenschwander, Carl and Janice Novak, Howard Nussbaum, Terry Parrish, Carl Patterson, Barbara Porteus, Dr. John Rehm,
Thomas and Susan Rochelle, Nat and Beth Ruttencutter, Dennis and Kathy Schlabach, Toni Schmitt, Ricky Seymour, Eric Shaver DVM, Merle Shetler, David Shrock, Brent Smith, Harold Snyder, Atlee Sommers, Richard Summers, Michael Taylor, Amanda Troyer, John Vaccariello, Sue Weaver, Carol Wheeler, Conrad Yoder, Ervin Yoder, Mahlon Yoder, James Zeno, Sr. and nine anonymous.
Cash contributions for the general fund can be sent to P.O. Box 31, Millersburg, OH 44654, and food donations can be dropped off at the Love Center, 1291 Massillon Road, Suite A, Millersburg, any Monday, Wednesday or Friday.