Nearly 300 families visited Love Center in July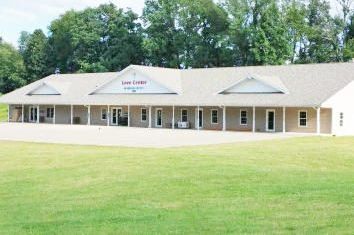 There were 284 different families that came to the Love Center during the month of July. Some families came in more than once, making a grand total of 376 visits. Food from the Akron-Canton Regional Food Bank was 32,912 pounds, and food donated by businesses, churches and individuals was 9,540 pounds. Volunteer hours served at the Love Center totaled 825, and the center thanks everyone who had a part in the ministry.
Food and cash donations from churches and ministries included Bethel Fellowship Church, Church of God Food Pantry, Faith Lutheran Church, Gateway Fellowship, Martins Creek Mennonite Church, Millersburg Baptist Church VBS, Millersburg Christian Church, Pleasant View Church, St. John's Church of Walnut Creek, St. John's Women's Ministry in Millersburg and St. Peter's Catholic Church in Millersburg.
Food and cash donations from businesses, organizations and clubs included American Endowment Foundation on behalf of Nicholas Mullet, Berlin Natural Bakery, D & M Harvest Market, Dutch Cupboard, Dutchman Hospitality Group, Hershberger Farm & Bakery, Hillcrest Orchard, Jitter's Coffee House, Kauffman Bakery, Keim Lumber, Lehman's Hardware Inc., Life Line Screening of America, Mac Oil Field Service Inc., Millersburg Tire Service Inc., Ohio Mutual Insurance Group, ProVia, Renaissance Charitable Foundation on behalf of Duane and Gwen Miller, The Commercial & Savings Bank, Twin Springs Farm, Walnut Valley Log Homes LLC, and Weaver Produce.
Food and cash donations from individuals included Robert Anthony, Glenda Arnold, Joseph and Dora Beauchamp, James and Joyce Beechy, Jerry and Karen Brown, Ray Casdorph, Roger and Patricia Dunn, Kay Earney, Elizabeth Findley, Vince Finney, Ann Fleming, Lisa Fousch, Sharon Frank, Dawn Giaugue, Jonathan and Mary Ann Goudy, Debora Hampton, Tom and Pat Hanna, Pastor Larry and Billi Hasemeyer, Carol Heim, Marvin Hershberger, Robert Hershberger, Ruth Hershberger, Kristina Hess, Norma Hoxsworth, Joanne Hunter, Leonard Jorz, Arden Kauffman, Kevin and Lisa Kauffman, Michael and Teslie Kinsey, Joseph Kowalski,
Wayne Leininger, Roy Manson, Margaret Marks, Naomi Mast, Tim Mast, Michael and Margaret Maxson, Kevin and Kiley McAllister, Janet McCombs, Byron Mellor, Anthony Miller, Christa Miller, David and Mary Mohr, Betty Mullet, Harold and Sue Neuenschwander, Carl and Janice Novak, Rebecca Pickett, John and Marilyn Rehm, Rosanne Rinfret, Garrett Roach, Mike Robinson, Nat and Beth Ruttencutter, Jeff Schonauer, Lynne Seikel, Harold Snyder, Bob and Bev Starner, Molly Starner, Bonnie Swartzentruber, Kelly Swartzentruber, Mark and Linda Wardell, Katharyn Wheeler, Laura Yoder, Marlyce Yoder, and 12 anonymous.
Cash contributions for the general fund can be sent to P.O. Box 31, Millersburg, OH 44654, and food donations can be dropped off at the Love Center at 1291 Massillon Road, Suite A, Millersburg, any Monday, Wednesday or Friday.