New memory care unit opens at Glendora in Wooster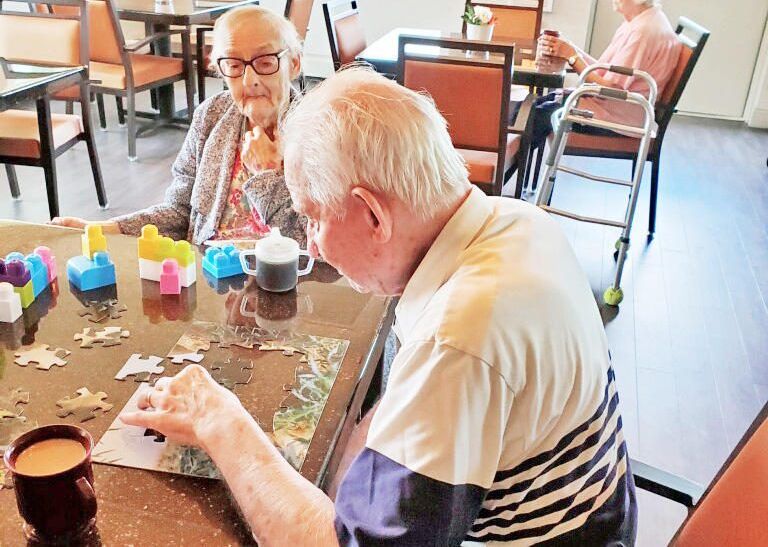 A man and woman sit at a table working together on a puzzle. Another sits with her morning coffee, gazing out the window at a horse in a nearby meadow. Two other residents sit together on a couch, watching "Good Morning America" and chatting.
They are residents in the new memory care unit at Glendora Health Care in Wooster.
"We're very proud and excited to be able to offer this kind of advanced memory care to our residents," said Megan Arney, regional director of business and development for Progressive Quality Care, the parent company of Glendora.
According to the Alzheimer's Association, an estimated 5.8 million Americans of all ages are living with Alzheimer's dementia. One in 10 people age 65 and older has Alzheimer's dementia, and almost two-thirds are women.
The Glendora facility is owned and operated by the Flank family, which also operates the Avenue Care and Rehabilitation Center in Wooster. Glendora is one of the company's 13 skilled nursing and assisted living facilities. Besides the memory care unit, Glendora offers long-term care placement, skilled nursing and respite stays.
The facility has become half-filled since its opening in May and features private and semi-private rooms where residents receive state-of-the-art memory care. The rooms are specially decorated for cognitively impaired patients, and there is a special group room where the residents gather for activities.
"Our program determines the best methods to maintain patients' safety and independence," Arney said. "We try very hard to make sure to provide activities that the person with dementia finds stimulating and meaningful."
The memory care unit is staffed by a specially trained STNA at all times, with all other levels of skilled nursing care being available on a continual basis, in addition to the specialized memory care. Paul Nielson, M.D., is the medical director. The unit has safety measures to ensure residents' physical safety at all times.
"People with dementia and Alzheimer's tend to want to wander, so that's something we take incredibly seriously," Arney said. "Our team is upbeat and provides very personal care to each resident. For example, they love having their nails painted and other pampering. They're so sweet, and they love to reminisce."
Arney said there are certain criteria that determine if memory care is best for a patient.
These would include changes in new or onset of cognition loss, which can include but is not limited to memory loss, problem-solving difficulties, loss of or changes to executive functioning, changes or loss of attention span, changes in or new onset of worsening impulse control and self-monitoring behaviors, and difficulty in or worsening of ability to sequence through tasks. Other changes to look for include mobility loss, communication loss, negative behaviors or resisting self care.
Arney said, "Each person with dementia is unique, and our team of therapists works directly with all providers and staff to create an individual plan to meet his or her needs."
Therapy for people with dementia includes physical, occupational and speech therapy, according to Arney.
"The type of services depends on the needs of the individuals, their goals, their family's or caregiver's goals, and their abilities," she said. "Many people with dementia can do tasks on their own or only require a little assistance or guidance. The role of the therapist is to determine how to maximize their function while maintaining their safety."
CogWorks is an interdisciplinary team in the program overview approach to enhance meaningful participation in life activities of those individuals with cognitive deficits as a result of illness or injuries. Speech language pathologists, occupational therapists and physical therapists work alongside physicians, nurses, activities personnel, families and the client to develop and implement a patient-specific program to meet the individual's unique needs.
"Physical therapy helps maintain safety and independence in walking, transfers, bed mobility and other forms of mobility. It includes assessment for the management of pain, changes in joints' range of motion, balance, coordination and strength," Arney said.
Occupational therapy, she said, determines the best method and equipment to safely complete daily tasks and routines and participate in activities the person with dementia finds meaningful. It can assess and provide for treatment in the management of pain, changes in joints' range of motion, balance, coordination and strength.
Arney said speech therapy determines the best method of communication to ensure the individual's needs are known and met. Diet consistency promotes a safe and effective swallow. It determines the best approach in connection with other team members to promote independence in daily tasks and mobility that are impacted by an individual's thinking skills.
It's important to understand not all therapy is meant to restore someone's lost function, Arney said.
"Therapists assess the environment and make recommendations on how the environment can change to promote function and reduce caregiver burden. To put it simply, therapists can provide tips and tricks that help maintain a person's functional abilities for as long as possible," Arney said.
Glendora, located at 1552 N. Honeytown Road, also offers family support and educational services for those with a relative in memory care.
For more information call 330-264-0912 or visit www.glendoracarecenter.com.