Nurse practitioners honored at hospice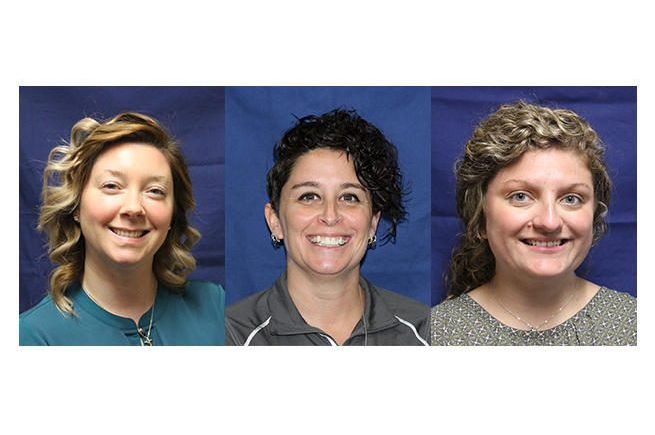 Community Hospice celebrated Certified Nurses Day on March 19.
Hospice has three certified nurse practitioners: Lindsay Jackson, Ryann Wells and Taylor Moyer. In addition to becoming registered nurses, they have obtained a master's degree and additional certification. This allows them to diagnose, prescribe and treat illnesses for their patients in close conjunction with the primary physicians and the rest of the hospice care team.
Nurse practitioners focus on keeping patients comfortable throughout their end-of-life process. They possess a strong sense of empathy to respect patients' wishes and needs and are expected to help families cope with end-of-life situations. Treatment plans are multi-faceted and include physical, mental and spiritual interventions.
"Nurse practitioners are a vital part of our palliative care program," said Julie Smith, director of quality and palliative care at Community Hospice. "For patients facing serious and chronic illnesses, our nurse practitioners provide the compassion and medical expertise to guide discussions on goals of care and manage symptoms as the disease progresses."
Wells switched from a floor nurse to a nurse practitioner with hospice.
"When I was 18, my aunt died at the age of 40 from breast cancer. It was one of the most challenging days of my life," Wells said. "My grandfather died the same week, and the rest of my grandparents passed away about every three months after that. As a floor nurse, I would constantly see these patients who didn't want to be there. The hustle of floor nursing was unfortunately not satisfying to me. I needed a deeper connection with patients.
"When I was doing my BSN in 2011, I called Community Hospice for a brief phone interview for a paper. I wish I could remember who I talked to, but they sold me then. In 2012 I took a PRN RN job with Community Hospice, became a nurse practitioner in 2015 and the rest is history. I really can't see myself in any other specialty."
At Community Hospice, nurse practitioners are instrumental in determining a patient's continuous need for hospice services. Because Medicare requires reassessment after a patient has been on care for six months, nurse practitioners work hard to provide the detailed information needed to continue hospice care. During reassessments nurse practitioners look for signs of progression of the disease and terminal illness.
Along with assessing medical conditions and managing symptoms to maintain quality of life, nurse practitioners provide psycho-social support and advocate for their patients' rights and wishes.
"One of my biggest success stories with a recent hospice patient was earning her trust," Moyer said. "This woman was independent, stoic and she wanted to face her cancer her way. She did not want to rely on western medicine, for she preferred more natural holistic treatments. Our care team respected her wishes, boundaries and independence. After months of caring for her, she began to open up more about her thoughts, feelings and needs. She allowed herself to be vulnerable, which allowed us to provide the help she grew to need.
"She began to call us her angels, her family. She said we helped her out of some dark times and provided her with feelings of peace, safety and comfort — feelings she claims she has never felt in her entire life. With that rapport and trust built, her last days were ultimately how she wished for them to be: surrounded by love, family and peace. She really did go out her own way."
Hospice nurse practitioners hold the responsibility of knowing their patients are approaching the end of life. "Every day is a success story," Jackson said. "All the little things we do as a team add up and positively impact lives. Meeting people where they are, at their most vulnerable, is such a humbling yet rewarding experience, not only for (me), but also for our patients. This is such a unique career path that I am honored to be on."
Jackson joined Community Hospice after watching her mother battle stage IV metastatic cancer. "She's the reason why I am so passionate about palliative care," Jackson said. "Symptom management is the foundation of what we do and is vitally important to any chronic illness, especially at the end of life."
"Our CNPs help make our hospice team complete," said medical director of Community Hospice, Dr. Lori Keuhne. "Their ability to spend time getting to know our patients and each patient's goals and situation allows our whole team to better meet each patient's and family's needs. Our CNPs are hardworking and kind souls. Community Hospice is much richer for their work here with us."