Nussbaum speaks at Orr Chamber Wellness Series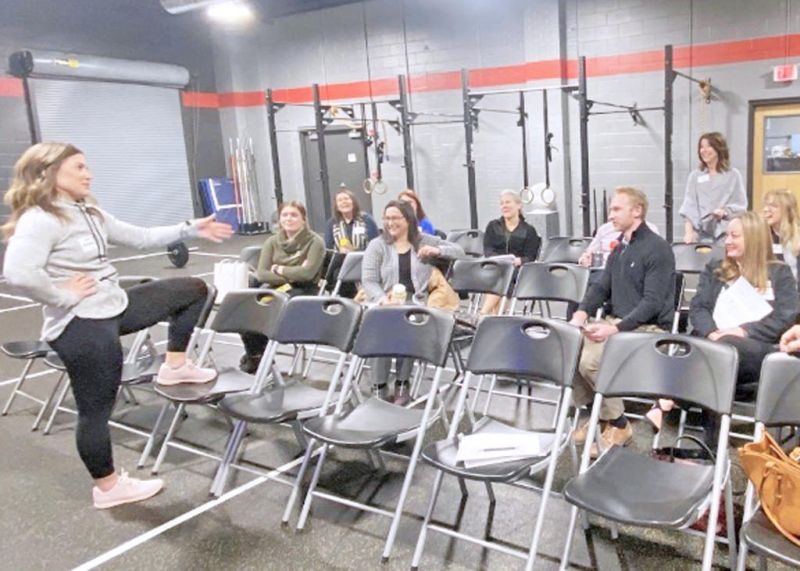 The Orrville Area Chamber held its second Chamber Wellness Series on Feb. 1 as Lexi Nussbaum, manager of Jarrett Fitness Facilities, discussed the importance of wellness and highlighted done-for-you tips to incorporate into busy lifestyles.
Nussbaum elaborated on the concept of planning meals.
"We prepare for meetings and plan for vacations. Why wouldn't we spend a little time planning the food we have to eat? We all eat. And with a little forethought, you can really impact your health and feel incredibly better," Nussbaum said.
She shared her meal-planning matrix, which includes three styles of preparing food. She further explained the science behind macronutrients.
"Many people think carbohydrates are bad for you, but in reality your body needs them to survive," Nussbaum said. "Fats help to absorb vitamins and help with hormone production while proteins assist in building muscle and keep you feeling full."
Nussbaum said not to drink coffee on an empty stomach and that a well-balanced breakfast should be consumed 30-60 minutes after waking. This supports your cortisol levels throughout the day. Cortisol is a steroid hormone that helps regulate your body's response to stress.
"Meal planning sets you up for success," Nussbaum said. "It offers ease of mind and flexibility throughout your week."
Nussbaum went on to explain each variation of her meal-planning matrix, one being the "mix and match" approach.
"Instead of over complicating your grocery list, think along the lines of two protein sources, two carbs sources, two fruit options, three vegetable options and two fun snack options," she said. "For example, if you select chicken and pork as your protein sources, you can use them to help create balanced meals throughout the week — chicken, rice and green beans for one meal and barbecued chicken on a bun with raw carrots and hummus for another."
Nussbaum reviewed reading nutrition labels and helped attendees understand how to make better choices at the grocery store. So often the choices are side by side, and by "training your brain," as Nussbaum termed it, you can have the tools in your toolbox to make a more advantageous decision for you and your family's health.
She ended the session with tips for exercises that support functional fitness such as air squats and object deadlifts — all movements you already do daily. She said practicing and working on functionality through movements is key to maintaining independence as people age.
"Isn't remaining independent for as long as possible what we want?" Nussbaum said.
The Chamber Wellness Series offers activities every month including workshops, NetWalks and more. For more information and to register, visit www.orrvillechamber.com.