Pomerene nurses honored with DAISY awards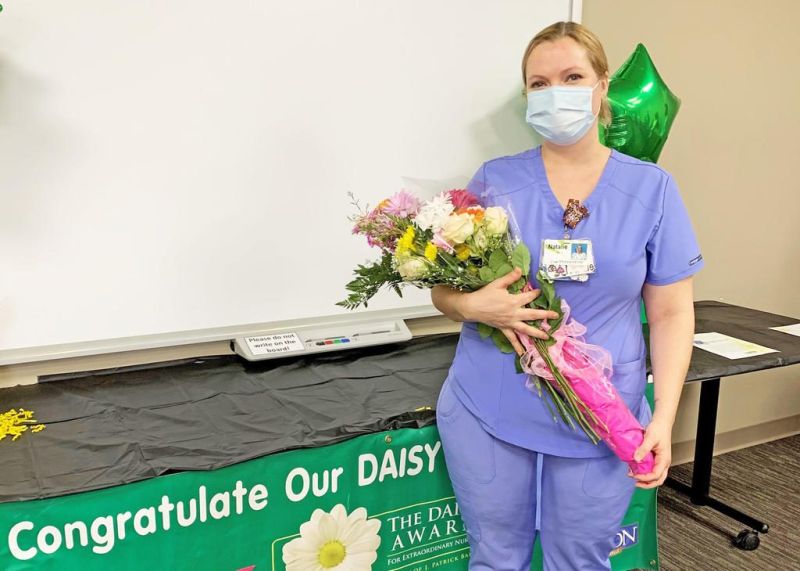 Recently, Pomerene Hospital recognized two of its nurses.
Kristi Schrock and Natalie Kolp of Pomerene were both recognized as DAISY Award recipients.
The DAISY Foundation is a not-for-profit organization, established in memory of J. Patrick Barnes.
Barnes died at the age of 33 in late 1999 from complications of idiopathic thrombocytopenic purpura, a little known but not uncommon auto-immune disease. DAISY is an acronym for diseases attacking the immune system. The care Barnes and his family received from nurses while he was ill inspired the creation of the DAISY Award for Extraordinary Nurses, an evidenced-based means of providing recognition and thanking nurses for making a difference in the lives of their patients and patient families.
Schrock began her career on Pomerene's medical surgical unit on Sept. 20, 2016, as a unit assistant while she attended nursing school at Malone University. She received her nursing degree in 2017 and remained as a registered nurse on the medical surgical unit while cross-training in the hospital's special care unit. Currently, she is serving as chair of the unit council.
Kolp received her nursing degree at North Central State in 2016 and worked as an aid in the hospice unit before coming to Pomerene. On Nov. 10, 2016, she began her career at Pomerene as a float and now works full-time in the emergency department.
Jason Justus, CEO of Pomerene Hospital, shared his excitement for both recipients. "Pomerene is very proud to be a proponent of the DAISY Award and what it means within nursing," Justus said. "Even more so, Pomerene is excited to have two of our own nurses recognized for their excellence in nursing care, as well as their personal compassion toward their patients and the families we serve. Kristi and Natalie are very deserving and represent the very best in nursing care at Pomerene."
"The DAISY Award provides a way for a patient, family, visitor, staff member or anyone in the hospital setting to recognize a nurse for their extraordinary care," said Fran Lauriha, CNO of Pomerene Hospital. "Over the years I have worked with so many nurses who always think that they are 'just doing my job;' however, their efforts leave a long-standing impression on someone they have cared for. This award empowers our nurses at Pomerene and lets them know that their efforts do not go unnoticed or unappreciated. We are blessed to have nurses like Kristi and Natalie provide such compassionate care to our patients and families."
In addition to the DAISY Award for Extraordinary Nurses, the foundation expressed gratitude to the nursing profession internationally in over 4,650 healthcare facilities and schools of nursing with recognition of direct care nurses, nurse-led teams, nurse leaders, nursing faculty, nursing students, lifetime achievement in nursing and through the J. Patrick Barnes Grants for Nursing Research and Evidence-Based Practice Projects and Medical Mission Grants.
More information is available at www.daisyfoundation.org.