Schafer looks ahead to the future of H15 Ministries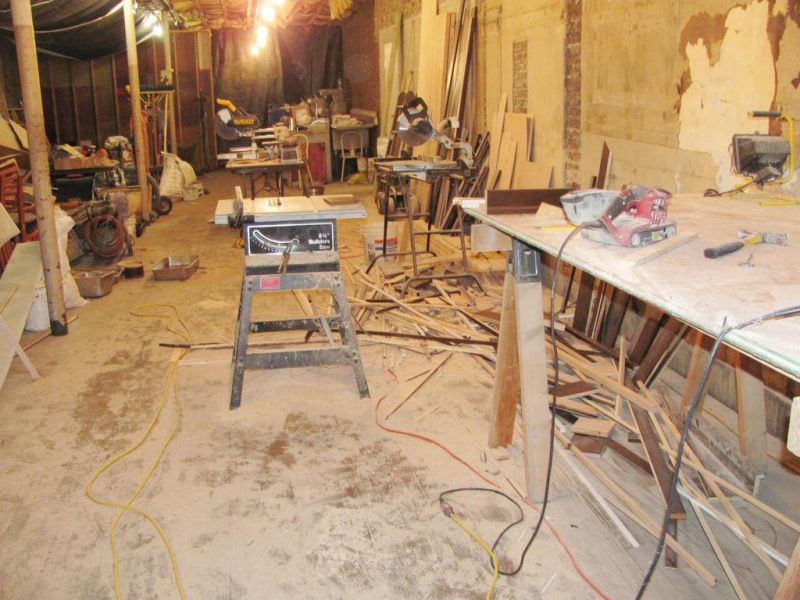 Andy Schafer sat in his office at H15 Ministries in the loft perched high above the main floor of the youth ministry building. As he spoke about his year-end review of what took place, he marveled he was able to sit and work in a place that had one year ago been a moldy, musty, forlorn area.
"This has been an interesting year for us," Schafer said. "It may just be a folding table and my laptop, but it's my office, and it's ready to use. I'm excited because as I glance up over my laptop screen, my gaze falls on all the amazing things God has been doing."
While the loft area may not seem that important, Schafer said it has plenty of meaning, especially to his wife.
"Tammy is really excited because I am going to start getting my ministry stuff moved here and out of our kitchen and living room," Schafer said. "All that needs done is to clean, and then I'll start setting up my office properly. I'm looking forward to it."
Schafer's labor of love begins with himself, Tammy and his children, the board of H15 Ministries, and the many volunteers and donors who have brought the ministry to the doorstep of opening.
The beginning of 2018 saw the youth center in various forms of chaos. Wallpaper hung loosely from the walls, the ceiling was a mess, the roof leaked something fierce and there was a long way to go before any type of ministry could take place.
However, despite the chaos, dirt and grime, ministry of a different kind was taking place as people caught the vision and made improvements possible.
With no sink and a temporary toilet, the H15 Ministries project took gigantic steps in 2018 as Schafer shared some of the improvements they experienced over the year.
On Feb. 3 a crew laid the concrete block that Holmes Ready Mix donated to close up the openings between the first and second buildings.
On March 19 a local plumber got the hot water tank and utility sink installed, and on April 24 the first fundraising banquet took place at Farmstead Restaurant, raising more than $2,000.
June 30 saw the very last piece of drywall hung, and on July 20 the center's new website went live. By July 28 the very last of the drywall finishing was completed and the entire metal ceiling was finished.
"More than 300 hours went into scraping, sealing, priming and painting that ceiling," Schafer said.
On Sept. 31 the first bathroom was 100 percent completed, making it the first room to be finished, and on Oct. 20 they began interviewing volunteers to staff the center. A few days later the brick work on the face of phase two was completed, and on Nov. 17 the logo and final coat of finish was added to the new hardwood floor in the main room of the center.
Those were some of the highlights, and Schafer said there were so many smaller yet significant achievements that he in no way could begin to list them all.
"There are many other things that have happened and lots of big and small ways God has been working," Schafer said. "There have been a couple of disappointments as well, such as finding out that our big grant application was being turned down just because our area is too rural. However, even in the disappointments God has been at work. It has been exciting to realize that no matter how big the problem is, God is bigger and he has a plan."
Schafer said donations have continued to come in for the fundraising campaign for phase two, and he noted they have now raised just over $11,600. While it isn't the grant they had hoped for that would generate the base for the ongoing improvements, it is a move in the right direction.
"Now that the brick work is taken care of, we will start building up to being able to get the new roof framed out for the second floor, but we still have a long way to go," Schafer said.
The interview process for volunteers is continuing, and Schafer said they will gladly welcome those with a heart for serving youth.
The big event coming to the center at the end of January will be the Prom Dress Fashion Show. Schafer said they are currently seeking girls who would like to be models for the event.
"It is a lot of fun, so if you know anyone who might be interested, let us know," Schafer said.
As the center moves forward toward opening day, the commitment of all of those involved in big ways and small has made a glimmer of hope in Schafer's eyes a bright shining star on the horizon that grows nearer each day.
"This has been an amazing year," Schafer said, summing up 2018. "Things haven't gone according to my plan, but I know God is in control, and I get to see him working. This coming year is going to be awesome, and I can't wait to share it."
H15 Ministries is located at 34 E. Jackson St. in Millersburg. You can visit H15 Ministries on Facebook, view the website at www.h15ministries.org, email Schafer at director@h15ministries.com or call him at 330-231-7147.