The Ohio Haiti Benefit Auction brings a bit of Haiti to the region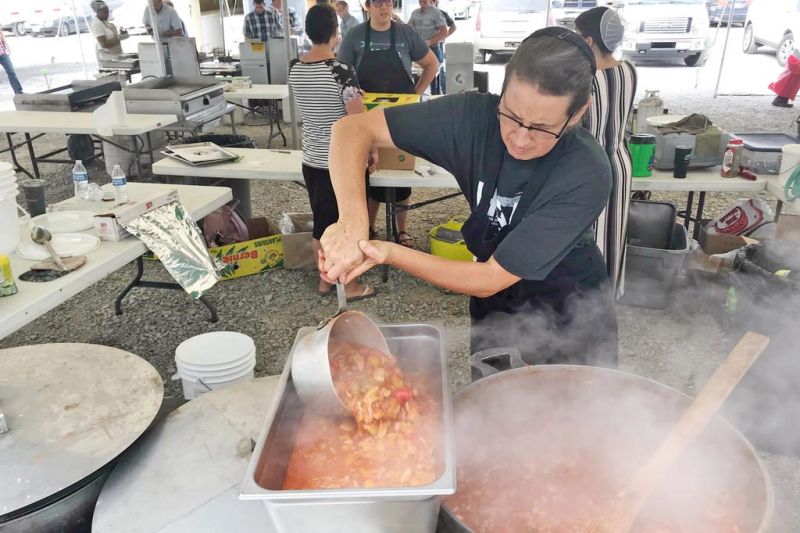 The 33rd annual Ohio Haiti Benefit Auction at the Mt. Hope Auction event center took place Aug. 30-31.
The sing-song cadence of the auctioneer's banter rang throughout the facility. Kids found plenty of things to do as adults bid on quilts, furniture, buggies, play sets, a large garage, a cabin and many other items.
The lines for chicken barbecue dinners and authentic rice and beans were lengthy, and people stopped by to talk to representatives from 17 different Haitian outreach ministry organizations.
But amidst all of the activities and food, there was a common thread. Everyone was there to support the people of Haiti.
"Friday night was great. Saturday has been unbelievable, and there are a lot of people here who want to make sure we take care of those in Haiti who are facing hardships," said Daniel Miller, Ohio Haiti Benefit Auction president. "It is so wonderful to see so many people come together with one purpose in mind like this. It goes to show that people still care about others."
Raising between $500,000-$600,000 annually, the Ohio Haiti Benefit Auction joins six other such Haiti auctions nationwide to provide the funds that help the 17 missions and others provide much-needed support in terms of health, education, housing, food and water, and faith to the people of Haiti.
"All of these organizations focus on providing for immediate needs for the people of Haiti with the ultimate goal being bringing the Word of God to them and bringing them to faith," Miller said.
Miller said the 11 board members and many volunteer community members make the Ohio Haiti Benefit Auction a success.
The funds raised will be put in with the funds from the other six auctions, and an executive board will decide how the funds will be distributed.
That becomes vitally important for the many Haiti mission organizations like International Faith Missions, which provides medical treatment, a children's home, education, faith outreach, food and many other types of aid in Haiti.
One of the larger organizations there, Merv Sommers, founder of IFM since day one 39 years ago, said the benefits are crucial to their ongoing success as well as the many other missions. He said they receive approximately 40 percent of their funding from these benefits. He said being able to set up tables, share their vision and converse with visitors at these types of events is meaningful and important.
"While we get 40 percent of our funding from these auctions, the rest comes from individuals and businesses and churches who support us, so these kinds of opportunities become important, not just as a way to share our story, but as a way for us to convey the importance of what we are doing and the need that is there," Sommers said.
Sommers said being able to talk to people from other Haiti-based organizations when they gather together in the missions area at the auction is enjoyable because they are able to share what they are doing and get ideas from one another. He said in the early days of mission work in Haiti, it was critical to connect with other missions in the field in Haiti.
Of the biggest change in the way missions work, Sommers said in the early days nearly four decades ago, each mission would send a family to do the work. Today each mission has teams, educational and medical aid, and many other avenues to provide aid.
"Back in those days we depended on each other a lot, but today we have multiple families within each mission, so that has changed because now we have fellowship among ourselves," Sommers said. "Back in the early days we would get together with other missions and have Bible studies and talk about how we were handling problems we were facing."
Like many missionaries, Sommers said he felt a calling from God to serve somewhere, although he wasn't sure where. His path led to Haiti, and he has been there ever since, along with part of the mission serving in the Dominican Republic. He said their medical team alone sees between 175 and 200 people each day in Haiti as the team of seven Haitian doctors works with the team.
"It has been amazing to see what God can do through his people," Sommers said. "Whether it is people serving in Haiti or giving to the cause in events like this, we are all an important part of the process of serving others."
While the auction roared along inside the event center, outside was the aroma of barbecued chicken and rice and beans.
The authentic Haitian rice and beans, served with plantain and coleslaw, has been a staple of this event for decades. Six years ago Mike and Joy Yutzy and their daughter Michelle took over the duties of preparing this dish.
Over the years several Haitian nationals have been instrumental in preparing the beans and rice, and this year it was Madame Guyteau who was representing her country through food.
Asked about the recipe, Joy Yutzy said there was 150 pounds of chicken, 200 pounds of rice, cabbage, onions, carrots, garlic, peppers, chicken broth, tomato paste, spices and pinto beans.
"Having an exact recipe is not the Haitian way," she said. "They just do it so many times that they know what to do, and that is kind of where we are with it now."
It is all part of creating an aura around the center that brings Haiti right to the people of Amish Country and those who visit. Most importantly it all comes together in the name of Christ to bring hope, aid and support to the nation of Haiti.