Tuscarawas County enters Level 3 as virus spreads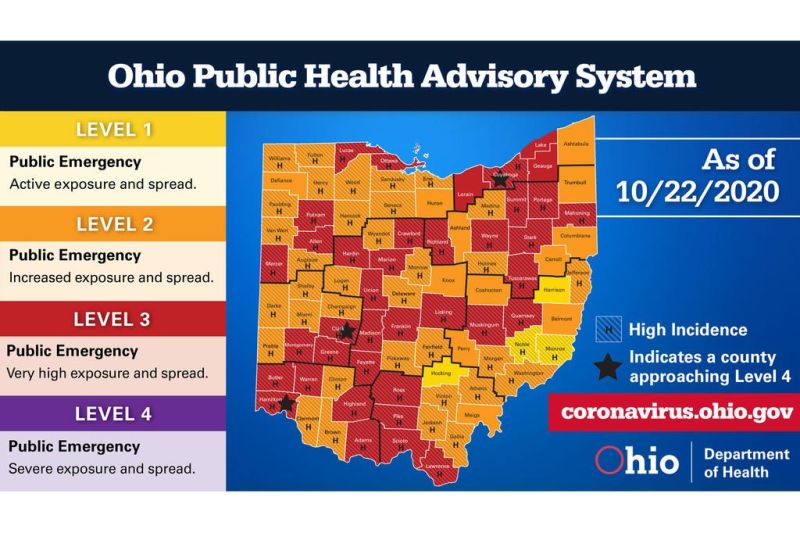 During a virtual conference with media held Thursday, Oct. 22 at 3:30 p.m. leaders of both the New Philadelphia Health Department and the Tuscarawas County Health Department spoke about the current number of cases in Tuscarawas County, which have risen sharply in recent days.
"We are now at a risk level three alert," said County Health Commissioner Katie Seward. "Knowing what we have been seeing in public health in the last several days, we felt it was important to provide a situational update for the community."
Seward offered a map showing the large number of counties in Ohio which are shaded red, indicating a risk level three status for COVID-19 infections. "You can see the red designation is becoming more widespread across Ohio," she said. "This is the first time Tuscarawas County has entered into level three risk designation. That essentially means that there is very high risk of exposure in our County. Residents are encouraged to limit activities as much as possible, and to follow all current health orders. The majority of cases are due to community spread. Cases are not occurring all in one place, they are spread throughout the community, with only 20 precent representing those in long term care facilities. The remaining 80 percent is community spread."
The term "community spread" refers to those who are infected and spreading the virus to others without knowing how or where they themselves may have been exposed.
Seward shared a graph indicating the rate of infection per 1,000 residents. "Measuring the rate of infections helps us compare apples to apples. Five cases in a very rural part of the county versus five cases in a more densely populated area like the City of New Philadelphia are very different things."
"The main thing," said Seward, "is that we are seeing the rate of infections continue to increase and that is very concerning for us." The graph, showing cases back to the first recorded COVID-19 infection in March, takes a sharp spike, higher than the rest of the time frame, within the last week. The current number of active cases in Tuscarawas County as of Oct. 22 is over 200, a high point.
"Again," Seward said, "we are encouraging people to do all those things we keep talking about, like hand washing, using hand sanitizer and staying away from others as much as you can. If you're sick, stay home. We are coming into allergy season so we are seeing cases where infected people thought they had a sinus infection and went to work anyway. We really want people to err on the side of caution right now."
"Of course, wearing a mask is very important. If I wear my mask I protect others from getting sick. If I'm a carrier of COVID I'm not able to spread it as easily if I have my mask on," Seward said.
New Philadelphia City Health Department Commissioner Vickie Ionno said, "We want to say how much we appreciate the community's efforts to try and slow the spread [of COVID-19]. We might all be feeling some kind of what they're calling 'pandemic fatigue,' but we can't give up the fight. We have to continue to do all we can to reduce the spread and change the path that we're on. We only have three COVID tools in our toolbox that we all have to use until there's a vaccine. We have to use our masks, wash our hands, and maintain social distancing. If we all work together, we can reduce the number of cases, and the number of deaths."
Seward said in terms of local schools and events, school districts submitted plans for reopening and offering extracurricular activities and, while her office has no oversight capacity in the case of schools, many districts included contingency plans "in the case where we went to a level three alert." Seward said individual school districts may or may not change plans going forward based on the current alert status in the county.
Seward said she was unable to say whether the current spike in cases is "The" expected wave forecast earlier in the year. "We are entering flu season, with the risk of co-infections complicating cases. We haven't seen that yet, and I am just not sure what that will look like. Only time will tell whether this is 'The' wave or not."
Ionno said residents are encouraged to "get their flu shot now, to reduce the likelihood of co-infections that would complicate things if you were to contact COVID-19."
Seward said the upcoming election on Nov. 3 should see ample opportunities for people to vote regardless of the current alert level. "We know that the county Board of Elections has been training staff carefully to prepare for election day, and we have had conversations at the health department about what might happen if a poll worker were to get sick just prior to election day. But we have seen the large number of people waiting in line at the courthouse to vote early, and people are encouraged to send in absentee ballots in plenty of time. We have provisions in place to allow anyone who is hospitalized to vote if they want to. It's important to exercise your right to vote and we encourage residents to do so as safely as possible."
Ionno said voters should expect longer wait times at the polls due to all the precautions in place. "That will slow things down and you should prepare for that."
"What I want people to remember is that, while we argue over data, and about where data is coming from and if it's duplicated and all that," said Seward, "this is about people. It's about people who are getting sick, with family members who are suffering by themselves in isolation. Let's be compassionate to one another. People in our community have gotten sick. People we know have died. Let's show compassion and avoid the arguments. At the end of the day, it's about our community and our friends and neighbors. We want everyone to be healthy and well. The recommendations we make about masks and washing and all that, those things affect us too. It's not about control. We just want the people in our community to be healthy. Be kind to one another. Remember what's happening to people's lives when you see these numbers."
It's simple," said Ionno. "That facial covering gives us freedom. Freedom for our kids to go to school in person. Freedom to watch sporting events. Freedom to eat in a restaurant. It's a small price to pay. We are all in this together."