UWWH raises record-breaking total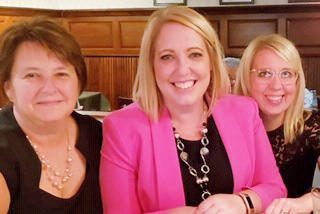 Earlier this week United Way of Wayne and Holmes Counties officially announced its record-breaking fundraising year, raising a total of $1.44 million for the communities it serves.
"This year with a staff of three, we were able to raise more money than had been raised in the last decade at UWWH," said Katie Koglman, executive director of UWWH. "We are so thrilled with our accomplishment and are happy to be able to serve the communities of Wayne and Holmes counties. What we experienced our community do was nothing but thrilling. We united like never before with donors sending in multiple gifts to help us reach the top. We couldn't claim victory without the generous people living and working here."
UWWH increased the goal and expanded the reach, ending the 2019 campaign with a 9 percent increase over 2018. The total amount raised in 2019 was $1,441,271 ($1,415,024 campaign and $26,247 for special projects like Reading Under the Lights).
Looking back at 2019, the heightened outreach and efforts proved to be successful as UWWH attracted 891 new individual donors contributing over $110,000. That statistic alone speaks to the community's belief in the hard work of UWWH and its more than 20 partner organizations.
"As the fundraising fundamentals shift in our society, we also shifted our strategies," said Carrolyn Salazar, UWWH manager of public relations. "This forced us to have a greater online presence, make more calls, meet more people and tell more stories, but it worked out in the end."
Not only were fundraising records broken in 2019, but locally a new corporation was crowned king — when it comes to UWWH campaigns. United Titanium broke Rubbermaid's record for per capita giving amongst its employees, set in 2007. With the leadership of Mike Reardon, United Titanium raised more dollars per capita than any other company in the history of UWWH campaigns.
Stewart Fitz Gibbon, current board president of UWWH, is very proud of this victory.
"To meet the increasing needs in Holmes and Wayne counties, we increased the campaign goal for 2019," he said. "Despite low unemployment numbers, stagnate salaries and the increasing costs for basic needs have strained our social safety net. We've worked hard with our partner agencies to ensure that each dollar donated was and is being used effectively. Mobilizing $1.44 million, an amount that is the largest raised in the last 10 years, is quite an accomplishment for us all."
Fitz Gibbon continued with a thank you to the community. "Thank you to each and every one of you who donated and advocated on behalf of this fundraising campaign," he said.
UWWH is working with its citizen allocation committees right now to award grants to area nonprofit organizations. Those grant award announcements will be made in early March.