Volunteer sews masks for Hospice LifeCare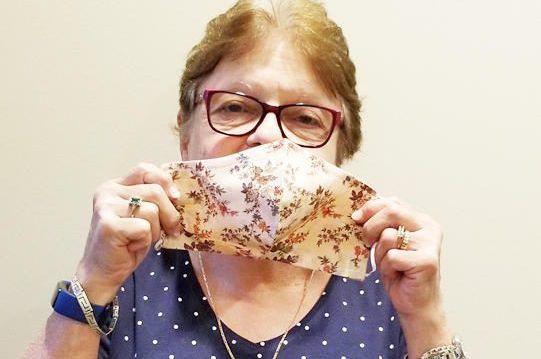 When in-person volunteer opportunities were limited due to COVID-19 restrictions, volunteer Pam Ewald began sewing face masks for her immediate family members and the staff at Ohio's Hospice LifeCare.
Ewald's sister-in-law had fabric left from her mother's quilting, and she found a pattern online.
"While I was making them for Ohio's Hospice LifeCare, people started seeing my family members' masks and asked where they could buy them," Ewald said. "I didn't want to say no. But being a hospice volunteer, I wanted to avoid any conflict of interest."
So Ewald posted on Facebook she'd sell masks for $5 each and would donate any money she earned to Ohio's Hospice LifeCare.
"At that time masks were hard to find, and those available were relatively expensive. So I started getting orders," Ewald said. "When people saw the money was going to Ohio's Hospice LifeCare, several people paid more knowing it was being donated."
Eventually, Ewald switched from making the original rectangular masks and started making the Centers for Disease Control and Prevention mask, which is shaped and more fitted.
"Hospice has been near and dear to my heart," Ewald said. "Under the current health and economic situation, we are in a better position than many, and I wanted to give back to the community."
Since she began making face masks, Ewald has donated 150-200 hours of time making hundreds of masks. She has donated $500 to Ohio's Hospice LifeCare.
"When the pandemic first began, she was the first to say, 'Would you like me to make cloth face coverings?'" said Beki McCurdy, volunteer manager at Ohio's Hospice LifeCare. "At that point we hadn't gotten instruction on the best pattern, but she got to work as soon as we had it."
Ewald and her husband, Keith, joined Ohio's Hospice LifeCare as volunteers six years ago after they retired. They wanted to give back to the community through their volunteer work at Ohio's Hospice LifeCare.
Before COVID-19, Ewald visited with patients in nursing homes, helped with clinical filing and worked with the welcome team to provide a warm welcome and assistance to visitors in the inpatient unit at Ohio's Hospice LifeCare. Her husband also visited patients, provided transportation for family members and delivered prescriptions from pharmacies to patients' homes. During the pandemic he made face shields for the clinical team at Ohio's Hospice LifeCare.
For more information about volunteering with Ohio's Hospice LifeCare, visit www.ohioshospicelifecare.org/waystogive/volunteer-program/ or call 330-264-4899.