WCPL offers StoryWalk at Kinney Park in Wooster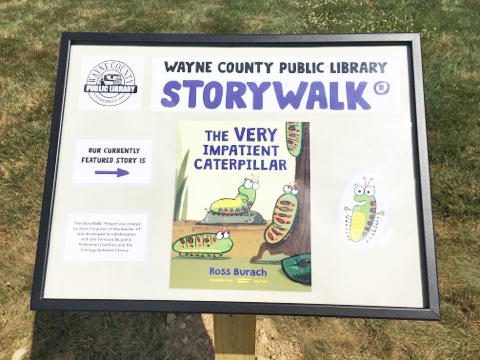 Parks are wonderful places for walking, running, playing and now for reading a story. The Wayne County Public Library announced the opening of the first StoryWalk in Wayne County.
A StoryWalk allows families to walk and share a book at the same time, viewing the book's pages that are mounted on stands for easy reading. Activities and discussion questions also are interspersed. The Kinney Park StoryWalk is now open to the public and begins near the parking lot south of the soccer fields on Burbank Road and runs for about one-fourth of a mile.
Wayne County's StoryWalk project was initiated by Susan Roberts, assistant director of the WCPL.
"When we moved to Wayne County a few years ago and I saw the great parks here, I knew that this would be a good community for a StoryWalk," Roberts said. "Kinney Park was suggested as a site, and the Wayne County commissioners were very supportive of the project from its inception."
Children's librarians at the Wooster branch chose the featured book, and Katie Parsson, WCPL's graphic associate, developed each presentation page.
The first book featured in Wooster's StoryWalk is "The Very Impatient Caterpillar" by Ross Burach. It's a humorous story about a caterpillar who is frustrated with the long process of metamorphosing into a butterfly.
"We thought it was a good choice: first, because butterflies go with summer and also because many of us are having our patience tested more than ever," Roberts said.
The library plans to showcase a new StoryWalk book monthly.
The StoryWalk Project was created by Anne Ferguson of Montpelier, Vermont and developed in collaboration with the Kellogg-Hubbard Library. There are StoryWalks in many communities around the world including many others in Ohio.
WCPL hopes to open more StoryWalks in Wayne County in the future years.