WHHS FFA's All-In Week brings the community into school for lessons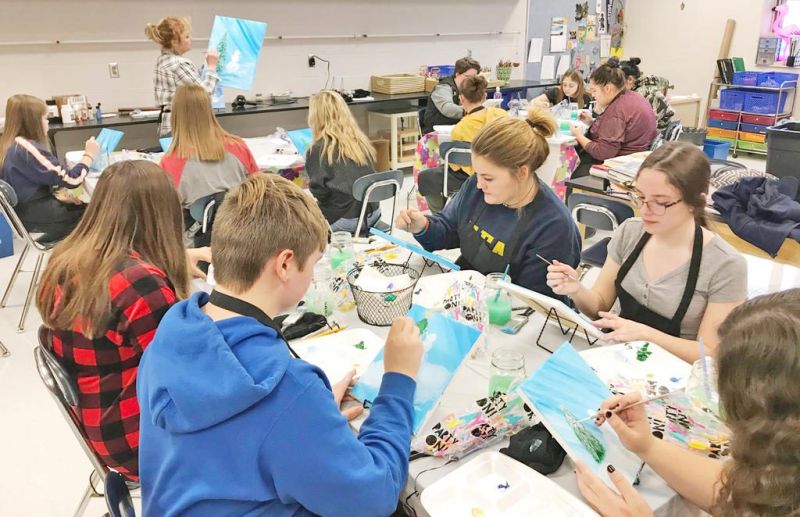 West Holmes High School has a talented and dedicated group of teachers who serve a vital role in building character and developing young minds of students.
However, during the week of Nov. 11-15 at West Holmes High School, the pool of teachers grew from the everyday staff to one that included a huge number of adults from throughout Holmes County who participated in the West Holmes Future Farmers of America All-In Week.
The event is coordinated by the WHHS FFA members to allow community members and staff members to share valuable and insightful information on a huge number of topics.
Junior Rebecca Sprang, the WHHS FFA sentinel, said the FFA All-In Week is something that the members look forward to creating because it is a meaningful experience.
"All-In is something that we believe can help get our kids here at West Holmes involved in more activities and maybe reach outside of their comfort zones," Sprang said. "It also is designed to give them a glimpse into something that might spur them to pursue a career down the road. We had so many options that there was something that would inspire anyone."
Sprang said when they began the All-In event last year, there were students who weren't exactly excited about it. However, once they went through it, they saw the value and enjoyed it. With plenty of interaction, this year's event grew in ways that made the event even bigger and better.
"It was a lot of work, but it is very beneficial for all of us as students because we got to see some really great presentations that were fun, interesting and informative," Sprang said.
Sprang said the West Holmes FFA is made up of a lot of mature students who are willing to tackle these huge events. The members had to create the contact list of presenters; contact them via phone, email or in person; and make sure the schedule of events was in place and ready for the week.
Sprang said FFA advisor Jaime Chenevey is a huge inspiration to all of them and challenges them daily to work toward big goals and to develop leadership qualities. "She puts us in a position where we have to organize, work hard and get this done," Sprang said.
Chenevey said she expects much from her students, and they came through for All-In Week.
"After last year we had a little bit better idea as to what we had to do from a strategic standpoint as far as planning and organizing," Chenevey said.
One of those preparation steps was to take a survey of students and presenters from last year's event, taking suggestions from students to expand Career Day and Self Day.
"We took their suggestions to heart and implemented them to make this event even better," Chenevey said. "And I think that made it more special to the kids."
WHHS art teacher Sandy Miller was excited about the opportunity to once again bring professionals and different perspectives from teachers who talked about their passions outside of school in front of the students.
"I think it promotes great opportunities for the kids to learn about different careers and to become more engaged with different community members, and I especially love the Self Day because they get to see teachers do things they are passionate about outside of the classroom setting in their subject matter and it showed kids how they could cultivate their hobbies and explore areas that would be of interest to them," Miller said.
The FFA promoted School Day on Monday, Nov. 11. They had speakers from school come in and focus on different areas that students could get involved in such as choir, first aid, graphic arts, sports teams, student council and academic challenge.
Tuesday, Nov. 12 was Career Day, in which numerous business people from throughout the area came in and talked about their jobs. That list included medical professionals, insurance, lawyers, timber cutters, police members, photographers, a mortician, firefighters, farmers, excavators and more than five dozen business people who talked about the job opportunities and explored what they do in their job.
The FFA brought in members from organizations around the county for Community Day on Wednesday, Nov. 13, where members from the Millersburg Lions Club, American Legion, American Red Cross, Holmes County Park District, H15 Ministries, Holmes County Farm Bureau OSU Extension Office, Holmes County Antique Festival, Holmes County Share-A-Christmas and more talked about how young people can get involved with their communities to help develop relationships and help others.
Finally, Friday, Nov. 15 was Self Day, where community members and WHHS staff members came in and shared about their hobbies, a list of 32 people who touched on forest management, cowboy mounted shooting, dance, crocheting, gardening, hunting, kayaking, yoga, fly and bass fishing, playing guitar, and therapy animals among the topics students could attend.
It was a great deal of preparation work that Chenevey said she handed over to her FFA students to process and follow through on.
Kelly Dye teaches special education at WHHS, and she had a large group of students in the gymnasium, where she was teaching Crossfit techniques. She said presenting different exercise stations throughout the gymnasium created educational opportunities that could lead to health benefits, but she also said it provided an even better learning experience.
"They all had a partner, and while they learned aspects of Crossfit, they were learning to work together, which is important for Crossfit and in life," Dye said. "It's about making a connection with someone and building a relationship of trust. We as a staff can get all-in for this week because it presents endless opportunities for the kids to learn so much, like what qualities employers look for and the character we need to exemplify in school."
Bobbie Randall had her therapy dog Majka, a Golden Retriever and German Shepherd mix, in to talk about the benefits of owning a therapy dog and how there are many opportunities to develop any dog into a therapy dog. Majka is a rescue dog who was abused. It took Majka three years to gain the trust of Randall, and now the two are one as their bond has grown into one of trust.
Randall stepped in at the last moment when another presenter became ill and couldn't make it.
"I was really impressed because all of the students were so attentive, and I got to talk about the commitment to the dog and to the community," Randall said. "You can have a great therapy dog, but if you never take it out into the community, it doesn't mean anything, so we go to nursing homes, ring the bell for Salvation Army and go to different gatherings to do some really fun things. I think there is a lot kids can learn from the relationship that is developed between a therapy dog and its therapy owner."