Wiggam backs Ohio Medical Freedom Plan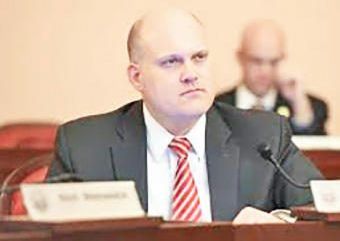 On Nov. 17, State Rep. Scott Wiggam (R-Wayne County) announced the Ohio Medical Freedom Plan will protect Ohioans from vaccine mandates and ban vaccine passports.
House Bill 218 was approved by the Ohio House of Representatives by a 58-32 vote. Wiggam said the bill addresses one of the top concerns of the people of Wayne County.
"At the Statehouse the question is who decides: government or private citizens? Schools or moms and dads? The answer for me is clear: I trust Ohioans to decide what is best for themselves and their family, especially when it comes to matters of health and vaccines," Wiggam said.
There are several highlights to the bill, Wiggam said, including empowering Ohio employees and students to refuse any mandatory COVID-19 vaccinations by claiming an exemption for medical reasons, natural immunity as demonstrated by the presence of COVID-19 antibodies and reasons of personal conscience including religious convictions.
Those same exemptions also would be available for students and employees at Ohio's public and private schools, colleges, and universities.
A written statement claiming the exemption is all that would be required for students and employees to receive the exemption. The bill also allows for a student or employee to seek relief in the event of a violation including going to court or filing an employment discrimination claim.
Wiggam said other highlights of the bill include a ban on vaccine passports and prohibiting schools from discriminating against students based on their vaccination status.
Other elements of the bill include the following:
—Employees of a children's hospital and an intensive care or critical care unit of a hospital would not be able to receive a vaccine exemption under the bill. However, a hospital must make a good-faith attempt to provide equitable employment to an individual who refuses to get a vaccine.
—Schools and employers would be prohibited from requiring a student or employee to receive a vaccine if it has not been issued a biologics license or otherwise been granted full approval by the FDA.
—Extends through June 2023 provisions from House Bill 606 (133rd General Assembly) that would protect employers from COVID-19 liability under certain circumstances.
—Other provisions sunset on Sept. 30, 2025.
House Bill 218 will now head to the Ohio Senate for consideration.
The Ohio House of Representatives passed a Second Amendment bill on Nov. 17 that expand the ability of law-abiding Ohioans to protect themselves and their loved ones.
House Bill 227 will allow individuals age 21 or older and can legally possess a handgun to carry a handgun concealed for any lawful purpose with no additional licenses, fees or paperwork.
Wiggam, who voted in favor of the bill, said the plan is the result of extensive deliberation including work with the National Rifle Association and Buckeye Firearms Association. The measure is good for Ohio, he said.
"The far left believe there's always a reason, always an excuse to infringe upon and curtail the freedoms of law-abiding Americans. I fundamentally disagree," Wiggam said. "I have consistently fought to protect our constitutional rights including our right under the Second Amendment. This bill is a victory for freedom."
The bill does not eliminate Ohio's concealed handgun permit system but rather makes it optional. Ohioans who wish to obtain a permit would still be able to do so. Ohio also will retain its reciprocity with other states, but in order for an Ohioan to carry a concealed weapon in those states, they must obtain a concealed carry permit.
The bill maintains current law and does not require churches to identify themselves as "soft target" by posting "no concealed carry" signs. The legislation leaves the decision of who can carry in a church to those that oversee the church.
H.B. 227 also will require an individual to notify law enforcement if the person is carrying a concealed handgun when asked by an officer.
Wiggam also showed his support for House Bill 99. The legislation enhances school safety measures by enabling school districts to have local control of training requirements for arming teachers.
"House Bill 99 is potentially life-saving legislation," Wiggam said. "We are seeing schools being targeted by those that have no regard for human life. This bill will give teachers the resource they need to help save the lives of our children."
Under the bill a school employee must complete concealed carry permit training in order to carry a firearm on school premises. Current law requires school employees to complete peace officer training, which is over 750 hours. In addition to the CCW training requirement, school boards have the ability to determine any further requirements necessary for employees.
Both bills will now head to the Ohio Senate for further consideration.