Wooster Music Club wraps up 2021-22 programs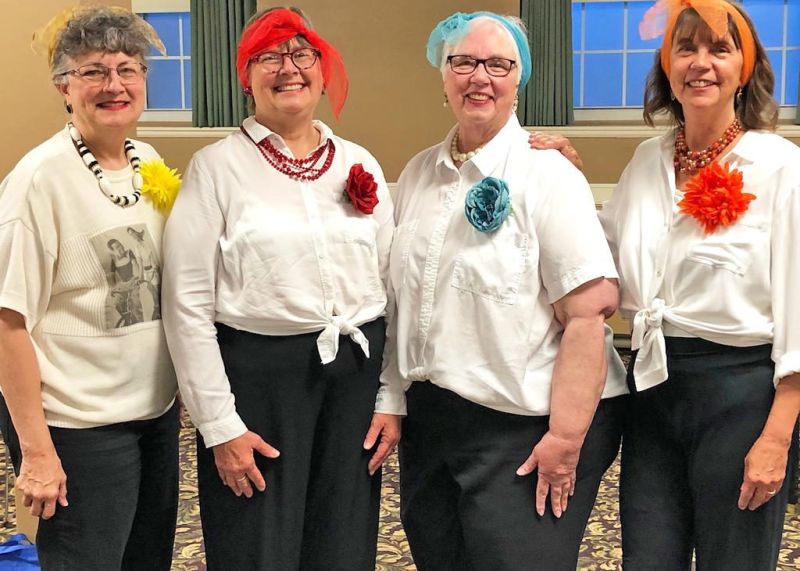 The Wooster Music Club met for its final meeting of the 2021-22 program year on May 3 at Wesley Hall in the Wooster United Methodist Church.
The evening started with a guest piano performance from Ethan Beam, a seventh-grade student at John R. Lea and a piano student of Stephanie Musselman. He played the national anthem of Russia by Alexander Vasilyevich Alexandrov. He had requested this music long before Russia invaded Ukraine, and it was selected previously for its melody.
Guitarist and vocalist Laura Tappen treated the club to a variety of folk music. The pieces she played were "April Come She Will" by Paul Simon, "I Got Your Back" by Andrew Tyson Bissell and Phillip Bernard Beaudreau, "Gardening" by Dillon Bustin, and "It's Better to Whistle Than Whine," a traditional folk tune. With this last song, Tappen got the club to whistle with her as she sang.
This was followed by flautist Kathy Helmuth performing two pieces with accompaniment from recorded guitar. The first piece, "Libertango," was composed by Astor Piazzolla, one of the greatest Argentine Tango composers of the 20th century. Her second piece, "Sambossa," by Brazilian composer Celso Machado, reflects the Bossa Nova style with its jazzy, upbeat tempo.
About Time, a local singing trio made up of club members Joan Swartz, Louie Miller and Charlotte Marsh, sang several songs from the big band era. They were accompanied by Myra Leeper on piano. The songs they sang were "Boogie Woogie Bugle Boy" by Don Raye and Hughie Prince and "At Last" and "Chattanooga Choo Choo" by Mark Gordon and Harry Warren.
Louie Miller then highlighted the work and life of Harold Arlen in the segment of the program known as the Composer's Corner. Arlen, a musician, singer and composer, wrote melodies that reflected the times of the Hollywood era of the 1930s and '40s. One of his most famous, "Over the Rainbow," was written for "The Wizard of Oz" and sung by Judy Garland. Within two months of writing this, he and lyricist E.Y. Harburg were contracted to write all of the music for "The Wizard of Oz." Arlen composed over 400 songs from 1924-76 with 31 different lyricists.
About Time then continued to sing a few of the great songs composed by Arlen: "Get Happy," "Stormy Weather" and "It's Only a Paper Moon."
Guest poet and author Jeanne Griggs recited poems from her book, "Postcard Poems." Griggs was inspired to write this book of poetry from postcards she would send to friends and relatives with little poems she would compose that would fit on the size of a postcard.
The evening concluded with Annie Gerig reciting two poems in celebration of Mother's Day. She recited "Visiting Her in Queens Is More Enlightening Than a Month in a Monastery in Tibet" by Michael Mark and "Sonnets Are Full of Love" by Christina Rossetti.
The Wooster Music Club meets at 6:30 p.m. on the first Tuesday of the month from September through June with the exception of January and February at Wesley Hall in the Wooster United Methodist Church. Guests are welcome.