2 local car dealerships add to Humane Society kitty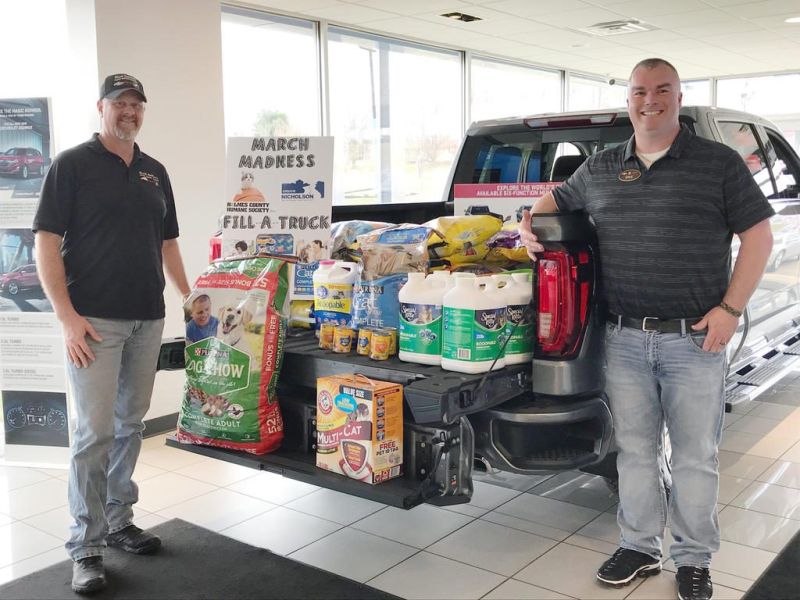 Village Motors and Chuck Nicholson Auto SuperStore teamed up to collect food for the Holmes County Humane Society, filling the beds of two new pick-up trucks with wet and dry cat food and cat litter.
The humane society cares for about 40 cats at any given time while they wait to find permanent homes. It takes a lot of food and litter to make sure the felines are well fed and cared for, so fundraisers like the one that recently took place at the two local auto dealerships are vital.
"We had a great turnout, and people came in throughout the week," said Ron Miller, manager at Village Motors. "We had a couple come in and buy a car, and a few days later they brought in this huge 44-pound bag of food. We were more than happy to help out, and we were pleasantly surprised at how much came in."
Barry Nicholson, owner and general manager at Chuck Nicholson Auto SuperStore, said the two dealerships have teamed up in other ways over the years, and both of them agree that taking on roles that benefit nonprofit organizations in the area is important.
"We were more than happy to help be a collection drop-off spot for the Humane Society because they do a great job," Nicholson said. "We realize it is important for all of our local businesses to step in and do whatever we can for our nonprofit organizations in our county."
Nicholson said in addition to people bringing in goods, they have an in-house fundraiser for special events. They used their "jeans dress-down day" funds and purchased goods for the truck that helped add to the kitty.
Debbie Polin, a volunteer with the Holmes County Humane Society who works at Village Motors, said the humane society was looking at ways to create fundraising opportunities.
Holmes County Humane Society board member Hillary McFadden-Wallace, whose father also works at Village Motors, brought up the idea of having the dealership do a food and litter fundraiser.
That idea quickly expanded to include Chuck Nicholson Auto SuperStore in a friendly competition that had the two local businesses teaming up for a good cause.
Employees, customers and local businesses who heard about the event chipped in and brought in items.
Polin said the timing of the drive was perfect, considering the humane society sees an uptick in people needing supplies during spring.
"These types of fundraisers are always important for the humane society, but especially at this time of the year because we will get a lot of phone calls from people who are having mother cats having litters of kittens," Polin said. "We usually have around 40 cats at the farm at any given time, so this really goes a long way in providing for them. It has been inspiring to see everyone being so generous."