2 local women honored at Athena banquet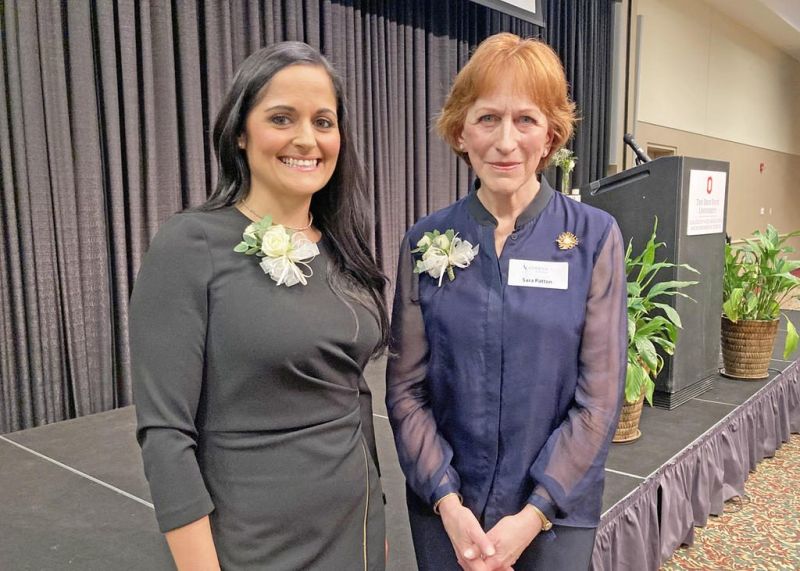 Each year the Wayne County Women's Network honors two women who have excelled in their careers, given back to the community and supported other women. This year's winners are Samira Zimmerly, who received the Young Professional Athena Award, and Sara "Sally" Patton, recipient of the Athena Award.
Past Athena recipient Alicia Wallace kicked of the Athena Award Banquet, which took place in mid-November at the Shisler Conference Center in Wooster. Wallace noted the award's history, going back several decades. The Athena Award has since been given to more than 8,000 leaders representing 48 states.
As per custom, the event also includes two scholarships. Tara Haley announced the Wayne County Women's Network scholarship, which went to Kelly Rock Harris, a graduate of Wayne County Schools Career Center.
After being a hair stylist for 25 years, Harris decided to advance her career in accounting and marketing at the career center's adult education program.
"It is such an honor to be a recipient of this award. I am excited not only to see this opportunity, but to be able to support businesses in Wayne County," Harris said.
Jean Roberts presented two Junior Women's Service Club Scholarship awards to women integral to both the service club and their community: Julie Ogden and Frankie Abruzzino.
Next up, Ashley Hershberger, recreation manager for the City of Wooster, introduced Zimmerly, president of the Wooster Area Chamber of Commerce.
"One thing I've always admired about Samira is her dedication and love for her family. Samira's sons Trey and Jaxton are here with her tonight. They are her pride and joy," Hershberger said.
Zimmerly has balanced her career and family as well as any professional woman can, advancing her career and still finding time to volunteer at places such as Rotary Club of Wooster, O'Huddle and taking part in the city's government and Citizens Police Academies.
In 2020 Zimmerly was selected as the first female president of the Wooster Chamber since its founding in 1908.
Zimmerly said her first job with the Wooster Chamber 12 years ago was part-time. "I remember getting the call from Chamber President Jeff Griffin, requesting that I come in for an interview. I remember getting the call and saying to myself, 'What the heck does a chamber even do?'" she said.
Zimmerly has flourished in her role, launching Wooster's Designated Outdoor Refreshment Area to increase the chances for downtown businesses to survive the pandemic. "And now over two years later, it has proven to be a success," Hershberger said.
It was under Zimmerly's leadership the chamber won a national recognition through the Association of Chamber of Commerce Executives, and further, Zimmerly has been recognized as an emerging leader by the same organization.
The banquet culminated with Patton being recognized as the recipient of the 2022 Athena Award.
Many in Wayne County have interacted with Patton over the years through her various roles, starting with Wayne Center for the Arts and moving on to The College of Wooster, where she advanced to the role of vice president for development and college relations. During that time Patton directed three successful campaigns, raising more than $450 million.
Then in her second "retirement" career, she went on to be the executive director of the Wayne County Community Foundation, growing the foundation from $50-$125 million in assets during her tenure.
When she accepted the award, Patton said she was assigned by the event organizer Roberts to collect photos from various stages and aspects of her life.
"The exercise was also humbling, because as I sifted through some 50 years of working life, every achievement brought to mind some less exalted moment that even now can make me cringe. I can only hope those moments made me, if not wiser, at least more thoughtful going forward," she said.