2018 was a year full of giving, gratitude and good news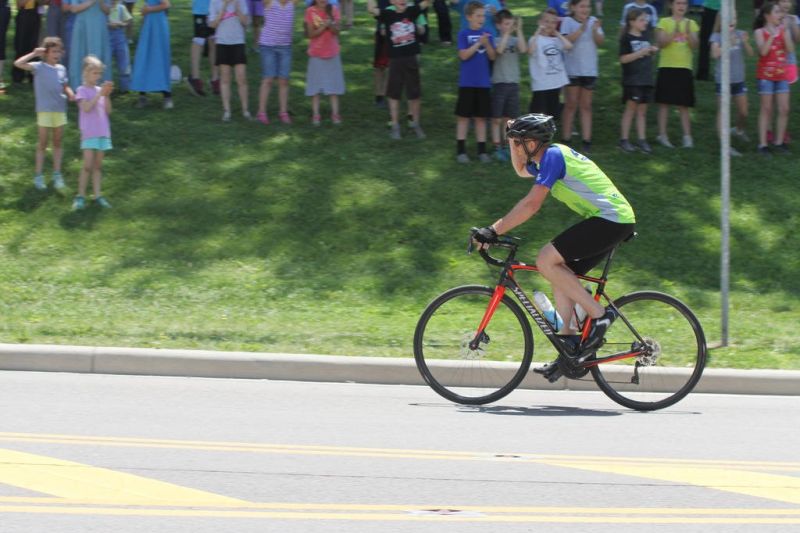 The year 2018 provided many examples of the selfless communities throughout the area. Without question 2018 was a year of giving and gratitude, one of celebration of community unity, reaching out to others in compassion and feel-good moments.
Looking back, here are a few of our favorite stories that graced the pages of The Bargain Hunter in 2018.
Of course all of these stories are available online at www.thebargainhunter.com, where they can be read in their entirety.
January
Connections highlights connecting with kids
Holmes and Wayne counties are no strangers to the idea of having youth in need of mentoring. Troubled teens in need of guidance are everywhere, and thanks to Connections, some of those young people are building relationships to improve their lives.
Connections is a mentoring program operated through the Holmes County Juvenile Court system designed to provide guidance, leadership, support and encouragement in a young person's life. In a time when many youth are left to fend for themselves without the support, love and encouragement they need, mentoring is needed more than ever.
Sitting down with a handful of mentors, the picture came through loud and clear that the program was making an impact.
"I had a troubled childhood myself, and while I have amazing boys of my own now, my heart is big enough to take in others," mentor Daniel Eichelberger said. "Dealing with what I did growing up, I received healing in my life, and I want these kids to be able to experience that too."
"It is amazing how quickly our relationship developed," mentor Brenda McMillen said. "There are many teachable moments we share. Connections has been a blessing for both of us, and we look forward to our time together."
February
Local teens were All-In to provide answers to life
Waynedale High School teenager Hope Peterson tried to hide her autism for a long time. However, she has since learned to spread her wings and fly, touting the message that those suffering from autism don't have to take a back seat to anyone.
In February Peterson stepped into the spotlight as one of a large number of Ohio students who spoke during seminars at the All-In conference, where students delivered speeches on topics like caring for the homeless, serving others, accepting diversity, discovering talents, dealing with depression and Peterson's message of never giving up, something she understands after having faced multiple hurdles in life.
"I feel like taking on a leadership role and being a spokesperson for kids with autism is amazing because in general kids with autism have a tough time communicating, and every single voice deserves to be heard," Peterson said. "Speaking here is exciting because I feel it is an opportunity to share my message that kids should never give up. It is a good message for parents because it serves as a reminder that their kids can do great things. They might need a little pushing, but with work people with autism can accomplish a lot."
March
Twice saved, lives are now entwined forever
Maybe Steve Phillips shouldn't be alive today. The Holmesville native was officially dead, not once, but twice after suffering a heart attack.
Holmes Fire District #1 Lt. fire/medic Phil Chupp and fire/medic Reuben Miller are now officially part of the Phillips family after their heroic deeds.
Last year during a frantic run, the two men performed their jobs in a most admirable way, saving the life of Phillips. Since that day the two men were unofficially adopted into a second family, and the Phillips will be forever in their debt.
"They gave us more time together," Dana Phillips said. "They were the hands and tools that did God's work that allowed us to spend more time together, and we will never forget that. If it wasn't for them, I would never have seen him again."
"Every day is bonus," Steve Phillips said.
April
In early April the rains came and came. The streams and creeks swelled, and the former fairgrounds were once again under a lake of water.
Just to the west, sitting high and dry on much sturdier grounds, was the new home of the Holmes County Fair, Harvest Ridge. There were no enormous pools of water, not temporary ponds and lakes, and no dangers whatsoever of flooding.
The floodwaters served as a reminder of what had been and what is now and will be. The move to the new fairgrounds was made for this very reason, and this served as a perfect reminder of exactly what kind of community Holmes County is. The planning and building of Harvest Ridge took many years in the process, and it also required a massive backing from the people and businesses of the county who came through at every turn to provide money, manpower and ideas that enabled the county to complete a vision that should make a positive economic impact for decades to come.
"That is exactly why Harvest Ridge had to happen. Every time I drove down past the old fairgrounds and looked at that flooding, I was so grateful to have this wonderful new facility," Shasta Mast said. "Had we had some function going on at the fairgrounds during this time, it would have been disastrous. We would have been in a situation where we would have been moving people and merchandise or animals out of there as quickly as possible. It would have been a dire situation, and we are just getting started with the possibilities."
May
Brady Arnold
One moment West Holmes Wall-of-Famer Brady Arnold was preparing for another exciting season of high-paced, action-packed basketball with his teammates at West Liberty University in West Virginia.
In the blink of an eye, he was battling for his life. Arnold was diagnosed with diffused large B-cell lymphoma. Basketball became an afterthought as he turned his attention to battling cancer.
"I was in the best shape of my life, playing the game I love at a very high level, and all of a sudden it hit. It was pretty scary," Arnold said.
What followed was a series of treatments at the James Center in Columbus and a lengthy period in which Arnold couldn't move without being in pain.
Fortunately he had the love and support of family and friends. His basketball teammates never let him feel like he wasn't an important part of the team. Most importantly Arnold never lost his focus on getting better. A positive attitude and his faith kept his spirits high, and today he is cancer-free.
"I had the attitude that I was going to fight and to beat it," Arnold said. "My family was amazing. Even when I was diagnosed, we didn't even share many words. They were just there for me, and that was huge. They were my backbone throughout this whole ordeal, and we never talked about the negative side. Like me, they were going to do whatever was necessary to beat cancer. I mean I knew it could be really bad, but I never really worried about all of the negative for some reason."
June
Jesse Mullet's bike ride across America
With Rails-to-Trails extending through Holmes County and beyond, riding bike has become a growing popularity in the area. However, for one local rider this past year, riding bike was a pure gift of joy and giving.
In an effort to raise funds for the adoption-based organization Pure Gift of God, local biking enthusiast Jesse Mullet created Pedal for Orphans and set about on a journey the likes of which few people could endure: a 30-day, 3,400-mile bicycle endurance pursuit that would challenge him in every way imaginable.
"This is not easy, but it is a lot more fun to bike with a purpose that is so meaningful and worthwhile," Mullet said of Pure Gift. "This all really starts with relationships, and we have seen the commitment of Curt and Erica [Yoder], and to be able to do this on their behalf and on behalf of Pure Gift is an absolute honor."
Mullet biked between 80-125 miles daily throughout the trek, and although he said it was incredibly hard at times, he lived by the motto, "Win the Day." Three-thousand-four-hundred miles later, Mullet had raised a large chunk of money for Pure Gift of God, a nonprofit organization that has helped hundreds of families find ways to adopt by providing grants for parents.
August
Churches for Killbuck kids
Getting ready for a new school year can be hectic and expensive. Four Killbuck-area churches worked together to alleviate both of those things, purchasing school supplies for each student at Killbuck Elementary.
"We knew it would be an undertaking, but it was something we all felt strongly about doing," Killbuck United Methodist Pastor Ken Smailes said. "We realized immediately that this was going to be something that would be very worthwhile."
Several area businesses also pitched in, and the community's effort did not go unnoticed by the school staff.
"This shows just how much the community is willing to back us here at school, and they recognize that some families struggle with the expenses of purchasing all of these materials on their own," second-grade teacher Lindsey Beachy said. "We have some kids who can't afford to buy everything."
September
Blake's big family
On Tuesday, Aug. 21 Berlin Elementary's Blake Stutzman went to school a bright-eyed, eager fourth-grader, ready to take on the world. One day later he went home from school with a severe headache, and while at home that night, he suffered a pair of seizures.
While it was touch-and-go with Stutzman, he had the prayers of many as a large group of fourth-graders at Berlin Elementary and many other children gathered with a contingent of adults and gathered in prayer as he lay in Akron Children's Hospital battling for his life with meningitis and encephalitis.
"It's been a long journey for the family in one week," Walnut Creek Mennonite Pastor Don Hamsher said. "Pastor Erik [Miller] at Mercy Hill Church has kids at school here at Berlin, and we felt it was necessary to get together to lift Blake up in prayer. Seeing God in the midst of people is a good lesson, and seeing the children gathered together is awesome because God talks about having the faith of a child, and the prayers of children are so important."
After fighting a fight no person should have to endure, let alone a fourth-grader, Stutzman has since returned to school and is well along the road to recovery.
October
Willie Shelton
If there was one thing in life Willie Shelton could do, it was put a smile on the faces of others.
While Shelton, who served in Operation Iraqi Freedom, passed away from terminal brain cancer, his family kept his memory alive by working to get designated road signs in Millersburg.
In a touching ceremony in front of Millersburg Christian Church, Shelton's family and friends gathered to pay tribute and rejoice in the life of a man who was filled with joy, love and dedication to his family, his country and his faith.
"I didn't think this would be so emotional because we had gone through the process before [at his funeral], but to have everyone come out and honor him was so touching," his wife Cheryl Shelton said. "I was presented with the flag one time before at the funeral, so I didn't think it would be so emotional, but it was just like that day again."
November
Ashadee Miller won't back down
Facing an aggressive form of breast cancer, Ashadee Miller of Berlin wasn't about to back down from this fight. When normal procedures failed to work, a fundraising campaign was put in place, and the community helped raise money, a lot of money, to help send her to Mexico for a series of unique treatments.
As a fitness trainer, Miller knows sometimes people have to go to great lengths to be healthy. She has encouraged many people to fight hard to become as healthy as possible.
Now the trainer is relying on her own advice to others to fight hard and to remain committed to overcoming cancer.
"I tell people all the time that I could not do this without my faith or my family," Miller said. "This is an incredibly long journey, and like Abraham and Isaac, I do feel like I am laying my body on the altar. There are times when I want to crawl off of it, but I am firm in my belief that God knows what is best for me and he will put me where he wants me. It's been over one year since I was diagnosed, and my husband and children have been amazing throughout the ordeal. We were gone in Mexico for seven weeks, and they think it is done. It isn't done yet, but they have been so strong, and the prayers they pray and the faith they have shown has encouraged me to keep going, and that is one of the most beautiful parts of this journey."
December
A ministry blooms in Millersburg
Finally, while it isn't contained to just one month, the growth of H15 Ministries, the youth center in Millersburg spearheaded by director Andy Schafer, is the perfect way to cap off a year of celebration of community and care.
The center's transformation from dilapidated building to a colorful facility has been exciting to watch develop over the entire year.
"My heart is to see the teenagers feeling wanted in this community by the community," Schafer said. "My goal is to see Christians sharing God's love with these kids. This should be a launching pad. We want the ministry to extend beyond the walls of these buildings."