4:12 Collective keyed up to bring uplifting music to area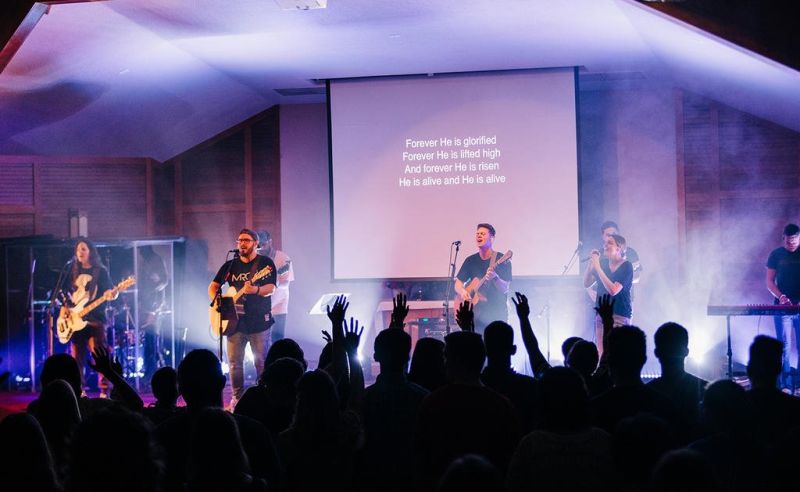 I Timothy 4:12 says, "Let no one despise you for your youth, but set the believers an example in speech, in conduct, in love, in faith, in purity."
When several area churches united to create the praise and worship team, 4:12 Collective, it was with a desire to bring young people together in worship, allowing them to grow in their faith and go out into the world to become examples of Christ's love through their words and actions.
Brennan Mullet, worship pastor at Light in the Valley, has been among the leaders of 4:12 Collective since its inception five years ago, coming on board six months into the group's existence. He said while the focus is on youth, it has evolved into bringing together people of all ages to worship.
"This began as a way for worship to bring people together," Mullet said. "It has also brought several different churches together to perform, and when we started, it was purposely created not under the umbrella of one church. We were very intentional to do that, and we will continue to be in the community and have a good number of churches be involved. Our goal has always been to come alongside the community and walk with them in faith."
Mullet said the idea for the group arose from an area small group that felt there was a void in the community and a need to provide an avenue for singers and musicians to combine their talent and provide a way for people to worship.
Andre Troyer, Adam Troyer, Austin Mast and John Bonistall, pastor at The Well, became instrumental in the growth of the group. Other members of the leadership team have come and gone, but Mullet said the past four years has seen the core group of leadership remain entrenched.
As for the performers, the group has relied on the ability of its church worship leaders and pastors to provide insight as to whom might be a strong fit. Mullet said they also utilize an in-school worship program that helps cultivate young performers and inspire them to pursue their gifts in music.
"It's about unity in worship," said Zech Haynes, lead singer for 4:12 and lead music director of the praise and worship team at Grace Church in Sugarcreek. "We put aside all of our theological differences, come together and worship Jesus every fourth Sunday of the month."
The team at 4:12 consists of members from several area church praise and worship groups including Grace, Light in the Valley, The Well and Parkway Christian. Haynes said the group travels extensively in the Holmes, Tuscarawas and Wayne area, but the group has ventured farther away to perform.
The group also plays beyond its usual fourth Sunday routine, performing at special events like the recent Operation 6:12 gathering that featured Tim Tebow.
The praise and worship team fields calls from churches throughout the community and enjoys performing at no cost to any church that wishes to host them. Haynes said the important thing is they bring people together to worship in the name of Christ as they express themselves through their music.
"We continue to grow in terms of churches and groups asking us to perform," said Mullet, who noted the group will perform at the upcoming Ohio Mennonite Relief Sale and is coming off a performance at a youth conference.
As for what the performers gain from their music, Haynes said it's all about personal growth in their faith and the joy of sharing their faith through their music.
"I grew up in Tuscarawas County, and I always wanted to put something like this together, but I never had the resources," Haynes said. "When I came back and was invited to be a part of it, it was very fulfilling. I was very drawn to the unity aspect of it. So often we focus on our differences. We worship the same Jesus, and it is a blessing to get together with others and share that joy."
The group is supported by two area churches but is always looking for additional churches to support them in their effort. Mullet said they continue to have expenses, and because they don't take freewill offerings at their concerts, that support is critical.
"We would love to partner with area churches, whether it is a monthly gift, an annual offering or a one-time donation," Mullet said. "We enjoy connecting to churches and building relationships."
A fundraising event for 4:12 Collective is on tap, where they will perform while raising funds to purchase a new sound system, with the date for that event set for Aug. 28. Further updates on the concert as far as time and place will be available on the website or posted on social media.
"We are hoping to have it outdoors with a meal, games and music, and it will be by donation," Mullet said.
With a creative light show accompanying the music, the group creates a professional look and sound, but most importantly, it serves as an avenue to reach into the community to create unity in faith.
If a church or function would like to request an evening with 4:12 Collective, they may do so by logging on to the website at www.412Collective.org, where they can book the group.
In addition, they are on social-media outlets.