Lions Club chicken eaten up in less than an hour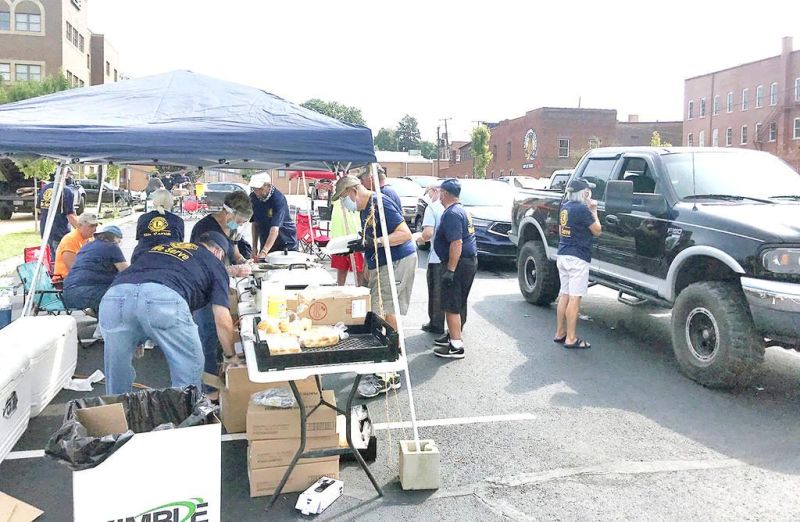 A grand total of 45 minutes, that is how long it took the Millersburg Lions Club members to sell out of their 400 chicken dinners on Saturday, Sept. 12 during their fundraiser event in downtown Millersburg.
In talking to members several weeks before the event, the talk among the Lions was whether they should do 300 or 400 chicken quarters for the event. It turns out they should have doubled down on the 400 they decided to make.
"This is really unbelievable," member Bob Porter said as the cars kept rolling in two by two into the parking lot behind the Holmes County Chamber of Commerce & Tourism building. "We really didn't know what to expect when we created this fundraiser because we hadn't done one before, but people started showing up even before our official start time of 11 a.m., and they didn't stop coming in until we were sold out; 45 minutes was all it took."
The show of support proved two things to the Lions Club. One, people love their barbecued chicken, and two, people are going to support the Lions in their endeavor to raise money, all of which is turned right back into supporting the people of Holmes County.
Because the Lions Club lost its four major fundraisers this year due to COVID-19, there was a need to find a way to create funds to replenish what they were missing, and the barbecue dinner became priority number one for the group.
As the aroma of the chicken and the smoke from the barbecue pit began wafting across Millersburg, people took notice and were eager to purchase dinners.
"The willingness of this community to support us over the years has been so incredible. I guess we shouldn't have ever doubted they would support this," Porter said. "We can't express enough thanks to everyone who stopped by."
Porter also talked about the commitment of the Lions Club members themselves. He said it is a fun-loving but dedicated group of people who care about their community and the people around them. Each year the Lions Club does service projects around town, but most importantly, they help provide eyewear to people who might otherwise struggle to be able to purchase glasses on their own.
"We have volunteers crawling all over the place here," Porter said. "We are excited to be able to provide something valuable for the people of our county, and we have built some wonderful friendships through the club."
With the success of the barbecue, the club is already talking about future barbecues, ones that will certainly feature a much larger number of dinners.
The Millersburg Lions Club is open to accepting new members from all over Holmes County because it is the only Lions Club in the county. Visit their Facebook page or talk to any member about how you can join.