67th W-H Soap Box Derby sends 4 to Akron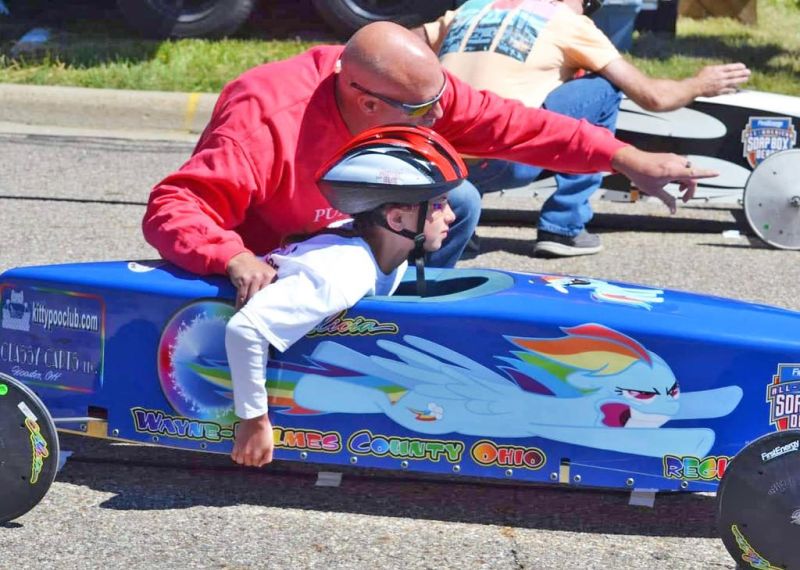 Warren Jordan is a Soap Box Derby veteran. He even competed in the All-American Soap Box Derby in Akron a little more than 30 years ago.
Jordan's nerves may never have been as frayed as a competitor long ago as they were last weekend when he had half-a-dozen racers in the Wayne-Holmes Soap Box Derby, which ran for the 67th time on June 18 in Wooster.
"I didn't get a chance to do this with my oldest daughter because of my finances at the time," Jordan said. "When I was financially able, I was able to get my youngest daughter involved. Then I was able to persuade my younger kids to get involved."
That turned in to a wild weekend in Wooster as his daughter Alexa placed sixth in the Super Stock division; cousin Braxton Amstutz placed seventh in Super Stock; grandson Carsen Myers placed sixth in the Stock division; granddaughter Aubree Myers placed ninth in the Stock Division; and Shila Thellman, Alexa Jordan's best friend, finished third in the Masters Division.
Braxton Amstutz's finish was bittersweet. A year ago he earned a trip to Akron for the biggest day in Soap Box Derby Racing.
"Had a mindset that he has to win everywhere since he won on his very first go," Warren Jordan said.
Also in the Jordan clan was Warren Jordan's niece, Kylee Jordan, who earned a trip to the All-American Soap Box Derby in Akron by winning the Masters Division in the Wayne-Holmes Derby.
Others advancing to the All-American Soap Box Derby, to be held July 17-24 at Derby Downs in Akron, included Trey Nicholas (Super Kids), Alicia Swinderman (Stock) and Lisa Weiler (Super Stock).
Other top-three finishers included Lenora Nicholas (second, Super Kids) and Kelsey Polacek (third, Super Kids); Jacob Schilling (second, Stock) and Natalie Marthey (third, Stock); Paige Marthey (second, Super Stock) and Mackenzie Iams (third, Super Stock); and Lydia Marthey (second, Masters) and Thellman (third, Masters).
The Wayne-Holmes Derby featured a double-elimination format that guaranteed racers four trips down the hill. The more racers won, the higher they placed.
In the Stock division, first-time racers/car builders, ages 7-13, get a chance to gain experience. Super Stock is for aged 9-18 and drivers use more advanced vehicles. Masters is for racers ages 10-20 competing in fiberglass cars. The Super Kids division is for racers with mental or physical challenges.
Warren Jordan said ultimately there is nothing like competing on the big track at Derby Downs in Akron.
"You were treated like royalty for that week," he said. "Saturday is obviously the big race. It didn't go well for me, but I did end up losing to a car that finished fourth in the world."