A beautiful way to make a special night even better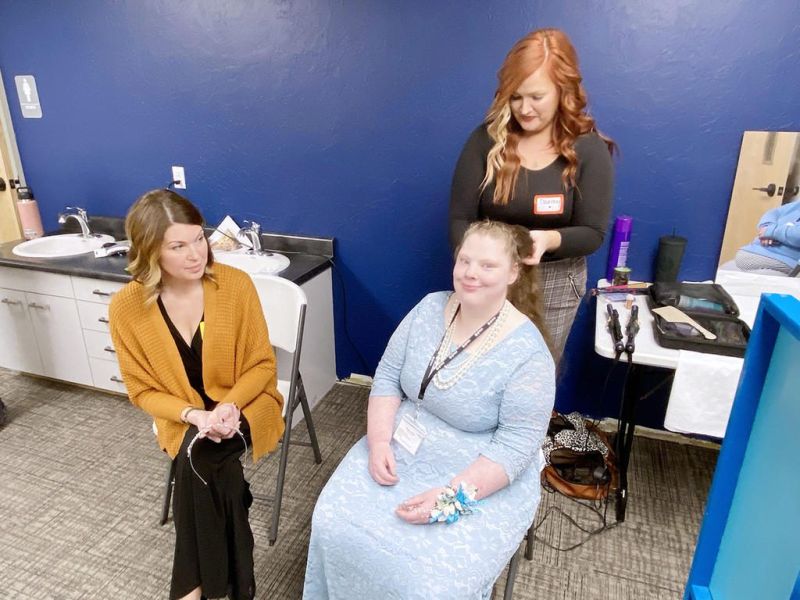 When it comes to prom night, part of the aura and thrill is having one's hair done by a professional.
All 74 of the attendees at Holmes County Night to Shine, a prom-like event hosted by the Tim Tebow Foundation, got all spiffed up in prom outfits, with dazzling dresses and tuxedos that made the inaugural event in Holmes County a sight to behold when they strolled down the red carpet at Grace Church on Friday, Feb. 10.
In order to make the evening extra special for those who opted to do so, the team from Revamp Salon & Day Spa in Wooster donated their time and professional skills to creating a glamorous look for those in attendance.
Lindsey Haudenschild said she had volunteered to do a similar Night to Shine event in Wayne County several years ago right before the onset of the pandemic shut down the in-person event for a couple years. (It made its triumphant return to the live version this year.)
"I was actually a buddy for that event, and it was an incredibly humbling and beautiful experience," Haudenschild said. "It really made an impact on me, and when (event coordinator Kim Miller from Holmes County Board of Developmental Disabilities) asked me if I'd do hair for this event, I knew I was in."
Haudenschild said the one thing she couldn't do was speak for the other employees, so she said she texted them to put out some feelers as to their response.
She didn't have to wait long to hear back from each member.
"Within 10 minutes of me texting, they all had their responses in and their background checks done," Haudenschild said. "Everyone was really excited about the opportunity to give back to the community and to some really special people. We were so honored to be here."
Haudenschild said the group consistently volunteers at a food bank in Canton, and they relish any opportunity to connect with community and give back. This particular moment allowed them to use their talents to brighten the night for others.
The group chatted with each attendee, talking about the evening's proceedings and what they were enjoying the most.
Haudenschild and the Revamp Salon & Day Spa team members set up shop in one of the rooms at Grace Church, turning a classroom into a temporary beauty salon. With chairs in place and the tools of their trade in hand, they set about making it a special night as one by one attendees stepped through the door. The team proceeded to transform the look of each one, and it was all done for free.
In order to provide the finest work for everyone, Haudenschild said they printed off plenty of photographs of hair options so any nonverbal attendees could pick out a hairstyle they liked.
From braiding to curling, straightening and even adding glitter, there were plenty of options from which to choose.
On a night that was already something wonderful to remember, the Revamp Salon & Day Spa staff gave those in attendance one more shining moment they could put into their scrapbook of memories.