A hero leads his troop in a Vietnam skirmish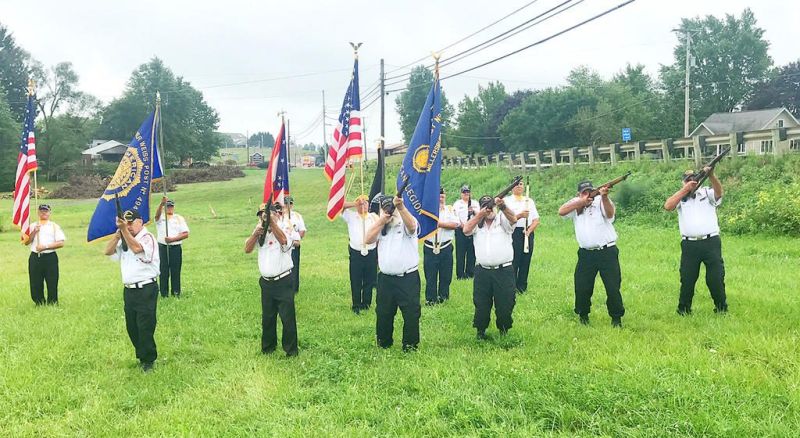 The fear of facing enormous odds in a battle of life and death is something most people will never face.
For Rick Miller, it was a reality that eventually claimed his life as he led his troops into battle during the Vietnam War.
More than a half-century after being killed in action, Miller was officially honored in his hometown of Berlin, where a roadside sign on state Route 39 near the east side of the village now dons his name as part of the Cpl. Fredrick Wayne Miller Memorial Highway.
During a ceremony that took place on Wednesday, Sept. 2, sixteen veterans and others gathered near the sign to celebrate his life, his courage and his sacrifice.
Veteran Ronald Troyer, who also served in Vietnam with the First Infantry Division, was one of the 16 veterans to pay homage to Miller during the service. Troyer went to school with several of the Miller clan, and although Rick Miller was five years his elder, he remembered him as a great leader, even back in school.
"This was very much an honor, and every time I drive by this sign, I will remember Rick and what he gave for me and for his country," Troyer said. "These types of events are such a blessing to all of the veterans who served because there is a kindred spirit and a brotherhood, a bond that will never be broken."
The official report on how Miller served his country and its freedoms to the bitter end is recorded on the website of the Vietnam Veterans Memorial Fund/Wall of Faces.
The story says Cpl. Fredrick Wayne Miller posthumously received the Silver Star, having served with the United States Marine Corps. He received the honor for conspicuous gallantry and intrepidity in action while serving as a squad leader with Company M, Third Battalion, Seventh Marines, First Marine Division, FMF, in connection with operations against the enemy in the Republic of Vietnam on April 21, 1966.
During Operation Hot Springs in Quang Ngain Province, Miller's platoon was assigned to search a hamlet where a camouflaged Viet Cong had been observed. As the Marines advanced into the village, intense automatic weapons and small-arms fire was received from the buildings and surrounding area.
Reports said with composure and presence of mind in the tense situation, Miller immediately moved his squad into a trench and commenced returning fire. Seeing an adjoining trench that ran into the hamlet, he braved the heavy volume of incoming fire and jumped into it, armed with an M-79 grenade launcher.
With deadly marksmanship, he quickly killed two Viet Cong who attempted to flee from the trench. Responding to an order to retract his unit for the utilization of supporting arms, Miller exhibited keen professionalism in maneuvering his men back through the continuing fire without sustaining casualties.
In the early evening, his platoon returned to the village to prepare for an assault. Although again faced with savage machine gun, automatic weapons and mortar fire, Miller skillfully led his unit into its assigned position and commenced the attack.
With fortitude and determination, at great risk to his own safety, he provided immediate support for his men with his grenade launcher, effectively neutralizing enemy positions with his accurate fire.
After expending all of his grenades, Miller, armed only with a pistol, continued to hurl himself and his squad at the Viet Cong defenders until he fell, mortally wounded.
By his extraordinary courage in the face of enemy fire, daring initiative and unwavering dedication to duty throughout, Miller upheld the highest traditions of the Marine Corps and of the United States Naval Service. He gallantly gave his life for his country.
"Rick was a tough guy, a strong guy who felt he was called to serve to protect others," said his sister, Lynda Hochstetler. "Like all of those who fought and served their country, they did so with great pride and a heart for serving their country."
Miller paid the ultimate price in his service, and now his story will be forever remembered and his name honored for that service and sacrifice through the dedication of the highway heading into his hometown of Berlin.