A passion forged in fire: Zoar blacksmith teaches the art the old-world way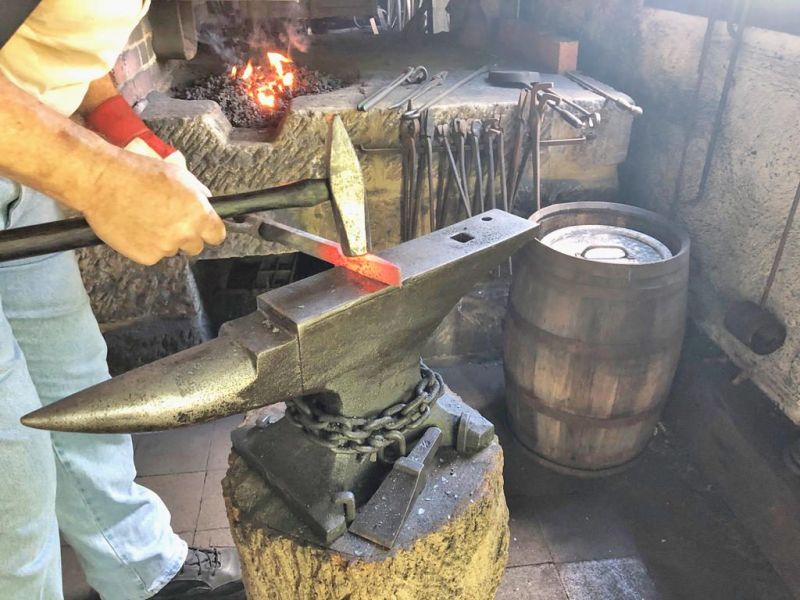 Musician, diesel mechanic, blacksmith, race horse aficionado, Scott Reynolds of Ashland is a man of many interests and talents. He's also a bit of a restless sort who says he either enjoys what he is doing or he moves on to something else.
Thankfully for Historic Zoar Village, Reynolds has been happy as the blacksmith there for the past 10 years, and he doesn't plan to go anywhere else soon.
Reynolds used to stop in Zoar after bike rides on the Towpath Trail. On one particular visit, he met a volunteer for Historic Zoar Village named Mel Eddy, who talked him into volunteering too. In Zoar Reynolds learned the blacksmithing trade under Bill Warner, who was the blacksmith in Zoar at the time. He also studied under Brad Burkheimer in Roscoe Village.
Reynolds said he loves being able to shape the hot iron into any number of tools or items. "It's like clay," he said. "And there are tools galore. What guy doesn't want to play with tools? Fire, tools, building things with your hands — what's not to love?"
What sparked his interest?
Reynolds admitted he was a bit of a pyromaniac as a youngster. "I'd go out back to the scrap fire on the farm and build a camp stove and just mess around with fire," he said. "In fact, any time I got in trouble as a kid, it was usually for playing with fire."
As a young lad on the farm, Reynolds also started tinkering with their antique farm tractors. "You had to know how to work with iron and steel," he said.
His uncle and grandfather both had farms, and they allowed Reynolds to work on their tractors. Whenever there was a problem, he always seemed to be able to get them running again. It was this talent and interest that led him to attend college to learn diesel mechanics, welding and fabricating.
Today Reynolds' day job is as the sole mechanic for the bus fleet at Crestview Schools, where he has been for 18 years. He performs routine maintenance and repairs and does paint and body work to keep the fleet looking good.
Blacksmithing in Zoar history
According to Kathleen Fernandez, a former site manager for Historic Zoar Village, blacksmithing was important in Zoar during the 19th century, much as it was elsewhere. She described the job of the village blacksmith in her book, "A Singular People." The Zoar blacksmith worked closely with the cartwright at the nearby wagon shop to manufacture hardware and iron tires for vehicles used in the village. He also made shoes for the horses and mules that drew boats along the Ohio & Erie Canal.
In the book, "The Zoar Story," Hilda Dischinger Morhart describes the original blacksmith shop as having a red tile roof, using clay tiles made in Zoar. A direct descendant of the religious separatists who founded Zoar, Morhart said the shop had three forges of differing sizes. Which forge was used depended on the size of the iron and the size of the product being made.
The small one was used for making nails and similar items. The large forge was used when Benjamin Ruof made Zoar's first fire engine. Other items made in the shop were chains with clasps and clips for harnesses, all gardening tools, axes, hammers, wheel rims, and all iron tools used in the community.
Morhart said an expert nail maker could make one in two minutes. They were all square with very crude heads but were very strong. She also described the unusual Fourth of July celebration in the village, saying the shop's two anvils were brought outside. One anvil was turned upside down on the ground and black powder poured into the opening. The second anvil was then place on top of the first one. The powder was ignited using a 12-foot-long iron rod that was red-hot at one end. The heat set off the powder, causing an explosion that shook buildings for a block around the shop.
Reynolds teaches blacksmithing in Zoar
Reynolds brings the experience he's gained over the past 10 years in locations throughout Ohio to bear when teaching the art of smithing to eager students in Zoar. In addition to being the blacksmith at Historic Zoar Village, he is currently the blacksmith for Lyme Village in Bellevue and one of the blacksmiths for the Huron County Fair in Norwalk, as well as Beaver Creek State Park's Pioneer Village. In the past he has done smithing at Roscoe Village, the Lorain County Fair and the Ohio History Connection's museum at Ohio Village in Columbus.
On one particular Saturday, Reynolds was teaching Lane Smerglia of Akron how to fashion a candleholder. A welder by trade, Smerglia recently became a volunteer in Zoar.
"I like it here," she said. "Last year I was on the committee for the Civil War Re-enactment, and the people here made me want to be part of Zoar, to make that 45- to 50-minute drive. It's worth it to me because of the people. The history is an added bonus."
Reynolds teaches four class levels at Historic Zoar Village, and he teaches blacksmithing the way it was practiced in Zoar in the 19th century — over a coal-fired forge. According to Reynolds, most places that teach blacksmithing use more modern methods and even power tools. His desire to remain historically accurate attracts students as diverse as 11-year-olds and retired dentists and lawyers.
All of Reynolds' classes are held on Saturdays from 8 a.m. to 5 p.m. and include lunch and a snack. "We provide everything they need," Reynolds said. "Students don't need to bring any tools or materials. They learn the craft of blacksmithing in a historically accurate environment with all nonelectric, period-specific tools."
In an eight-hour class, students learn fire management and safety, how to heat up metal, and basic hammering skills before making a take-home item.
"Usually, the first thing is an S-hook using a draw-down process, scrolling and twisting," Reynolds said. "The next class builds on the first one, adding punching, drifting and hot-cutting."
Students will learn to decipher all the lingo. Items students can make in the second class include candle holders, paper-towel holders and tongs.
In the fire welding class, students can make nails like those made by the Separatists, iron chain links and decorative heart-shaped hooks. In the final class they take home a knife fashioned at the forge.
"It's a simple blade made from inch-and-an-eighth round stock or scrap carbon steel," Reynolds said.
Other passions
Reynolds' fascination with music has led him to learn to play a number of instruments including the harmonica, cello, piano, guitar and banjo. It's the last two instruments he stuck with, though, playing occasionally at Grace Church of Ashland and at First Christian Church in Ashland. He also performs for private parties and for events sponsored by the Mifflin Lions Club.
Reynolds became captivated with horse racing after seeing the movie, "Seabiscuit," in 2003, not just because it was about race horses, but also because it was an actual historical event. His interest has led him to travel the country with his wife, Heather, visiting horse tracks across the country and writing posts for the Facebook page, Seabiscuit.
Reynolds takes photos and talks to the locals, also taking video that he posts on the page. He posts as LittleCurrent, a name he adopted after the horse that won the final two legs of the 1974 U.S. Triple Crown, the Preakness Stakes and the Belmont Stakes.
To learn more about blacksmithing classes in Historic Zoar Village, visit www.historiczoarvillage.com or www.facebook.com/historiczoarvillage or call 330-874-3011. Books mentioned in this article are available at the Zoar Store.