A purse and a chance led to educational opportunity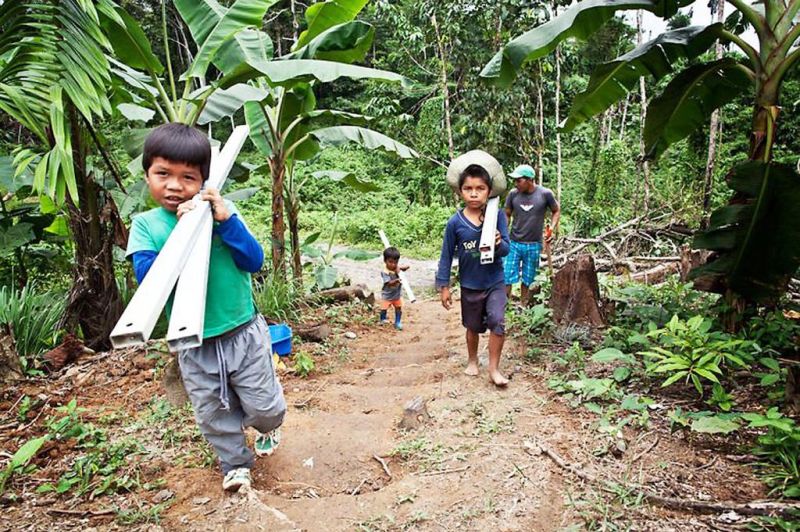 A chance meeting and a purse were all it took for Launie Shaw to get involved with a trip to a foreign country.
Ecuador 2020 is a visionary work trip designed for teens and specifically for Holmes County youth grade 6-12 who want to join this service-focused travel opportunity in June 2020.
According to Shaw, the trip is geared toward middle school youth, but anyone grade 6-12 is welcome.
There are currently several spots available to join the trip, and coordinator Shaw said it is an opportunity to experience a very different culture from that of Amish Country.
"I went to a teacher's meeting last summer and bumped into a lady who had this pretty purse, and she was so excited," Shaw said. "We started talking about this beautiful purse, and she said she got it on a service trip to Peru. She said the next scheduled trip was a service project trip to Ecuador with a side trip to go snorkeling to explore Galapagos Island. I have always wanted to see that area, and I had to know more."
That set off a series of emails that paved the way for the trip through Education First, a global education series that affords students the chance to learn around the world.
Shaw's two older daughters both went on travel experiences through EF, and she said it is very safe and extremely worthwhile, so the hunt was on to create a team of young people to head south to the foothills of a small mountain town in Ecuador.
Shaw said all of the fees for the trip are paid up front, meaning when the time for the trip comes, all of the travel, food and lodging are paid.
As the details for the trip start to come together, the teacher Shaw met at the meeting will bring her students and adult leaders to combine with Shaw's group to make the trek. Shaw, who is an advisor with the Berlin Busy Bees, decided to open up the trip through Holmes County 4-H.
"The reason I went through the 4-H route to connect with kids is our service trip will be geared toward agriculture and gardening in a small Ecuador mountain village," Shaw said. "These trips promote head, health, hands and heart and a community outreach that goes right along with Holmes County 4-H. This is just an extension of everything we want to accomplish through 4-H, and they can use their gifts and talents on a little bit larger scale."
Shaw said this is a learning trip that will provide memories and experiences that will last a lifetime.
The service part of the trip will see the volunteers from the group invest their energy toward helping with gardening projects with the people of the small Ecuadorean mountaintop village. Each morning they will venture from their hostel at the bottom of the mountain to the village high above, where they will partake in the culture and food of Ecuador. Shaw said EF has an excellent tradition of bringing all of its volunteers back together after a hard day of work to talk about their experience, and that makes the trip even more special.
Shaw said learning the language is one of the tasks those investing in the trip will have to manage before leaving, as well as securing a passport if necessary.
"We're helping them, but we are being blessed in return," Shaw said. "Then we get to come back home and recognize all of the blessings we have here in our own community."
The service project part of the trip isn't the only reason Shaw is excited. The group also will get to go to a place in the world she has had on her bucket list for many years.
"We get to share our lives and build relationships with a whole new group of people, but another really exciting part is that we get to spend four days on the Galapagos Islands, snorkeling and learning about the diverse animal culture present there," Shaw said. "I have always wanted to explore that area of the world with all of its beauty and animal life."
There are limited spots available for the trip, so time is of the essence with the deadline approaching.
Anyone wishing to sign up for the trip or to learn more about everything the trip entails may do so by calling Shaw at 330-763-4622 or emailing launie.shaw@eastholmes.org. There are monthly payments involved, although it can vary, and Shaw said details may be worked out individually for those attending. She said anyone may contact the Holmes County 4-H office for more information.