A service trip to Kentucky makes a lasting impression on H15 youth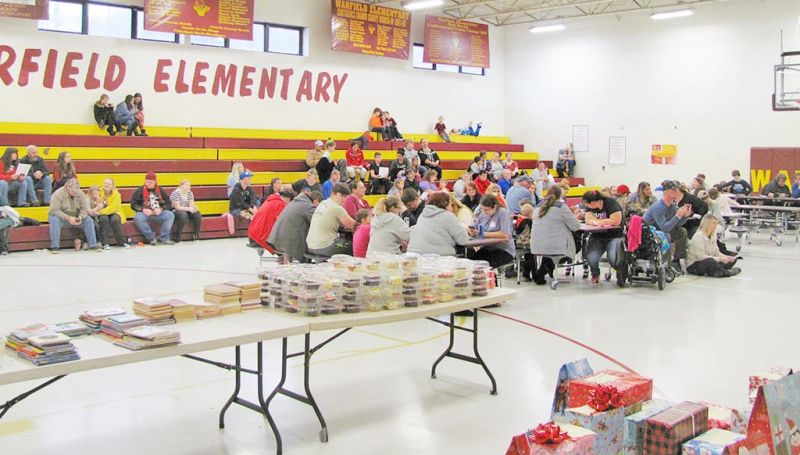 Service projects are always a meaningful way to share the joys, sorrows and hopes of others, but when those opportunities to share come along for young people who might not otherwise get the chance to serve others, it can make a lasting impact.
This Christmas saw H15 Ministries create such an opportunity, taking around 10 teenagers and several volunteers on a Christmas mission trip to Warfield, Kentucky, where they shared the joy of Christmas with a number of families from that community.
According to H15 Ministries director Andy Schafer, the experience was one the youth, the volunteers and most assuredly the families they connected with will talk about for some time. He said the group got together to go shopping for a number of gifts that had been sponsored by community members. They wrapped the gifts and packed their things for what turned out to be an excellent experience.
Schafer said the trip included plenty of good food and travel time with some of the more meaningful experiences being the teens laughing and sharing with people they had just met, building camaraderie with one another, hearing the gratitude of the families from Warfield and learning to work together for a common goal.
"We got to share the gospel and serve people in some very new and meaningful ways," Schafer said of the trip.
In addition to the gifts they purchased, the group took clothing and food. Schafer said one of the youth went through his family's assortment of children's books and took approximately 130 books to share with the younger children.
Perhaps the biggest impact of the trip came in connecting with a family whose home had burned down two weeks prior to the group's arrival.
Schafer said they were able to provide them with clothing, blankets and an assortment of necessary home items.
"One of our volunteers went out to the car, got the bedding she had brought with her for herself and handed the whole bag to the dad," Schafer said. "Our teens were very impacted by being able to do that."
Another teen volunteer wanted so badly to give a young boy the gift of a nice remote-control car he spent quite a bit of money to purchase.
Schafer said the teen was excited about giving the car but didn't want to go on the trip. Two weeks prior to heading south, the area teen approached Schafer and asked if there was still room because he had changed his mind and wanted to be a part of something special.
In addition the youth did a Christmas play they had worked on before the trip. Schafer said the teens worked hard to develop the play, and it too made a big impact on those in attendance, as well as on the youth themselves.
Schafer said the experience was one that will certainly have an ongoing impact on the group, a wonderful byproduct of giving to others.
"This is a whole new experience for a lot of these teens," Schafer said. "They don't normally do this type of thing, and they aren't offered opportunities to reach out into needy communities and connect with people. It was really cool to see everything that took place."
Schafer said the teens cheerfully did whatever was asked of them during the trip, and to hear them share what was meaningful to them in front of their peers after they got home was incredibly rewarding.
For Schafer the value in creating opportunities like these and others is not just getting teens out into the world to do service projects, but also to build relationships between the teens and the volunteers who meet on a weekly basis.
Schafer said they have seen incredible benefits taking place as the youth grow in character and build relationships together and with the volunteers.
"We have seen our teens reaching out and sharing in love with others in some special ways," Schafer said.
By offering plenty of activities, programs and adventures at the facility, they have gone beyond the simple act of giving youth something to do.
"We have hit the relationship level," Schafer said. "It's so cool because they know we love them and care about them. They trust us and listen to us, and that is exciting. They love to spend time with us, and that is one of the things that has blown me away."
While the building facility has taken shape over the past several years, Schafer sees the way relationships have been built and deems that even more important.
"God has provided as we have needed," Schafer said. "It feels like we are flying by the seat of our pants at times, like we are in uncharted waters because we have no idea what will come along next. But it is exciting. This trip was impactful for the teens, and I know it made an impact on me. I can't wait to see how God uses the seeds that were planted."