AAUW/Kiwanis used book sale marking 65th year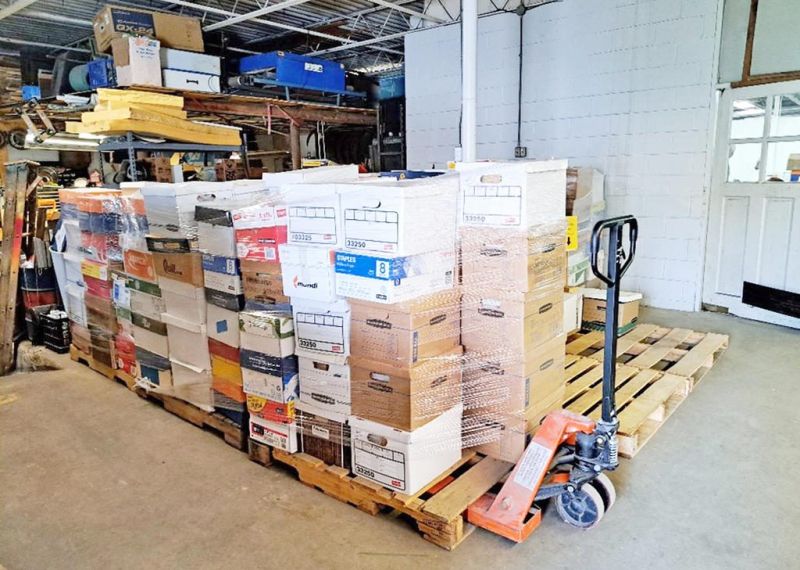 At the end of September, one of Ohio's largest used book sales will kick off at the Wayne County Fairgrounds. The sale offers more than 40,000 books of all kinds and marks its 65th year.
Held annually by the local chapter of the American Association of University Women and the Kiwanis Club of Wooster, this year's sale kicks off Sept. 27 with a preview sale from 4-8 p.m., when for a $10 entrance fee, buyers will get first pick of the selection of titles. The sale continues Sept. 28 through Sept. 30 from 9 a.m.-8 p.m. each day with free admission — with Friday, Sept. 30 half-price day — and concludes Oct. 1 with "Bag Day" from 9 a.m.-2 p.m., when bargains can be scooped up by the bagful.
Most customers, aren't aware of the hundreds of volunteer hours it takes to pull off the annual event, and the process begins after the previous year's sale with an empty warehouse. The sale relies solely on the donations by local residents since no inventory is carried over from one year to the next.
"We are so fortunate that the community recognizes our book sale as a good place to donate their used books," said Peter Roberts, the sale's manager of Book Processing.
"Most individual donations are just a few boxes or bags dropped off at our facility," Roberts added. "Occasionally we get large amounts resulting from people clearing out estates or downsizing. It takes a lot of donations to fill up our warehouse in time for the next book sale. Last year, we either sold or recycled over 38 tons of used books."
One of the reasons for the popularity of the annual sale is the quality of the books that are offered. Every donated book goes through a thorough intake process, starting with cleaning. Don Beane and Christine Degler come in one or two days every week as two of the dozen volunteers who specialize in cleaning books.
Once books are cleaned, they move to the pricing section.
"We are sensitive to the fact that for some patrons, our sale is their main source of reading material for the year and the books they purchase have to be offered at bargain prices," said Kris Evans, co-chair of this year's book committee, about the challenge of individually pricing so many different books. "On the other hand, we are challenged to maximize funds for our clubs' charitable activities. So, we do the best we can to meet both objectives. We have eight volunteers who specialize in pricing books. Each pricer has some flexibility in setting a price for an individual book depending on the author or condition. That said, we try to keep prices consistent and very reasonable."
From the pricing tables, the books must be sorted into any of 60-plus categories, then boxed and labeled with the correct category name. When the boxed books are moved to the warehouse, they have to be separated again by fiction, non-fiction, youth and vintage. Volunteers regularly help with sorting, boxing and storing books, which are now ready to go to the sale.
Four days before Tuesday evening preview sale opens to the public, the setup phase begins.
"On Friday evening, the men's basketball team from The College of Wooster moves about a hundred or so tables from our warehouse and sets them up in Buss Hall," said Don Ackerman, who coordinates the sale setup. "Goodwill Industries generously supplies two box trucks to move the tables and 30-plus pallets of boxed books.
"On Saturday, another group of volunteers takes over to make the final arrangement of the tables and place the category signs at the appropriate sections. On Sunday, the Wooster High School girls soccer team turns out to move 3,500 boxes of books from the pallets to the correct category section. Then Sunday and Monday, the boxes are emptied and books arranged on the tables, primarily by AAUW volunteers.
"During the five days of the sale, AAUW and Kiwanis volunteers, working 5 to 10 per four-hour shift, act as cashiers and support people." Ackerman concluded. "Saying this is a volunteer effort is an understatement."
Last year's book sale raised over $20,000 which was shared by the two sponsoring clubs. AAUW uses its portion to provide scholarships for women whose education has been interrupted, while Kiwanis proceeds are used for projects that benefit local youth such as playgrounds and literacy programs.
For more information, go to: https://woosterkiwanis.org/booksale, email woosterkiwanis@gmail.com, or text/call 330-439 2093.