Action, hospitality take center stage at upcoming CitC XVII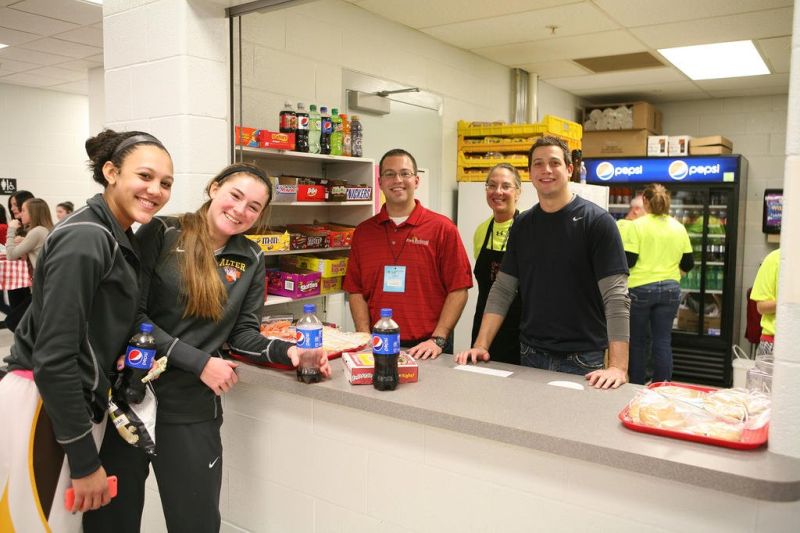 After two years of brutal weather that has significantly cut back on attendance at the annual Classic in the Country, CitC promoters Bryce McKey and Tenishia Benson have kept one eye skyward and the other on the weather forecast, even as they finish up all of the details to put on a weekend of high school girls basketball that features some of the greatest players and finest programs in Ohio, as well as a couple teams from farther away.
This year's CitC XVII will take place Jan. 18-20 at the Perry Reese Community Center at Hiland High School in Berlin.
Who could blame them for being a tad leery following the last two Classics that saw Mother Nature unload on Amish Country with torrential ice and snowfall.
"Right now the weather is predicted to be fine, and barring something crazy happening, we are ready to go," McKey said. "We have a terrific line-up of games and some individual talent that will showcase a number of players ranked in the top-25 players in the nation in their respective classes."
All weather aside, this year is shaping up to be a fantastic three days of basketball. The biggest change is that the weekend has seen two games added to the slate of action, bumping the number of games up to 22.
McKey said the additional games will provide four more teams with an opportunity to showcase their players in front of a large contingent of college coaches. It also creates bigger fan bases, generates ticket sales, brings more people to the area at a sluggish tourism time and will keep the pace rolling along as they cut back the warm-up times between games from 15-20 minutes to 10 minutes.
"It's fantastic for hoops fans because its additional action, but this has allowed us to bring in some of the teams that were on the schedule bubble," McKey said. "We want these teams to be able to experience this atmosphere because it is something special and it can lead to a team putting itself on the map with some of these college coaches."
McKey said many basketball people around Ohio consider the state tournament and the CitC as the two premier girls high school basketball events that take place annually. He said much of that is because of the hospitality shown to incoming teams, coaches and officials, all of them receiving the red-carpet treatment as they partake in the games and everything that goes with the Classic.
"The one thing that brings people together is obviously basketball, but the food is incredibly underrated, and the atmosphere that is created is one that allows people to sit there all day and really enjoy the experience," McKey said.
McKey said the community makes the event what it is. "We run events all over the state, but there is nothing like the hospitality people get in Berlin," he said. "I think it is a mind-set of the people, who value looking out for others' interests before their own. They work hard to make a positive impact on people's lives when they come here, and if they can do something to help someone, they will do it. The mind-set we have is if something needs done, we will figure it out. People are what make anything in life memorable, and people here have embraced this event."
Day one will feature eight games including a marquee match-up between two CitC juggernauts, North Canton Hoover and Lakota West. In addition the nationally ranked team from Winston-Salem Christian, North Carolina, will pay a visit for the nightcap to face a daunting task in Dave Schlabach's host Lady Hawks. The team from down south will be introduced further to Ohio basketball when it squares off with the state's top-ranked Div. I team and perennial state powerhouse, Mount Notre Dame.
"Winston-Salem is really good, so both of those match-ups should be a lot of fun to watch," McKey said.
Two more state powers will kick off day two when Mason and Newark mix it up along with the MND versus WSC game later in the day. Local Loudonville will face off with a talented Fort Loramie crew on day one while New Philadelphia will have a tough one in powerful Reynoldsburg on day three, a day that will be capped off with a couple of great games featuring Chippewa versus West Branch and Hiland hosting Shelby in the grand finale.
There also will be some great individual match-ups featuring top-25 players. Centerville's Cotie McMahon and Toledo Notre Dame's Grace VanSlooten will have at it for 32 minutes.
McKey said the premier match-up will come via a serious battle between Bree Hall of Wayne and Aurora's Shyanne Sellers. Both are big, agile and athletic, and both are among Ohio's finest. Sellers is the daughter of former Ohio State and NBA star Brad Sellers.
"That will be the best game within a game," McKey said. "They are definitely one and two, one way or the other, and this match-up on Monday is going to be great."
In addition the Class of 2022 features a host of sophomores who are already turning heads and capturing the attention of big-time college programs.
"This class is already making a lot of noise and is completely loaded with talent," McKey said of the sophomores. "Fans are always looking for the next big thing, and they may well find it in this sophomore group that will be on display."
McKey said on top of the entertainment, CitC continues to embrace the essence of why this was created, which is to celebrate unity and equality as exemplified by Dr. Martin Luther King, Jr. and former Hiland coach Perry Reese, Jr.
"Basketball is what we do but not who we are," McKey said. "I think that is what coach Reese would have wanted and respected the most about what we are doing. That is very valuable to all of us, and especially to Benson and I, and the more people learn about what this event entails, the more they want to be a part of it. It is totally unique, and you have to experience it to fully understand what is going on."
CitC XVII is co-sponsored by American Electric Power, which will provide an AEP Player of the Game, and WKLM 95.3 FM. For a complete look at the CitC schedule, visit the website at www.classicinthecountry.org.