Rains fall just in time for cover crop program to succeed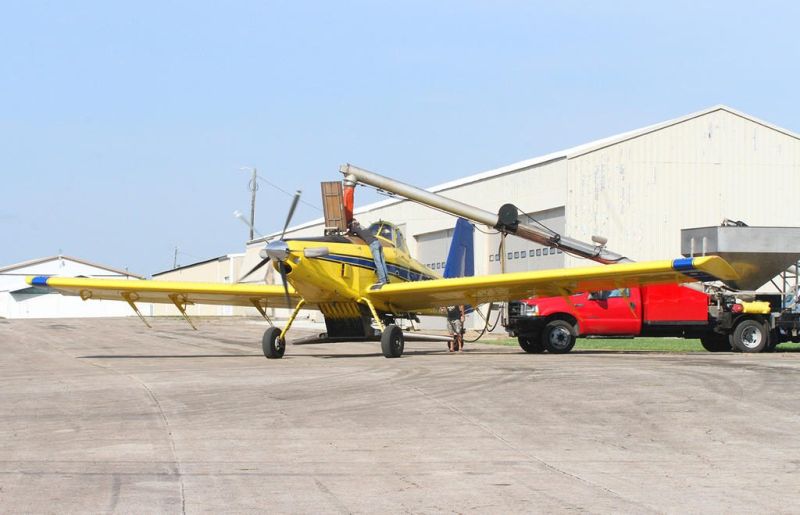 Another year, another late summer program that sees area farmland being covered with valuable cover crops.
The annual cover crop event is sponsored by Muskingum Watershed Conservancy District and Holmes Soil & Water Conservation District. It is designed to help farmers improve soil health on their farm and minimize runoff concerns while also working another crop into their rotation through a coordinated aerial application program.
On Tuesday, Sept. 8, the crew from Fisher Ag out of Mt. Gilead brought three of their now-familiar yellow single-engine planes to the area to provide the aerial application of rye, oats and barley or a mix of the three seed crops on farms in Holmes and Wayne counties.
According to Karen Gotter, watershed coordinator for Killbuck Creek, the program has many benefits, and those farmers who have utilized it continue to come back year after year to have a cover crop sewn for over the winter and spring months after their regular crop of soybeans or corn is complete.
Since the program's inception more than a decade ago, the system has gone from using maps to locate and drop cover seed on participating farms to using a GPS system, something that has made the process much easier.
Gotter said they do around 2,000 acres with the barley-oats mix of seed while another 200 acres of plain oats, rye and a rye-oats mix also are spread.
With the program now more than a decade old, the MWCD and SWCD have been able to assess the progress of the program and what has worked and not worked. Gotter said they have received the best results from farmers growing soybeans while the corn farmers are still a mixed bag.
Gotter said there is growing interest in developing other types of cover crop seeds to find the best fit for corn crops, as well as finding the best time of the season to sew the cover crops.
"One thing we are missing is a real variety of seed types that can be used for different reasons," Gotter said. "There is some interest in both our office and the community to develop some variety."
Gotter said the current mix of seed is heavy enough to get down through the soy crops. They target the cover crop program with the time when soybean leaves are beginning to turn yellow, meaning they will soon be falling off.
That allows the best chance for the seeds to hit their intended target and become productive cover crops late in the year.
Gotter said thicker, denser corn crops sometimes don't allow the seeds to get through, although that isn't always the case. She said oftentimes the corn leaves and the way corn is harvested also can make it tougher on cover crops' survival.
"This is a big investment for us, and it is an investment for area farmers, so we are always looking for ways to improve the process to provide the very best fit for our area farmers who are utilizing this program," Gotter said.
The feedback they have gotten from area farmers who utilize the program has been strong, especially in soybean farmers. Gotter said they have a very devoted group of farmers who are present in the program year after year. She said they see the value and look forward to creating a secondary crop that is profitable in so many ways.
Gotter said farmers have to weigh the option of utilizing the cover crop program against possibly doing it themselves a little cheaper, but that comes with the added expense of time for farmers, whereas the team from Fisher Ag doing all the work frees up farmers to devote their valuable time to other areas of the farm.
"The value of having someone else do this for them during this incredibly busy harvest time of the year is great," Gotter said. "They are taking one piece of the farming equation out. The cost is not insignificant, but a good number of our farmers who do use the cover crop program have said they've seen the value and they are benefiting in numerous ways."
One situation that was cause for concern for the cover crop program was the lengthy dry period prior to the event. Gotter said area farmers were thrilled with the early planting season weather, with everything seemingly looking really good for crops. However, the recent dry weather has slowed down crops.
Dry weather also makes it difficult for the cover crops to settle in and grow, so everyone was excited about the nice amount of rainfall that came along several days prior to sewing.
"The rain we got recently was probably too little too late for some farmers' crops, but in terms of what we are doing with the cover crop, it really was a blessing," Gotter said.
With a really productive rainfall coming the day before the cover crop program on Tuesday, Sept. 8, it set the stage for the cover crop seeds to have the best possible chance of growing.
"It's got that soil moisture now that will allow it to get off to a great start," Gotter said of the rye, oats and barley seeds. "What we will need now is a nice couple of good rains to keep the soil moist."
Gotter said last year was a good example of how dry weather can cause issues following the seeding process when six weeks of dry weather saw the seed stay on top of the soil and struggle to germinate. She said if the seed sprouts but doesn't have enough water to keep it going, it will struggle.
The three varieties of seeds and the resulting mixtures come from Scott Myers of Woodland Farms. He has been supplying the program with seed almost since its inception. Gotter said working with someone locally to supply the seeds is something they felt strongly about. Plus, Myers has been readily available to provide whatever is needed for each year's effort.
"He's been wonderful to work with," Gotter said. "We love working with a local supplier, and every year we get clean seeds for all of our seed types."
The cover crop incentive program is funded by the Muskingum Watershed Conservancy District. MWCD sponsors the program in the counties within its jurisdiction, with the goal of reducing sediment in streams and lakes through soil health practices.