Amateur auctioneer event gives rapid-fire voice to the novice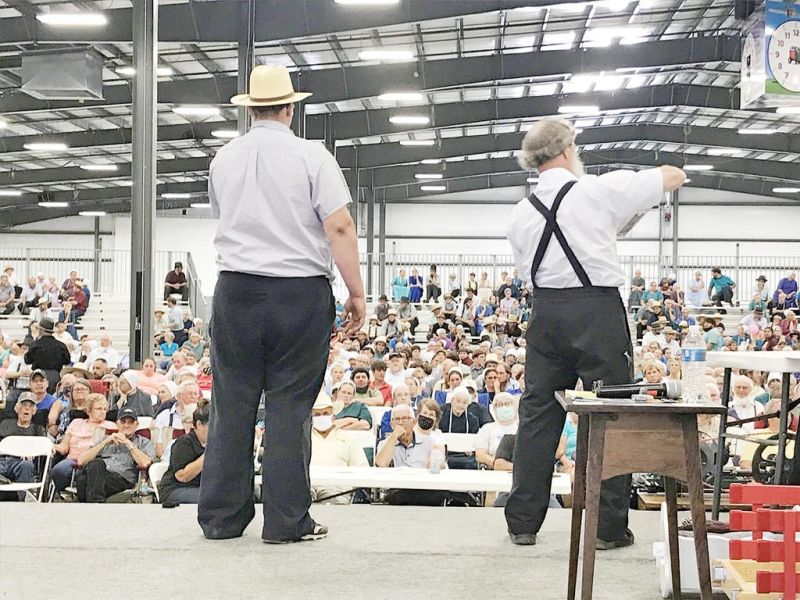 The repetitive cadence of the auctioneer is a quite familiar one to anyone who spends a little time in Amish Country, but on Friday, July 24 at the Mt. Hope Auction center, the auctioneers had more on their mind than simply selling product.
This day marked the annual amateur auctioneer contest at the Rainbow of Hope Benefit Auction, and more than a dozen novice auctioneers who felt their auctioneering techniques were up to snuff bravely walked up on to the front stage and gave it their best in front of a huge crowd of bidders.
The event has become a cherished staple of the Rainbow of Hope weekend, one that has allowed its participants to cross off a bucket-list item of rattling off prices like they have in their basement or in front of their cat at home as they envisioned themselves making the big sale while reeling off words at supersonic speed.
Professional auctioneer J.R. Miller of Kaufman Auction & Realty has been given the task of rounding up the local talent, and he said the evening is something he and many others look forward to hearing as the amateurs work to overcome their fears and have at it on the big stage.
"This started about 15 years ago when we talked about giving some of these guys a chance to show everyone what they could do," Miller said. "We felt we could have a really good time with it, and it has been so much fun. It has grown in number of participants, and it has grown in popularity."
The amateur auctioneer committee puts out an advertisement calling all hopefuls. Miller said while they preregister, many of them don't have the nerve until the night of the event to sign up.
The number of auctioneers varies between 15 and 25, and Miller said it is easy to pick out the several who really practice a lot.
The event begins with each auctioneer rattling off three items. The final five are then chosen by a committee of some of the area's top professional auctioneers, and they in turn each sell off five more items. This year's judges included Steve Andrews, Steve Mullet and Dave Kaufman.
"Nobody is going to argue with those three guys when it comes to judging talent," Miller said.
The winner receives $100, second place earns $50 and third place receives $30, but this isn't about the cash as much as it is bragging rights and the verification that these guys truly are talented.
Aaron Troyer, one of the five finalists, was in the contest for his second year and admitted nerves come into play.
Eventually, the crown went to Berlin native Merlin Mast, second place went to John Yoder and third place went to Jadon Miller.
"This is my first time for this event, but I have done a couple of church auctions," Mast said. "I just try to not look at the crowd, listen to the bid spotters and do my thing. I enjoy doing it."
For anyone who walked in late, they may not have even noticed the contest was going on, especially for the finals where each participant did well.
However, for Kaufman, zeroing in on the top three was not difficult. Such was the strength of their performance. However, picking the top spot was a much more daunting task as each judge graded participants on their individual score cards, grading them as they went.
"This is such a blast," Kaufman said. "There's a lot of talent coming up on stage, but this year, as soon as we got through that initial round, I felt there were three that really stood out above the rest. Those last three, especially the top two, were extremely close in the voting."
While the amateurs do this for fun, who knows what could derive from their efforts? Someday, patrons of this auction could well hear the cadence of one of these amateurs who found their calling through this event.