Animals brighten FFA Week for West Holmes students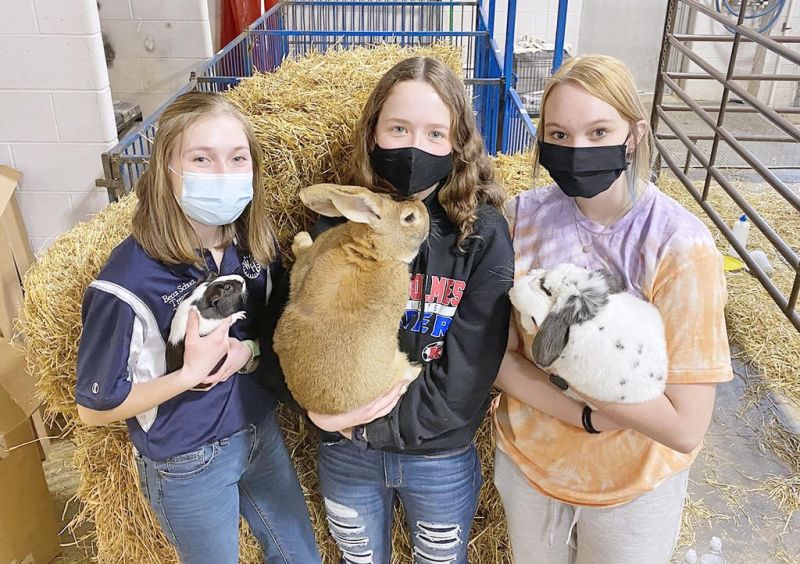 The cow says "moo." The horse says "neigh." The duck says "quack."
How many people can remember those thick toddler books that introduce an infant to the sounds animals make?
Despite living in a rural community that features plenty of farms with all types of species of animals, for many teens today, the education and connection with farm animals doesn't extend beyond those simple books.
That is why the West Holmes FFA made a point of providing an animal petting zoo in the FFA room at the high school during FFA Week March 22-26. In bringing in a host of different farm animals, the FFA members provided an educational opportunity to reintroduce different types of animals to students who perhaps haven't ever touched, fed or held a farm animal.
West Holmes FFA advisor Jaime Chenevey said her students have worked hard to come up with a fun and educational week of activities, and the makeshift animal farm was one of the most enjoyable parts of the week.
"The kids love bringing their animals in and having the student body come and visit," Chenevey said. "It's such a unique chance for them to share their experiences and the joy they have in rearing these animals."
Becca Schuch, a sophomore in the FFA program, brought in her market steer Maverick to show to the student body.
As a treasurer for the FFA, Schuch and her fellow elected officers were instrumental in designing all of the West Holmes FFA activities that took place during the week.
"Our goal is to promote agriculture and FFA in the school," Schuch said. "Some people never venture this far down into the school and have no idea what takes place down here in the FFA room. By having the animals down here where students can come and see them, the FFA is actually educating students and allowing them to see these animals up-close."
The animal show started with smaller animals like rabbits and guinea pigs and progressed through goats and sheep to larger ones like steer and horses as the week went on.
The FFA members then took turns meeting students, talking to them about the animals and allowing them to hold, pet or feed them.
Sophomore FFA member Sarah Irwin brought her rabbits and a guinea pig on Tuesday, March 23, and there were plenty of students willing to take a turn holding the animals.
Irwin said each of the presenting members getting a chance to share their passion and wisdom with the rest of the student body is something they relish.
"I think it is a blast being able to share with others," Irwin said. "So many kids don't have anything like this in their day-to-day lives, so it is fun to see how they interact with the animals, and a lot of them are eager to learn more about the animals."
Irwin said most students thoroughly enjoy holding and petting the animals and seem to have a really great time just relaxing and being around the animals. She said it also is very relaxing to her and the other FFA members who bring their animals.
"I hope that this inspires other kids to look into investing in an animal," Irwin said. "I think we all truly enjoy this week and being able to showcase our animals."
WHHS sophomore Haileigh Paddock was one of myriad students who took the opportunity to venture into the FFA realm and visit the animals, and she was delighted to have that chance.
"This is really cool to see all of the FFA members committing to doing FFA week and seeing them willing to spend all of this time with us and to bring in all of their animals," Paddock said. "They are teaching us all a lot about the animals, and getting a chance to pet them and hold them is really neat."