Annual Tusky Days Festival is fun, food and community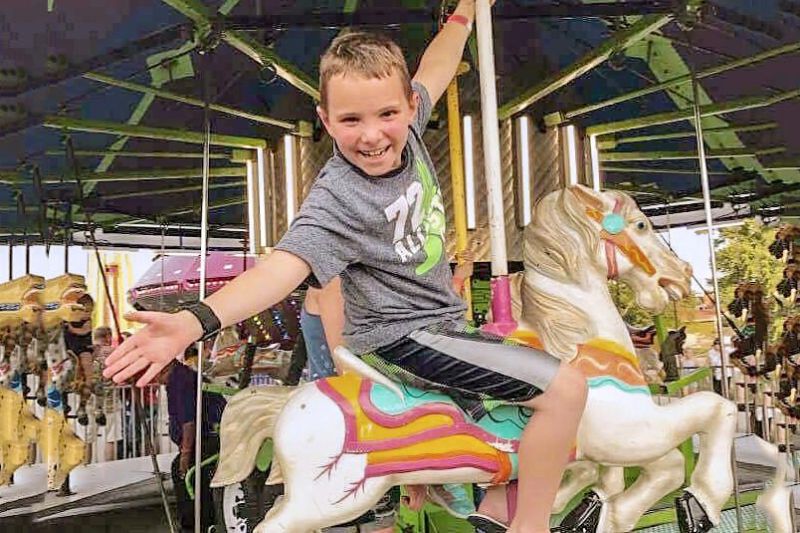 The Tusky Days Festival will be held on June 13, 14 and 15 on School Street in Tuscarawas. The street is blocked off during the festival, and in place of vehicle traffic, attendees will find food trucks, a stage full of acts, vendors, rides and more. Some School Street residents even decorate their homes for the event.
Keeping the community close-knit is the goal of the festival committee.
"This is for the kids; it's for the community," said Matt Ritenour, festival chairman. "It gets the community back together. Sometimes you just lose track of your neighbors."
Ritenour said the festival provides an easy way for friends to reconnect, even for people who live close. "This way you are sitting at a picnic table and you can say, 'Hey, I haven't seen you in ages.' That's always fun to see," he said.
The fourth annual Indian Valley North High School "Big Blue" Alumni Get Together is scheduled for Saturday, June 15, beginning at 6 p.m., allowing another opportunity for people to get together.
Another goal of the committee is to provide college scholarships to students living in the village of Tuscarawas or Warwick Township. Ritenour announced they were able to provide two $500 scholarships this year; in the past one was awarded. The 2019 scholarship winners are Caden Williams and Kennedy Allen.
Each year the committee turns to Indian Valley school students to design a T-shirt for the event. This year's shirt features a colorful design of Lock 15, which sits on the south side of the village along state Route 416.
The first-place winner in the festival T-shirt design contest is Bethany Griffith. She receives $100, a T-shirt and two ride passes. Second place is Nick Stocker, who gets $50, a T-shirt and one ride pass. Third place is Katelyn Smart, and fourth place is Alyssa Ford. Both receive $25, a T-shirt and one ride pass.
Start planning your festival meals now. The food vendors scheduled include Ross Mountain Barbecue, King's Dog House, Captain Ron's Alligator on a Stick, Shan-Jo's Lunch Box, DiRusso's Sausage and a host of other favorites including French fries, soft pretzels, gyros, pizza and Stromboli, deep-fried veggies, soft-serve ice cream, and lemonade.
The rides are provided by Premiere Shows of America. All-day ride wristbands will be available for purchase.
The paddle auction will be held on Friday at 7 p.m. A limited number of commemorative paddles, designed with a Lock 15 theme and made by Indian Valley High School shop students, will be available to the highest bidder.
Ritenour called the event sponsors phenomenal. "We've got some great sponsors. It's just so overwhelming how they've helped," he said.
Ritenour said WTUZ will do a three-hour live broadcast from the festival on Friday evening.
Sponsors for the event this year are Dover-Phila Credit Union, Barnett Realtors, Durbin Farms, Tuscarawas County VFW Post 7943, Progressive Foam, Smith Ambulance, Uhrichsville Carbide Inc., Trinity Hospital Twin City, Chuck Nicholson GMC, McInturf Realty, The Romig Agency, Ohio Bridge Stripping Inc., Lanzer Excavating, Triple R Trailer, Warwick Lions Club, Koch Funeral Home, The Corner Tavern, Dino Piergallini and Sons Equipment, Baker's Mowing and Mulching, Park Marathon of Tuscarawas, Village of Gnadenhutten, Krocker's Computer Services, Willandale Golf Cart Sales, Bombs Away Bar and Drive Thru, and the Village of Tuscarawas and their employees.
Midway hours are 4-11 p.m. on Thursday, 4 p.m. to midnight on Friday and noon to midnight on Saturday.
Activities on Thursday are the Mayor's Presentation at 5 p.m., New Phila Steel Drum Band from 6-7 p.m. and the Tuscarawas River Band from 8-11 p.m.
On Friday registration will begin at 5 p.m. for the 1-mile walk/run and 5k run at the Warwick Fire Station. The 1-mile will kick off at 6 p.m. with the 5k beginning at 6:30 p.m. The proceeds from this year's race will benefit Project Outrun for Pediatric Cancer.
The Kodachrome Babies will take the stage from 5:30-7 p.m., the commemorative paddles will be auctioned off at 7 p.m. and Badstone will entertain festivalgoers from 8-11:30 p.m.
On tap on Saturday will be the talent show at 12:30 p.m. with registration from noon to 12:30 p.m. The car/bike/truck show on the east end of School Street will be from 3-7 p.m., Mark Heddleson Acoustic will be from 4-6 p.m., Sam and Jimmy Hitchcock will be from 6:30-7:45 p.m., and New Wave Nation will be from 8-11:30 p.m.
Signs will be posted at all entrances to the village. Follow them to the festival and join the Tusky Days community.