Anti-Virus growing in its effort to create character-building in middle school students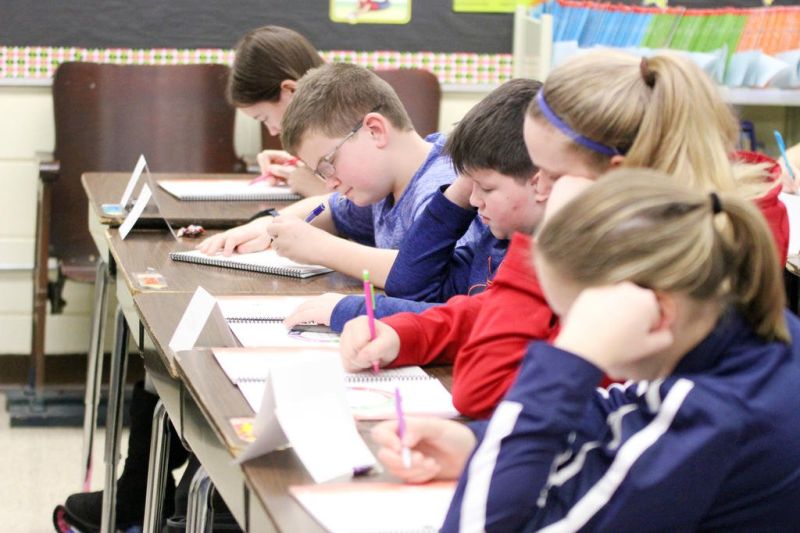 Creating positive change in the lives of young teens all around Ohio and even beyond is what Anti-Virus Education Inc. is seeking to accomplish.
Anti-Virus Youth Education Inc. was created for the specific purpose of educating youth and changing the world through the promotion of ethical values by bringing character development to schools and community organizations.
Designed and developed specifically with sixth- through eighth-graders in mind, the Anti-Virus program has been able to make strides in schools across the state.
It is now branching out even further as it takes root in Kentucky, Florida, California and West Virginia, but it all began here.
Anti-Virus began several years ago when Ted Gerber, former superintendent at Garaway Local School District, acted on his desire to see this character education program available to schools. Gerber said retirement provided an opportunity to generate a buzz about Anti-Virus.
The one thing Gerber said he missed was to bring a character-driven program into the Garaway Middle School, and he believes now is a chance to correct that.
The Anti-Virus team began a concerted effort to get the character program into schools, and soon it was adopted into Garaway, Tuscarawas Valley and New Philadelphia school districts.
"There were a lot of programs designed for high school-age teens, but nobody was focusing on developing character and leadership development in middle school," said Tanya Miller, Anti-Virus youth education director.
With workbooks created and designed to promote leadership and character specifically for young teens, Anti-Virus made quick inroads in a number of middle schools in Stark, Tuscarawas, Wayne, Holmes and Coshocton counties.
It quickly soared from 545 students that first year to 1,200 in its second year, then to 2,700 and from there to 7,200. As of now there are more than 10,000 students involved statewide.
Miller said one of the reasons the program has taken off is that unlike many of these types of programs, it is very cost-effective. Workbooks are only $8 per student, and Anti-Virus pays for all of its certified mentors to go into each school once a week for a 10-week period to teach and talk to students.
Another reason Anti-Virus has grown in popularity is because it has reached out into communities throughout each school district to garner financial support for each school. Thus school districts that are struggling financially aren't burdened with any of the costs because it is backed financially by local businesses and individuals who understand the value it brings to tomorrow's leaders.
"We wanted to keep this affordable," Miller said, "but we also realized most school districts don't have a lot of additional funding to commit to a new program, which is why we felt it was important to involve communities."
The organization, Leader's Edge, created funding for the schools along the U.S. Route 77 corridor, and Anti-Virus works with other districts and businesses to raise the funds necessary for a school district to adopt the program.
Companies like Ventrac have supported both Orrville and Dalton school districts. Area businesses have seen the value in the Anti-Virus program and have given as they invest in building character in youth.
As the program continues to gain acceptance in schools, the Ohio Department of Education has honored it a "Best Practices" recipient, a high honor for any curriculum.
"ODE heard about what we were doing and said they wanted to know more about it," Miller said. "They were very intrigued with how we work together as a community to support Northeast Ohio schools. But for us to receive such an amazing honor is so important because schools can see what kind of an impact Anti-Virus can make in schools. They believe in our program, and they want to sow character into our youth rather than eventually dealing with the legal side."
The honor marked the first time Anti-Virus saw a civic organization provide for its mission.
Miller said out of all of their many school districts, few actually pay for the program, which costs about $30 per student, benefiting from communities that step in and defray the costs as they help sow character, responsibility and leadership into the schools.
"Kids hurt, and they have to know that there is hope," Miller said. "This is about our future generation and them becoming good citizens and mothers and fathers. We are offering this 'candy' that can help transform the mind in these kids."
The words of thanks coming in from students tells the story of the impact this program is making on today's young teens. Many of them write about how good it feels to be more positive at school and at home, how the program has made them become more aware of what they say and how they act, the value of communication with their parents, how they have grown in their willingness to help others, and how their lives have changed for the better.
One letter that came back to Anti-Virus said, "I want to thank you for everything you have done. You have made me realize that I should help people I care about when they are hurting or have done something that involves drugs or alcohol. You guys have helped me a lot with finding out how wrong the world really is and that we have to stand for what is good. My mom was doing all of those things that you put in the book to warn us not to do, and she made a lot of mistakes. She is better now and trying to do what is right, and I know I have to stand for what is good to be an example for her. You have changed my life, and this will help my mom too."
Stories like these abound as part of the process is having students pen their own words about the program.
"You read these things, and you're like, 'Oh my goodness, oh my goodness.' It's touching and heartwarming, and you realize that what we are doing in the classroom is making an impact. We give these notes back to the businesses so they can see firsthand how their contributions are positively impacting today's youth," Miller said.
There are close to 50 certified mentors on payroll who visit schools throughout the region to lead Anti-Virus classes. They go into the schools for 10 weeks to go through the program in either the social studies or health classes.
Few programs like this offer the services of a certified, background-checked professional to lead the program at school.
"They get to connect and hear what is going on in kids' lives in a very unique way," Miller said. "When you see a group really open up and share, you can see the transformation happening in the classroom, and that is exciting."
For more information call Miller at 330-231-8060 or email tanya@antivirusyouth.org.