Apple Creek Library is integral part of community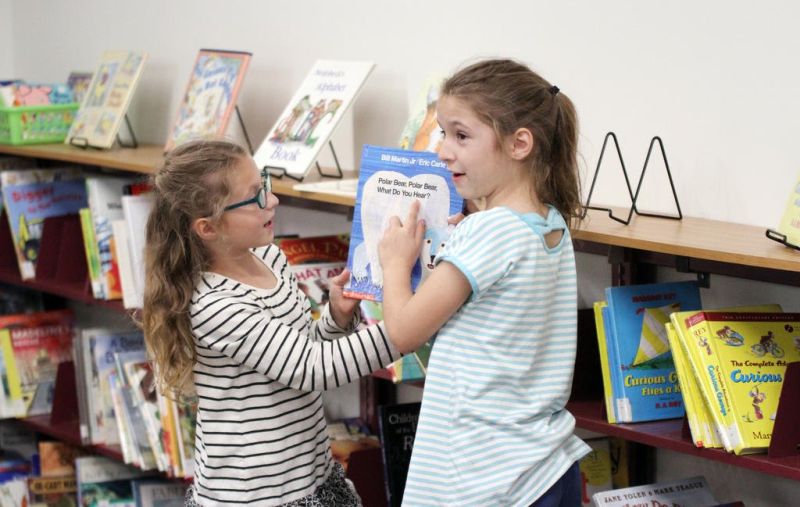 The doors to the new Apple Creek Library opened Monday, June 3 in Apple Creek, and those in charge weren't sure whether or not people would come to the grand opening. It turned out they had no reason to worry whatsoever.
"We weren't sure what to expect when we opened the doors, but we had this flood of families and children who came pouring in, and it was amazing," librarian Linda Davis said. "We had kids checking out books and signing up for library cards, and it made for a great opening day."
Davis said the building housing both the new library and the historical society began to take shape 15 years ago, but the process has been slowly developing.
Independent of the Wayne County Library System, the Apple Creek Library is independently funded and will rely on public donations to thrive.
Davis was a longtime librarian at the Wayne County Public Library before retiring not long ago. She said when the opportunity to "unretire" came along in Apple Creek, she quickly knew it was something with which she wanted to be a part.
"I am all about promoting literacy, and when someone approached me about the position, I was very excited about getting books into people's hands," Davis said. "The children we have seen were able to walk or they had a very short drive to get to the library, so the convenience of this library is going to be a real asset to the people of this community. This was a very much-needed part of the community here in Apple Creek."
Davis said like all of the Wayne and Holmes county libraries, the Apple Creek Library will host plenty of programs and activities. Their programs will be on Fridays, and there also will be a summer reading program available for children to join. She said they are very much like all of the other libraries in the county, just a bit smaller. She did say the venue is unique with it being situated off the beaten path on Church Road.
"What other library can you sit out on the deck and enjoy the beauty of nature all around you?" Davis said. "I really think this is going to continue to grow and grow. It is a wonderful opportunity for area families to enhance their children's reading skills."
Davis said while they are not a part of the Wayne County Public Library System, they could not have accomplished what they have without the help of several of the county's libraries. She noted that the shelving for the library came directly from the Dalton Public Library, which recently got new shelving during a remodeling project and donated their old shelves to Apple Creek. Many of the current books available were donated by various libraries, and the community at-large also helped stock the shelves with reading material.
"Our volunteer and community support has been amazing and vital to our success," Davis said. "It shows a deep commitment to helping create something special here that will benefit everyone in the community."
The library itself has a brand-new look and appeal. The main library features a children's reading nook and a large children's section. Davis said they have books for infants through adulthood. In addition they have computer access where people can print out material.
"Books allow our children to transport themselves to a whole new world," Davis said. "There is something special about having a book in hand and allowing your imagination to paint these wonderful stories."
There also is an adult collection of fiction and nonfiction books. Currently there is a genealogy area in the rear of the library, and eventually that section will move upstairs in the three-story building, allowing for more expansion in the main library area.
Eventually the historical society will have a huge exhibit area for local artifacts; a rental area for large groups for meetings, wedding receptions or other venues; a smaller board room for meetings; a welcome center; a gift shop; a room for print media; an interview room; a mechanical room; and a woodworking and metal workshop where people can come in and utilize their crafting skills.
"There is a great deal of excitement about this building being completed because there are a lot of wonderful plans in store," Davis said. "We are just the first stage of what should be a really wonderful addition to the community."
Barb James, another longtime employee of the Wayne County Library in the circulation department, also will be on hand to add her expertise to the Apple Creek Library. She said she and Davis create a perfect team for the new library.
The library is a part of the Apple Creek Historical Society, so sharing the same facility is going to be a plus, according to Davis. She added that if anyone is looking to donate books, the library will accept them.
In addition anyone wishing to make a monetary donation may do that by emailing the library at applecreeklibrary@gmail.com or they can send a monetary donation in care of the Apple Creek Historical Society, P.O. Box 6, Apple Creek, OH 44606.