April is Ohio Native Plant Month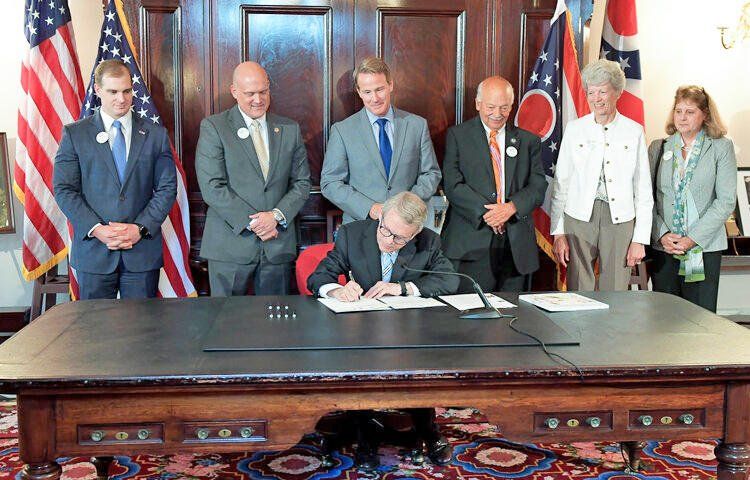 It's official: Ohio's native plants now have their own month.
It's already the International Year of Plant Health, as designated by the United Nations General Assembly.
Now, not only will April 2020 mark the 50th anniversary of Earth Day, but also it will be the very first Ohio Native Plant Month.
State Rep. Scott Wiggam of Wooster was the primary sponsor of HB 59, the House bill that read, "The month of April is designated as Ohio Native Plant Month to increase public awareness of Ohio's native plants and the many benefits they provide to pollinators, Ohio's economy and the health of Ohio's environment."
In July 2019 Gov. Mike DeWine signed the bill — the culmination of an effort that stemmed from an idea by former Ohio First Lady Hope Taft and then a grassroots effort led by Ohio gardener and educator Nancy Linz, along with help from Nathan Johnson of the Ohio Environmental Council.
During the late summer 2018, Taft asked if Ohio should have a day or week dedicated to native plants, as other states do.
Then Linz and others went to work.
"This was such a wonderful idea. As a life-long gardener with an interest in horticulture, conservation and education, this seemed like the perfect opportunity to do something that could benefit all three for Ohio," said Linz, a founding member of the National Association for Women in Horticulture and currently the head of horticulture for all Garden Club of America groups in Ohio, Indiana and Michigan.
After many trips to testify before both the Ohio Senate and House of Representatives, the legislation received unanimous support in both Houses. DeWine signed it into law and made Ohio one of the first states in the nation to have a month dedicated to celebrating its native plants.
Linz said since then Ohio Native Plant Month has been established as a 501(c)(3) nonprofit, built a website to highlight native plant activities going on across Ohio and created a 100,000 native tree challenge for 2020. The group also is working with other states to use Ohio as a template to pass similar legislation with the ultimate goal to take Ohio's legislation to Washington, D.C. to make April National Native Plant Month.
Other goals for the group include facilitating communication across Ohio in support of all native plant activities and events, providing information on where to buy native plants in Ohio, and supporting the nursery industry in Ohio by promoting the sale of native plants.
"There are many great places to buy native plants in Ohio," Linz said, adding the ONPM website has a list of over 90 local sources for buying them.
Although the spread of the coronavirus has put a damper on all of the planned plant-based activities across the state in April, Linz is hoping that ramps back up in the near future.
Linz said all residents can still help Ohio do its part to fulfill the goal of the United Nations to plant 1.2 trillion trees worldwide in 2020. The ONPM website is tracking the number of trees planted statewide, with a goal of planting 100,000 this year.
"Our native plants are part of an intricate, balanced web that help to filter and clean our drinking water, remove contaminants from the air we breathe, cool our planet and feed the bees that pollinate most of our food crops," Linz said, adding by having one month dedicated to Ohio's native plants each year, "We can encourage change."
To learn about the benefits of planting native plants, find places in Ohio to buy native plants and seed mixes, learn about activities going on across Ohio, watch the progress on the tree-planting challenge, and more, go to www.ohionativeplantmonth.org.