Area professionals promote a new tourniquet technique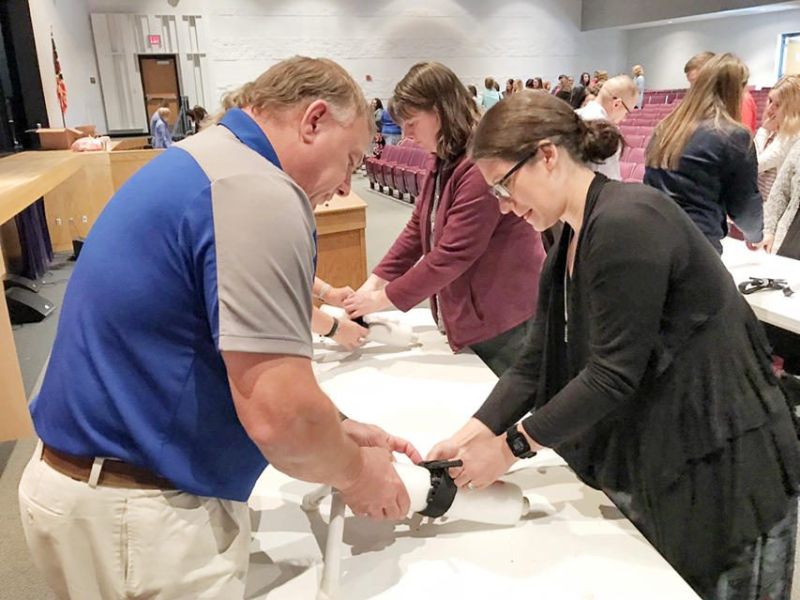 An arm injury at a local lumber or woodworking plant, a school shooting, a major foot injury at any number of manufacturing plants located throughout the area, all of these scenarios bring with them the potential to have someone pass away, not because of a life-threatening injury to a vital organ, but from simply bleeding out.
These types of bleed-out deaths are preventable, and a local push to provide instruction on how to slow or stop a bleed is in progress. The public is the target audience for the Stop the Bleed campaign.
Stop the Bleed is a national awareness campaign as well as a call to action to the public, whether they have any prior training or not. Stop the Bleed is intended to cultivate grassroots efforts that encourage bystanders to become trained, equipped and empowered to help in a bleeding emergency before professional help arrives.
"If you look at some of these school shooting and workplace disasters that take place, people are dying from bleeding out, so the Stop the Bleed program is being promoted in the public arena to put a stop to deaths like these," said Gary Mellor, Holmes County emergency management director.
Stop the Bleed is promoting the use of the same inexpensive and easy-to-apply tourniquets that the United States military uses. The CAT, Combat Application Tourniquet, is a life-saving device the military has perfected through trial and error as it has made the lock-in-place tourniquet the proper width and strength to stop bleeding on the extremities.
"They are extremely easy to use and even allow for a place for the person applying the tourniquet to write down the time they applied the tourniquet because that is the first thing responders will want to know," Mellor said. "We have already taught this to all of the East and West Holmes school teachers, to some business employees, and the County Engineer's Office and the township trustees. The more information we can share about Stop the Bleed, the more chances improve of someone being able to save another person's life should a situation arise. It is a free teaching tool to the public, and we welcome any business, church or other organization to call us to set up a time that we can teach and share this valuable information."
While at West Holmes High School, where the entire teaching staff in the district was invited to learn this life-saving technique, Dr. Loren Kirchner and a staff of qualified educators were taking a step-by-step approach to educating the staff.
Kirchner provided a video tutorial, and the various medical staffs that are doing the educating have Styrofoam limbs that have fake wounds that allow participants to physically apply a tourniquet, something that didn't take long for those in attendance to catch on to.
"We all are passionate about sharing this information, and it takes about one hour to go through the teaching process," Mellor said. "I think one hour of time is definitely worth the thought of saving someone's life."
Kirchner said according to national statistics, no matter how rapid the arrival of professional emergency responders, bystanders will always be first on the scene. A person who is bleeding can die from blood loss within five minutes. Therefore it is important to quickly stop the blood loss. Those nearest to someone with life-threatening injuries are best positioned to provide first care.
Through the national Stop the Bleed program, the public can become knowledgeable and equipped, and perhaps their minimal training will someday save a life.
"The goal of the whole program is to engage all of the public to help folks see themselves be a type of immediate responder should the situation arise," said Kirchner, an internal medicine physician with Pomerene Hospital as well as serving as a critical care physician with the United States Army for the past 35 years. "The EMT will oftentimes not arrive as quickly as hoped in a bleeding situation, so we, the lay public, can easily be the person to respond to that immediate need to stop the bleeding in a victim."
For a long time the use of tourniquets were discouraged and thought of only as a last-ditch effort. However, because of advancements in science and technology, the use of a proper type of tourniquet has been found to be a true life-saver.
Kirchner said studies have shown many lives could have been saved had there been someone there to apply a tourniquet in a timely manner. He said while many people may cringe or back away from a life-or-death scenario because of the blood and fears that arrive with a dire situation, they must learn how to push past their fears and keep in mind that they may be the one person between life and death for another human being.
"I think a lot of folks can do so much more than they realize when it comes right down to it, and this method with the tourniquet is so simple," Kirchner said. "I think in the past applying a tourniquet was always believed to be the last step. It is totally opposite of that now. Stop the Bleed is promoting the use of a tourniquet first because those seconds count."
Kirchner said the Iraq War was a great proving ground for the tourniquet method. Initially when the U.S. entered the war, the death rate for arm and leg injuries was nearly 70 percent, due mainly to a lack of knowledge and use of the tourniquet. According to Kirchner, those numbers have dropped to nearly 10 percent since they began training Army personnel in the technique of applying a tourniquet.
Those same training principles are being used in the Stop the Bleed campaign, whether it is through school districts, businesses or organizations.
Kirchner said the expediency with which people respond is key to any successful attempts to stop a bleeding victim. He said in the past the first move for a citizen would have been to call 9-1-1. Now the belief is that stopping the bleed becomes critical. Thus the precious minutes that it takes first responders to arrive can be used to apply a tourniquet and slow or even stop the bleeding, giving a victim a much better chance of survival.
At the end of the seminar at West Holmes, each staff member received a tourniquet kit they could keep in their room should an emergency arise.
Any business, school or organization can call Pomerene Hospital at 330-674-1015 or Mellor at 330-674-0989 to set up a time for a local EMT crew or the hospital to visit and give expert instructions on how the Stop the Bleed method can save lives in a simple and quick manner.