Wayne County workout facilities are coming back to life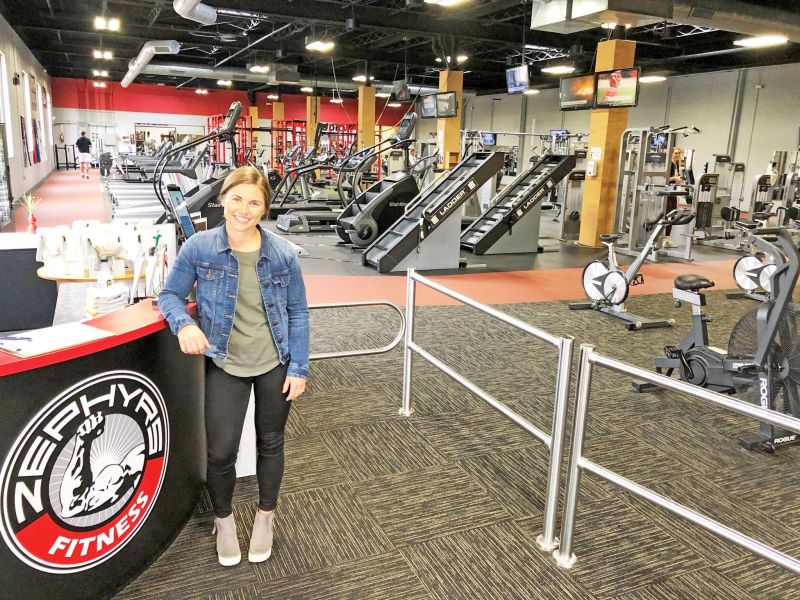 Longtime Zephyrs Fitness member Corey Parsons said the only thing that keeps him on a "level playing field" is going to the gym.
"It's the only way I get a sense of release," said Parsons, 32, who took a break from a workout last week to discuss what Zephyrs means to him and others in the local fitness community.
When that release was taken away for a little over two months earlier this year due to Gov. Mike DeWine shutting down gyms to help slow the spread of COVID-19, Parsons felt the loss on several levels.
"For a minute there was a group of us that had to start doing garage workouts and lifts," said Parsons, who owns Rogue Tree Solutions and Property Solutions. "When gyms got the green light to come back (in May), it was incredible how quickly everyone was back. I was concerned that a lot of people may have bought home gym equipment and wouldn't come back, but they did. As a business owner myself, I was worried how it would affect Zephyrs."
Lexi Nussbaum is the general manager of fitness facilities within Jarrett, which her dad Mike Jarrett owns.
Nussbaum oversees Zephyrs Fitness, 1330 N. Main St. in Orrville, as well as CrossFit Orrville located next door.
There has been close to a 100% return to the numbers before the shutdown at CrossFit Orrville while Zephyrs is just a shade below that, Nussbaum said.
"Attendance-wise we're pretty close to where we were at Zephyrs," Nussbaum said. "What will really tell is when we get back to January and some of the memberships expire. How many people will renew? That's kind of hard to tell. I'm expecting January 2021 to kind of be the telltale sign of how COVID really affected us."
Immediately upon walking into Zephyrs and Orrville CrossFit, two things really stand out: the cleanliness and impressive size of the facilities.
"We've taken a lot of extra precautions since reopening, but we've always been a very clean gym," Nussbaum said. "When something like this happens, everyone freaked out to try to find cleaners, and we already had a stockpile. We didn't have to worry about that because we're already good at that."
Zephyrs is a 14,000-foot, 24/7 facility, and its website at www.zephyrs24.com says the facility "has something for everyone."
The highlights include an indoor MONDO track, indoor turf, fitness studio, free weights, powerlifting area, Life Fitness equipment, treadmills, spinner bikes, ellipticals, arc trainers, Jacob's ladder and rowers.
For CrossFit, there are nine adult classes per day. They also have CrossFit kids classes ranging from grade school through high school.
Beccah Roth and Zach Glaser are Level 1 CrossFit trainers while Nussbaum is a Level 2 trainer. Classes are offered throughout the day, starting at 5 a.m. and wrapping up with a 6:30 p.m. group.
"We've almost doubled the number who dropped off (due to COVID-19)," said Glaser, who graduated from nearby Northwestern High School. "I think a lot of people are coming back and getting back into it, which is awesome. We limit our classes to 16 people for adults and 12 for kids. Everyone's staying safe and respecting everyone's distance. If they feel comfortable wearing masks, they do, but we don't require it during the class because they're spread out."
For the most part, Nussbaum said the Zephyrs and CrossFit members comprise a demographic of like-minded, physically active people.
Once Nussbaum and company were able to communicate their plan for reopening, the gym members' reactions were almost all favorable to returning, she said.
"We were very proactive in stating what we were doing as a team," said Nussbaum, a former standout athlete at Orrville who holds the University of Toledo school record in the pole vault. "We pulled out some equipment — and it's still in storage — so that things are more spaced out, especially in our cardio area. We gave every member their own hand sanitizer, spray bottle and towel so people aren't mixing and grabbing each other's stuff. We've always taken great pride in operating a clean facility, so much so that some people call us 'the clean place.'"
On the CrossFit side, white lines were placed on the floor to give members 10-by-10 squares.
"We have a ton of space, and we're really clean," Nussbaum said. "What more could you ask for right now?"
Zephyrs started as a "dungeon-like gym" below Sam's Pizza in Smithville, according to Parsons. Mike Jarrett enjoyed working out and the health benefits so much that he bought Zephyrs and moved it to its current location in 2012.
Parsons started working out at the Smithville location when he was in eighth grade.
"It was as dirty as it gets," Parsons said. "You'd be working out, and stuff would be dripping out of the pipes in the ceiling. There were some really strong, good guys who worked out there, and that's how I got into powerlifting."
Zephyrs has won over Parsons and countless other members in a new way since reopening in May.
The "clean gym" has offered the best kind of therapy for Zephyrs and Orrville CrossFit members during a difficult 2020.
Aaron Dorksen can be emailed at aarondorksen24@gmail.com. Follow him on Twitter at @AaronDorksen.