Army officer surprises her children in return from duty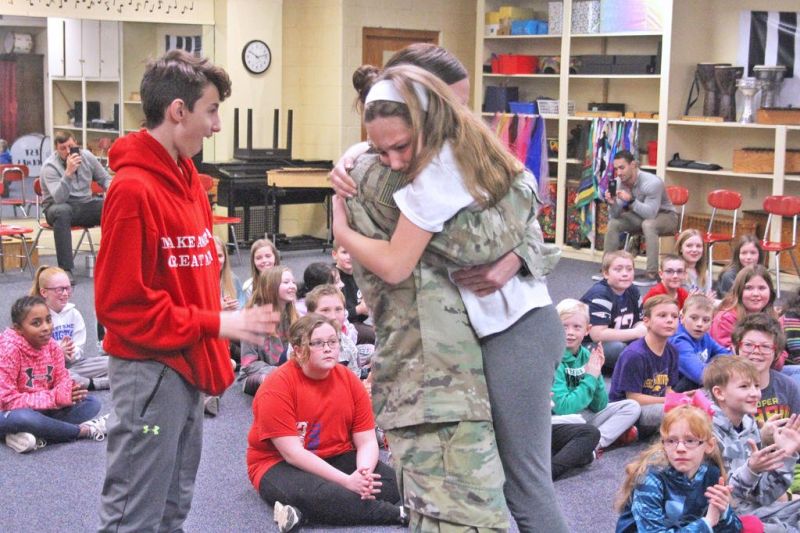 It is difficult for any parent to leave their children behind at home for long stretches of time, but for Michelle Camacho, the calling to serve her country has forced her to do just that.
Facetime and phone calls can't take the place of being away from her children, Keegan, an eighth-grader at West Holmes Middle School, and Kayla, a fourth-grader at Millersburg Elementary.
The children connected with their mother almost daily while she served in Afghanistan the past 4 1/2 months, but while they were expecting her to return late this February, they got the surprise of their life when their mother entered their respective classrooms on Wednesday, Feb. 5 to greet them.
"I couldn't sleep last night," Camacho said in waiting for the morning so she could surprise her children. She wanted to come home for Keegan's game Tuesday night, but bad weather delayed her flight and she got in early Wednesday morning.
Camacho is a cyber warrant officer in the United States Army, enlisting one year after the events of 9/11 and has been a cyber warrant officer for the past six years.
"I was actually going to school to become a school teacher before 9/11 happened, but when that tragedy struck, I had the calling to do something bigger than what I am, so I decided to enlist. It is definitely an honor to serve my country, but I definitely miss being with my children every single day I am away. I just see this time in my life as a new adventure," Camacho said.
Camacho went to Afghanistan in September of last year. In the span she has served there, she has missed Halloween, Thanksgiving, Christmas and New Year with her children. She wasn't going to miss her daughter's birthday.
"When I was deployed, it was the hardest thing I've ever done," Camacho said. "So this homecoming is really the greatest thing to experience."
Camacho made her initial stop with Keegan before they both traveled to Millersburg Elementary to surprise Kayla. That both she and the schools were able to keep the homecoming a secret speaks volumes as to how important and how special this event was.
"I was really surprised and shocked to see her," said Keegan, who, like most middle school boys would try to do, hid his emotions when he saw his mom. "I had no idea. We miss her a lot when she goes to serve, but we understand, and she has been a huge inspiration for us to keep on doing our very best every day. I'm just really glad she's back now."
While Keegan was able to contain his joy, Kayla didn't even try. Her fourth-grade class gathered in the music room at school for what they thought was a discussion on the upcoming school blood drive.
Instead it was a set-up as principal Renee Woods led the discussion about serving others, which eventually led to Kayla talking about her mom. It was then Camacho walked in, and Kayla wasted no time in sprinting to her mother and leaping into her arms for a lengthy hug. More than a few tears were shed by plenty of people who witnessed the event.
Camacho said missing out on all of the simple, little things that a parent shares with their children are as difficult as the big events. Not being there for Keegan's basketball games or Kayla's cheerleading has been difficult.
As part of a special operations command, Camacho served as the mission commander. Even the absence of cooking for her kids, something she cherishes, leaves a big hole in her heart.
"You get videos, but it isn't the same as being there for them," Camacho said.
As a cyber warrant officer, Camacho is involved with integrating and synchronizing offensive cyberspace operations by targeting enemy and hostile adversary activities and capabilities, as well as conducting defensive operations to protect data, networks, net-centric capabilities and other designated systems. They are responsible for detecting, identifying and responding to attacks against friendly networks with other lethal and nonlethal actions that enable commanders to gain an advantage in cyberspace, across all domains.
That has become a key role in the Army's ability to protect and serve their nation and its people.
Perhaps her job as a cyber warrant officer helped her plan this kind of a sneak attack on her children, albeit a sneak attack that was designed to create pure joy.
"It's time to just enjoy being with one another for as long as we can," Camacho said. "I can't wait to do all of the things I have been missing."
While her re-employment plans are up in the air, Camacho said it is possible she will head back to Afghanistan this coming September. Until then she will bask in the joy of spending as much time as she can with her children.
"We are going on a cruise for spring break, and we will be making up for lost time," Camacho said. "I know I can never get that time with my children back, but I can do everything possible now while we are together. My hope is that everyone understands that what I have chosen to do is bigger than me and that they believe in the sacrifices we are making."