Arts center presents Experience Guatemala event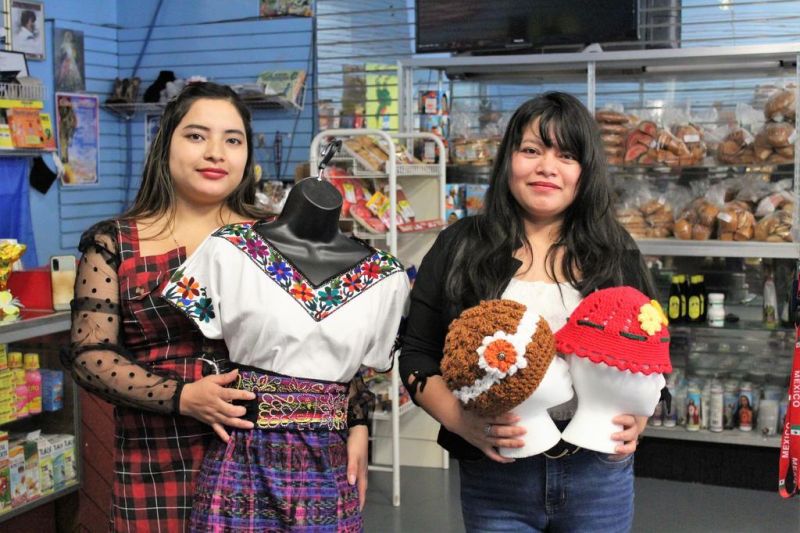 Jeannine Kennedy, director of the Tuscarawas County Center for the Arts, announced a new event at the facility, thanks to a grant from the Appalachian Community Fund. The Experience Guatemala free event will be held Saturday, Sept. 25 from 2-4 p.m. The event will feature art, crafts, music and food from the Guatemalan culture.
"I thought it would be a nice opportunity to co-mingle their community with the established community that's already here, and it would be a way to celebrate their art and give status to their work," Kennedy said.
Sherrel Rieger of Dover, a former Spanish teacher, is coordinating the event that has already gained appreciation from members of Guatemalan descent who are living in the area.
"When my sister told me there was going to be an exhibit, I felt very proud because we don't often get an opportunity to showcase the things from our country," said Paulina Ixcoy Gonzalez of Dover, who is participating in the event.
Paulina and her sister, Rufina Ixcoy Gonzalez, were both born in an area of Guatemala known as Aguacatan in the Guatemalan Department of Huehuetenango. Paulina has been in the U.S. for 14 years, and Rufina has been in the U.S. for nine years. As with most people from Guatemala, the women use two last names, one from each parent.
Paulina Ixcoy Gonzalez will have a number of paintings on display at the event. She has enjoyed painting since she was a child, but when she was in Guatemala, she didn't even have money to buy paints. Now she sells some of her work through the internet on TikTok and Instagram and at her family's store in Dover, El Sica 21, located at 310 North Wooster.
According to Rieger, people from Guatemala began to settle in the area in 1994 to find more opportunities for themselves and their families. There are three major Guatemalan languages being spoken in Tuscarawas County: Ixil, which sounds like eshiel and comes from the town of Nebaj; K'iche', which sounds like keychay and is pronounced with a long "a" sound at the end; and Aguacateco.
There are 21 languages in all in Guatemala, and they are very different. Paulina Ixcoy Gonzalez speaks K'iche', and her husband speaks Ixil, so they have to communicate with each other in Spanish.
"Sometimes when he speaks in his language, I don't understand, but little by little I am picking some of it up," said Paulina, who had Rieger as her teacher for Spanish class at Dover High School.
Kennedy plans to have someone from each of the three major language groups speak at the Experience Guatemala event so attendees can hear how each language sounds. Tuscarawas County has the largest group of people speaking Ixil in the United States.
Other pieces on display will include crocheted hats by Rufina Ixcoy Gonzalez, who learned to crochet when she was 15 and has been doing the craft for 14 years.
"I learned to do it by watching other women," Rufina Ixcoy Gonzalez said.
"All girls learn crochet when they're very young," Paulina Ixcoy Gonzalez said. "They also learn to do weaving because it is a way they can earn some money."
Rufina Ixcoy Gonzalez makes hats for girls and for women. In the area of Guatemala where the women are from, it is mountainous. They get colder weather there, so they need the hats to keep warm. Although it sometimes frosts, it never snows there.
The colorful embroidery on the traditional Guatemalan blouses is done separately on a backstrap loom, and then it is attached to the clothing. There will be a demonstration of the craft at Experience Guatemala. Rufina Ixcoy Gonzalez purchases the yarn for her crochet projects locally, but for the embroidery, she orders thread from Guatemala.
Although the men from Guatemala don't necessarily continue dressing traditionally, many of the woman still do in the colorful clothing, which can signify which area they are from. Traditional Guatemalan clothing will be on display at the Experience Guatemala event, along with at least one painting from another artist that features a traditional couple in their village.
"People are loaning me their outfits, and I'm going to put them on display there, and I have the three major language groups," Rieger said.
Kennedy recalled a story from the early 1980s where a Guatemalan-made wallet she was given as a gift was recognized at a travel plaza by a cashier who was thrilled to see something that was made in her village.
A mariachi band will play at the event, and a popular Guatemalan food, chuchitos, will be served. Also being served is a corn drink called Atol and a bread called cortadillo. The Guatemalan art will be for sale at the event, and the exhibit will be on display for two weeks afterward.
Kennedy is looking forward to the event.
"We're seeing all kinds of signs — with their tiendas and seeing people in public in traditional dress — that people from Guatemala are here, but we're not seeing their art. It's going to be nice to celebrate their culture," Kennedy said. "We appreciate the Appalachian Community Fund for giving us the grant."