Ashery Country Store receives Chamber's Medium Business honor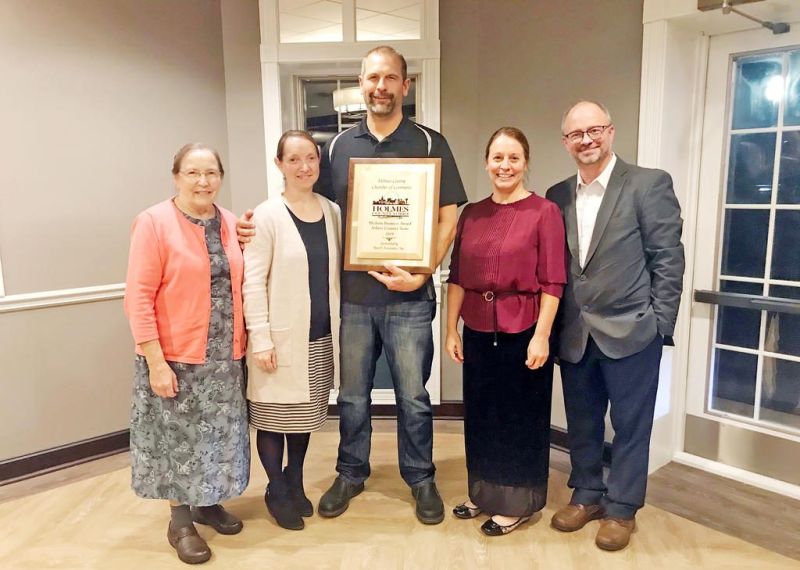 When Cecil Yoder took over the Ashery Country Store that was run in a neighbor's basement near Mt. Hope in the late 1960s, he saw a lot of potential and envisioned an opportunity to make people's lives better through not just selling great products, but also through making their shopping experience memorable by building relationships.
After moving the Ashery to its current location 1 mile north of Mt. Hope along state Route 241 in 1979, Yoder's dreams of building a bulk-food store built on the foundation of service and relationships began to take root.
Four decades after that move, Ashery Country Store has grown into a staple of the Amish Country community, expanding time and again, growing in products while always maintaining the attitude its founder had instilled in all of his employees.
On Thursday, Nov. 7 at Carlisle Village Inn at Walnut Creek, Yoder's son and owner Curt Yoder accepted the Holmes County Chamber of Commerce Medium Business of the Year award on behalf of his family and employees.
At the heart of the Ashery is a desire to create an enjoyable shopping experience for visitors through tasteful experiences.
"Cecil Yoder committed himself to customer care as well as to his faith and family," presenter Chris Roush of award sponsor Rea & Associates said. "When Curt Yoder purchased the store from his mother [Freda] after Cecil's passing in 2004, he maintained Cecil's legacy through the same honor to God and family. Honesty, integrity and love guide the Yoder family in their lives and in their service to customers."
Several major overhauls and additions have resulted in the Ashery becoming one of the area's top bulk-food stores. It boasts in-season fresh produce, its own brand of snacks, a large deli counter, aisles of baking and cooking items, a fresh spice wall and more.
Roush said the Ashery provides both locals and tourists with an opportunity to purchase quality product at discount prices.
Roush said the Yoders and their employees treat every day as an opportunity to connect with people in real and meaningful ways that go well beyond the simple act of selling them a product.
"They celebrate the positive growth of their food store with grateful hearts and seek to nurture the community through their commitment to providing affordable, quality products," Roush said.
Curt Yoder said his father's commitment to serving others and his faith and desire to make the lives of those who came through his store's front door always come to mind when he thinks about the past four decades of growing up in the Ashery. He said having a family that was committed to the same principles his dad worked so hard to create and their faith have been instrumental in their growth.
"We all have our products that we promote and sell, but at the end of the day, those things need to be done well and with excellence, but it comes down to relationships," Yoder said. "We are all in the people-serving industry. I believe that with my whole heart."
Yoder said when his wife Rhoda was diagnosed with cancer in 2010, he had to step back and take stock in what truly mattered in life.
"It was out of that experience that our vision to reach the hearts of people through tasteful experiences developed, and especially through showing people God's goodness," Yoder said.
Yoder said he was honored by the award, stating there are so many worthy businesses throughout the county that would be great choices. He said it is through his father's spirit and the people with whom the Yoder family have trusted to share Cecil's vision that they are able to continue to grow and blossom.
"Without people we really can't get very far," Yoder said. "As I think back over those 40 years, many people played a big role in our success. It is people who help you get where you want to be. If it was just up to me, we would have to close the doors tomorrow, but we have a tremendous team of co-workers. We go to work every day, we invest in people and we build a team, and our team is amazing."
Yoder ended by saying while the award was given to his store, it is more of a community celebration about what is being accomplished as a community and a county.