BDD's autumn bash is full of family, festival, food and fun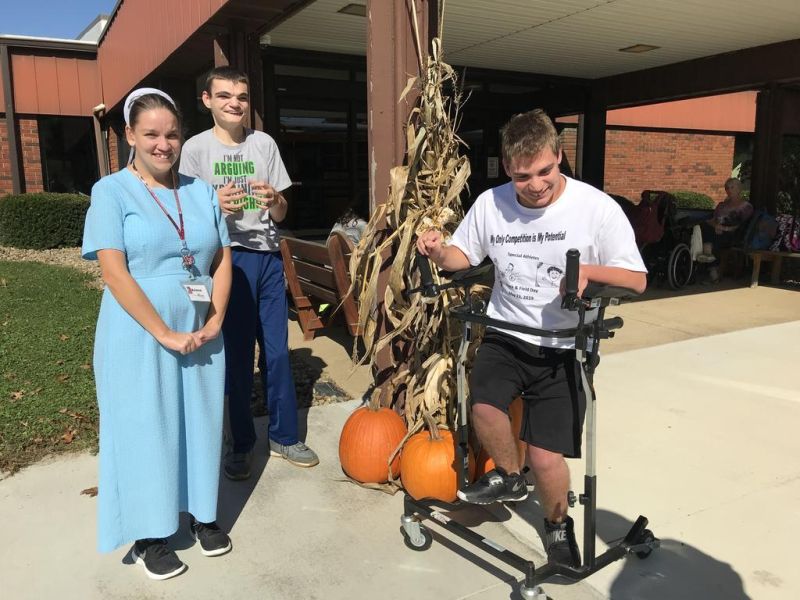 The Holmes County Board of Developmental Disabilities/Training Center will host its inaugural Harvest Festival to celebrate with the community on Thursday, Oct. 24 at the center located at 8001 Township Road 574, south of Holmesville.
The free event is open to any client or student at the facility and will provide an evening of festivities as well as a time for all of the clients and their families to develop relationships with the staff and volunteers.
The idea for the Harvest Festival arose from the success the BDD's clients had during Tim Tebow's Night to Shine, a nationwide collection of proms created for those with special needs. That event featured a prom-like celebration with a feast, a dance and entertainment including karaoke, carnival games, balloon sculptures, photo opportunities, caricature drawings and limo rides.
While patterned after Night to Shine, the Harvest Festival will be a more relaxed atmosphere.
"After we went to that, everyone wanted to do a Holmes County Night to Shine here at our place," said Marianne Mader, Holmes BDD superintendent.
Mader said they discussed that option but felt it was redundant to create something similar. Instead they decided to create the Harvest Festival.
"We wanted to create something fun and exciting for the individuals we support," Mader said. "That gives them two things to enjoy. I think in things like this there is just this electricity in the air. People are so excited that when you leave, you can't wait to do it again."
The event is open to all of the clients who utilize the facilities at the training center as well as other families in Holmes County who have special-needs members who might not be affiliated with the center. That includes special-needs students from both East and West Holmes school districts and Midwest Community Day Care.
The other aspect included in Harvest Festival is that it provides a way to connect with the public.
Mader said they would like as many volunteers from throughout the community as they can find to give time or to donate to the evening.
"It's a chance to show support for the people of special needs in our community," Mader said. "What we saw in terms of support at the Night to Shine was incredible, and we want to duplicate that and make this something special for everyone involved."
Mader said the staff has become energized by the upcoming event, and they hope that energy spreads throughout the community.
The evening will be highlighted by a dance, karaoke, crafts, games and food. If weather permits, they also will offer hay rides around the campus throughout the evening.
Event coordinator Kim Miller said the Harvest Festival will be a more relaxed atmosphere than Night to Shine because participants don't have to dress in tuxedos and dresses.
"It's more like a homecoming celebration," Miller said. "It's a fall theme, so people can come dressed in jeans, and we want to make something that is all about the people who participate."
The event will feature pizza donated from a number of local pizza shops, ice cream from Walnut Creek Foods, vegetable and fruit trays, doughnuts, cider, chicken fingers, chips, cheese and more on the menu.
With the donations received, the BDD is able to offer the event for free to the clients, their families and anyone who has a family member with special needs. Parents and caregivers also are invited, and they too will share in the evening's dining pleasures.
There will be a room available where parents and caregivers can mingle and relax, or they can volunteer to help in some way.
Miller said members of local fire and EMS departments also will be on hand with a first-aid station and to connect with the clients.
Mader said the joy that takes place in events like this is contagious, and it would be a good chance for people in the community to gain some appreciation for people with special needs as well as for what the center provides.
"When you're around some of these people, you can't help but get excited and jazzed up yourself," Mader said.
Sign-in for the event will begin at 5:30 p.m. with a dinner to follow at 6 p.m. and activities carrying through until 8 p.m. Anyone wishing to RSVP must call Miller at 330-674-8045 on or before Oct. 18.