Be SMART­: New local group advocates for gun safety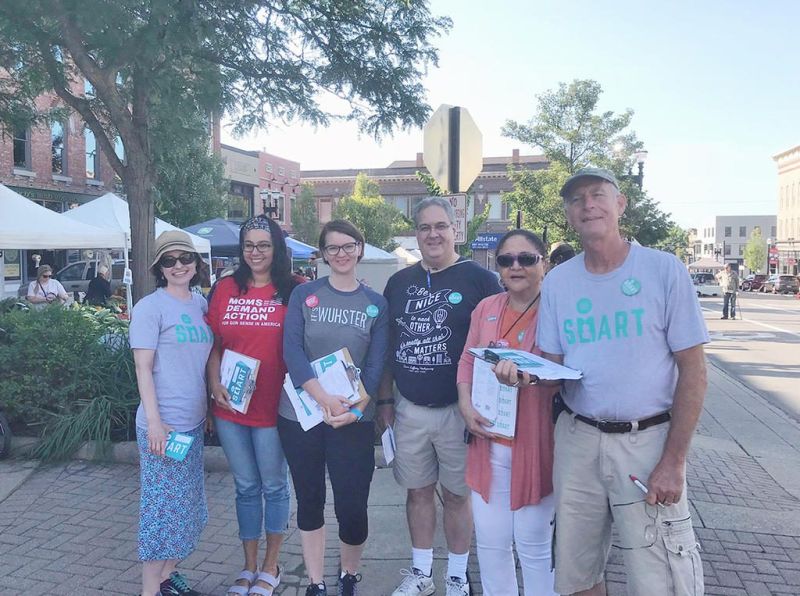 Hank Rossiter is an event lead and a presenter for the Be SMART campaign, an advocacy program launched through the national organization, Moms Demand Action for Gun Sense.
SMART stands for secure all guns in your home and vehicles, model responsible behavior around guns, ask about the presence of unsecured guns in other homes, recognize the risks of teen suicide and tell your peers to be smart.
"I have four grandchildren, three of them in school, and our country's relationship to guns is somewhat insane," said Rossiter, a member of the new Wooster chapter. "I fear for my grandchildren's safety. I am a vet, and I am a gun owner, but I felt I needed to be physically involved in some organization attempting to bring some sense to our discussions about guns and gun safety. I've lived all over the world, and most other countries don't have our problems with rampant gun violence."
The local group, which reaches out to residents within a 25-mile radius of Wooster and Orrville, started after yet another in a series of school shootings the country has experienced in recent years.
"After the Parkland shooting, Rosanna Ralston, Kelly Chandler and I felt like we needed to actively work to prevent such a massacre from happening in our community," said Wooster resident Laura Burch, a co-lead for the new Wooster-Orrville Moms Demand Action for Gun Sense group.
Burch learned of the organization through friends' posts on social media. The trio of concerned parents did some research, attended online trainings and held their first meeting of the local group in April.
"Our community and our country need Moms Demand Action," Burch said, "because we are in desperate need of common-sense solutions to the problem of gun violence in our culture. Moms Demand Action is a group of moms, dads, grandparents, neighbors and friends. We, along with most Americans, agree that we can both protect our Constitutional rights and keep our children and communities safe from gun violence."
Additionally all three women had personal experiences that led them to become moms demanding action.
"My husband is a survivor of gun violence," Burch said. "We also lost a dear friend to gun violence in July 2017. We are parents of young children whose lives we worry about each day as they go to school."
Ralston became deeply concerned by her son's response to recent violence. She said, "I knew I needed to do something when my son came home after Parkland and he wasn't phased at all by the day's events. I realized it has become the normal."
Chandler is a teacher and described how school gun violence has pervaded her work. "Not a day goes by that I don't consider the possibility of gun violence in schools. It has become part of my occupation to protect children to the best of my ability from gun violence," she said. "I am tired of feeling powerless, of relying on safety drills and procedures in the case of an armed intruder as my only defense. I'm working to keep guns out of the hands of dangerous individuals in the first place, for my children and my students." 
The group has chosen to focus on the Be SMART program, which helps adults learn how to best protect children from injury and death due to unsecured firearms. "We think this program is a good fit for our area," Burch said, "since we know that many people in our community choose to own firearms."
According to Moms Demand Action, close to 2 million children live in homes with unsecured firearms. "We also know that school shooters often use firearms they find unsecured in their homes," Burch said.
Local members like how the group brings people together around the issue. "We think most reasonable people agree that there are common-sense solutions to gun violence in our communities that do not infringe on our Second Amendment rights," Burch said. "We think gun owners and nongun owners are artificially divided into opposing camps. Moms Demand Action helps us talk together in ways that rise above the divisive rhetoric around firearms."
The Be SMART program is geared toward adults as those responsible both for the safe storage and handling of firearms and for educating their children regarding the dangers.
"We think practicing safe storage and handling practices for firearms, asking friends and family about their practices, and learning the warning signs of teen suicide should be as simple and routine as other safety measures we take for our children," Burch said.
The local group also is the grassroots arm of Everytown for Gun Safety, the largest gun violence prevention organization in the country with a broad base of bipartisan support from their over 3 million supporters.
Members of the new local Be SMART group are available to speak with any interested individuals or organizations. Email Rossiter at mrossite@ashland.edu for more information.
Meeting and event details for Moms Demand Action and Be SMART are available online at www.momsdemandaction.org.
For information about joining the local group, email Burch at lauraburch@gmail.com or Ralston at rosannaralston1@gmail.com.
Group member Pete Regan shared his reason for joining the local Be SMART campaign. "I have two children in school, and they do intruder drills as if they lived in a war zone. This is not normal."
Burch said, "We keep medicine out of reach of toddlers, ask about pets or pools when our kids go on play dates, and teach our teens about the dangers of texting and driving. Promoting firearm safety is just another way we keep our kids and teens from harming themselves or others."
For more information about Be SMART and to take the Be SMART quiz, go to www.BeSmartForKids.org.