Beach City Baby coming to Harry Clever Field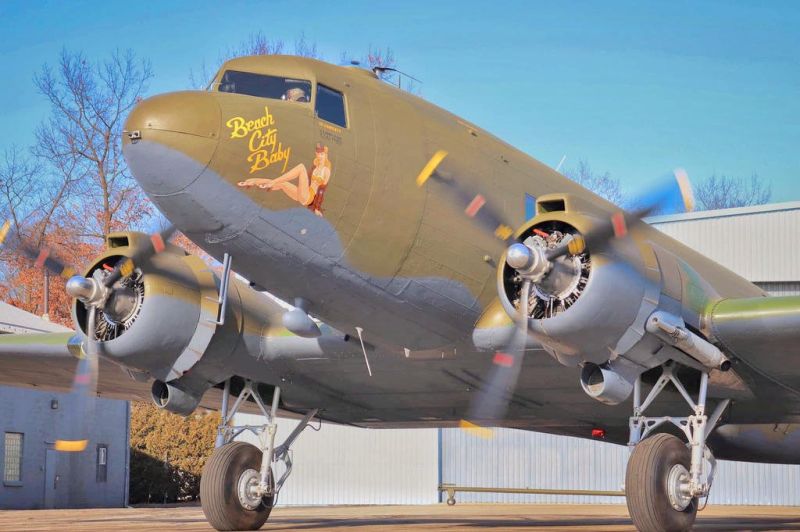 For 24 years the retired old WWII aircraft lay dormant and loafing on a grassy airfield in Beach City. Now the Beach City Baby, a Douglas C-53 Skytrooper dating to 1942, has been restored and is taking to the air again.
The aircraft is coming to Harry Clever Field in New Philadelphia for a special event on Saturday, May 28 from 9 a.m. to 5 p.m. and Sunday, May 29 from 7:30 a.m. to 5 p.m. when visitors can tour the plane and learn its story.
Randy Maley is president of the local chapter of the Experimental Aircraft Association and an organizer of the event. Maley said the plane is now fully restored and operational, a project that took seven years to complete. "In fact," he said, "they had the plane in the air twice this past week to fully check things out. It was in pretty good shape when they started restoring it, and it's in great shape now."
As it sat through the seasons in Beach City since the early 1990s, the Beach City Baby was partially stripped, though it had a functioning engine.
The plane is a militarized version of the Douglas DC-3 and was being built as a passenger plane just as the attack on Pearl Harbor on Dec. 7, 1941, drew the United States into World War II. Work on the plane was stopped and soon after resumed as it was outfitted for war service.
The big plane flew missions in France, Italy and South Africa, then became a corporate transport following the war. In time it served as a transport plane for Ohio Gov. James Rhodes until it was parked in Beach City.
Just over seven years ago, it was purchased by Jason Capra of the Pennsylvania vintage aircraft restoration firm, Vintage Wings, where it has undergone a complete restoration.
"Everything was taken apart," Maley said, "and either repaired or replaced. It's had fresh paint and looks and flies as it did in the war."
The interior of the plane reflects the jobs it has performed since being built 80 years ago.
Tours of the plane will be offered for a freewill donation. A pancake breakfast will be served Sunday from 7:30 a.m. to 1:30 p.m. for $8.50. Proceeds from the breakfast will help fund the local EAA. The plane will arrive Saturday and fly out Sunday afternoon.
The plane tours with staff dressed in vintage wartime uniforms to create a fully immersive learning experience. When visiting the plane now, it is "not just a silent and empty cabin," according to Vintage Wings, "but a step into the past."
Beach City Baby served throughout World War II, first in battle and then as a transport plane, a job which almost ended in disaster in May 1942. The plane was flying with a dangerously front-heavy configuration and landed in Casablanca, nearly upended on its nose.
The children of one of the late crew members that day were able to visit and tour Beach City Baby in 2021 during a fly-in to Franklin, Pennsylvania.
Learn more about the restoration of the Beach City Baby aircraft at www.vintagewingsinc.com. The Experimental Aircraft Association is at www.eaa.org, where you can search for local chapters and events.
Harry Clever Field is located at 1834 E. High Ave. in New Philadelphia.