Board of DD students share appreciation for linemen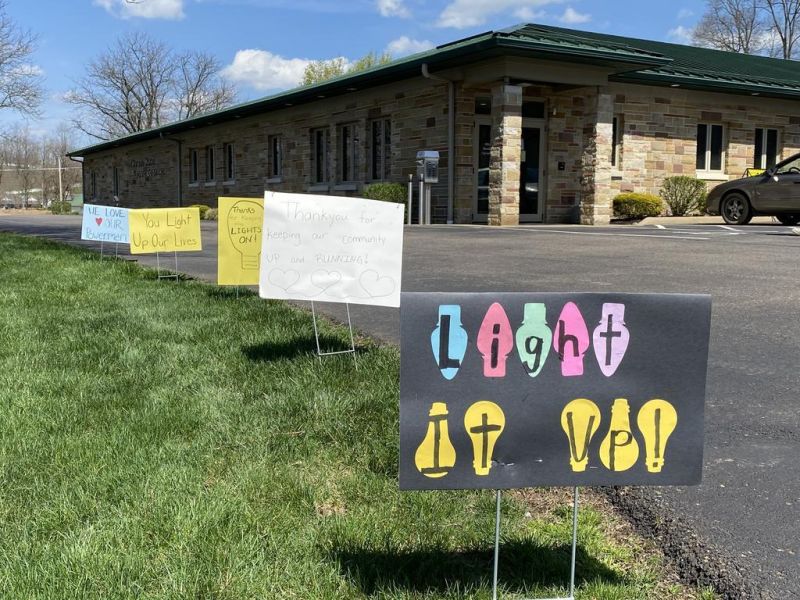 The Holmes County Board of Developmental Disabilities transition class has made a point of creating new ways to reach out into the community by investing their time and talents into various nationally celebrated days.
One such opportunity arose recently when bus driver Dave Crilow approached teacher Kim Miller about National Lineworker's Day. Miller said she had no idea such a day existed, but it made perfect sense for her class and the entire facility to get involved in a celebration because Holmes-Wayne Electric Cooperative is a stone's throw away from the Board of DD training center.
In celebrating the day, the students throughout the school made yard signs and thank-you cards for the linemen, placing the signs and delivering the cards on Tuesday, April 13.
"The idea of doing something for Holmes-Wayne Electric was fantastic," Miller said. "They are right next door, and we were excited to be able to share our appreciation with them in this way."
Miller said the center thrives on sending its students out into the community whenever possible, and the students were excited to get outside and share their artwork.
"We love stepping out into the community whenever we can, and being able to show our appreciation or lend a hand where we can is always good for our students," Miller said. "And oftentimes, we fail to recognize the important role these linemen play in our community. They are the ones who keep our lights on and make sure we are all safe and warm."
The effort was not lost on the members of Holmes-Wayne Electric. Robyn Tate, human resources and community relations director, said seeing these acts of kindness is always uplifting to everyone.
"We've always strived to be very involved with the community, and this is something that will be very special for our linemen," Tate said. "The students did an amazing job, and we appreciate when people take the time to show their appreciation for our people. Being a part of our community is something that we truly love."
While it may be a small gesture, when it comes from the heart, little actions can speak volumes, which is exactly what the students did in this situation with markers, pens and paper.