'Boots, Buckets and Barrows' brings humor to Kidron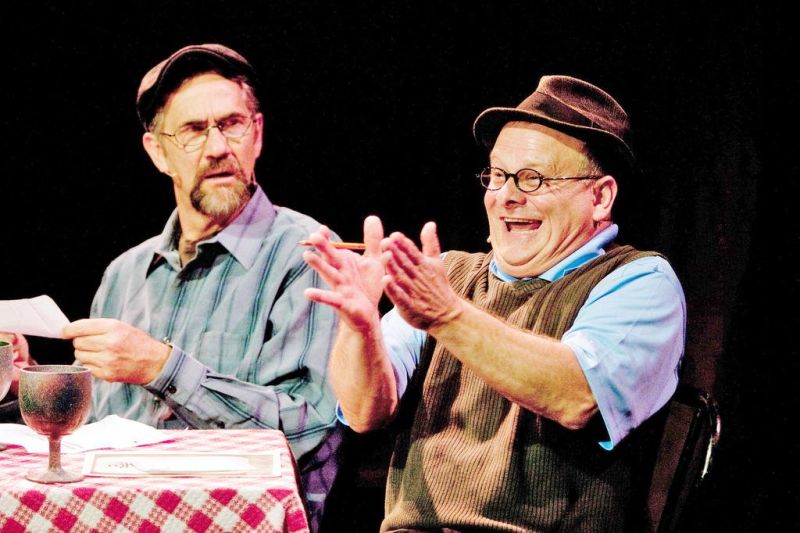 Ted & Company TheaterWorks, together with campaign partner, Mennonite Disaster Service, will present "Boots, Buckets, & Barrows," an interactive, live play and auction at Central Christian School in Kidron on Saturday, Sept. 21 at 6 p.m.
Led by veteran actor Ted Swartz, Ted & Company TheaterWorks uses humor and professional storytelling to talk about issues of faith and social justice through live shows, DVDs, digital videos, scripts, discussion guides and more.
This event is based on the original play, "The Jesus Stories," written and performed by Swartz and Jeff Raught with music written and performed by Swartz.
The event will feature the play, interrupted several times by an auction led by Swartz and Raught. It will be an evening of laughter, reflection, theater, community building and raising funds for the work of MDS, which rebuilds homes and hope for those affected by natural disaster and climate change. All funds raised during the auction will benefit MDS.
"With the hurricane coming in and the many other disasters MDS deals with, funds are as critical now as they have ever been," event coordinator Jennifer Hartzler said.
"The Jesus Stories" brings patrons into various Gospel stories of Jesus gathered around tables. There was food to eat and food for thought, exploring who was invited to those tables and who showed up. The miracles of Jesus were sometimes ordinary stories with extraordinary results. Swartz and Raught offer a fresh look at these stories, blending humor, original music and reflections on age-old stories.
"They basically take parables from the Bible and turn them into updated stories that are humorous and touching, but they fit in to today's world," Hartzler said. "They are extremely entertaining, and this is just a great, family-friendly night of entertainment for a really great cause."
Oak Grove Mennonite was the first to volunteer to sponsor the show, but it didn't take long for other area churches to get on board as well.
Admission is free and open to the public. Come prepared to bid. The event is hosted by a coalition of Mennonite churches from Wayne, Summit and Holmes counties.
MDS is one program of the Mennonite Church. Its mission is to help others during their time of need. MDS leaders and crews go where they are needed and when they are needed.
MDS will have its new storm trailer onsite. The storm trailer has video from the 2007 Greensburg, Kansas tornado, where an EF5 tornado devastated the town, leveling at least 95 percent of the city and killing 11 people between the age of 46 and 84. It shows the work of MDS firsthand.
Patrons also can purchase bake sale items and inspect various 5-gallon buckets filled with items to bid on.
"We've got some really neat baskets that were donated to the cause including a Swiss Village basket, a Ramseyer Farm family basket with passes for the entire family and a really neat camping basket among the several we will be auctioning off throughout the evening," Hartzler said.
Tickets may be purchased the night of the event. For more information call Hartzler at 765-564-3313 or email J Hartzler@gmail.com.
Central Christian School in Kidron is located at 3970 Kidron Road.