Branches Worldwide to host live stream online benefit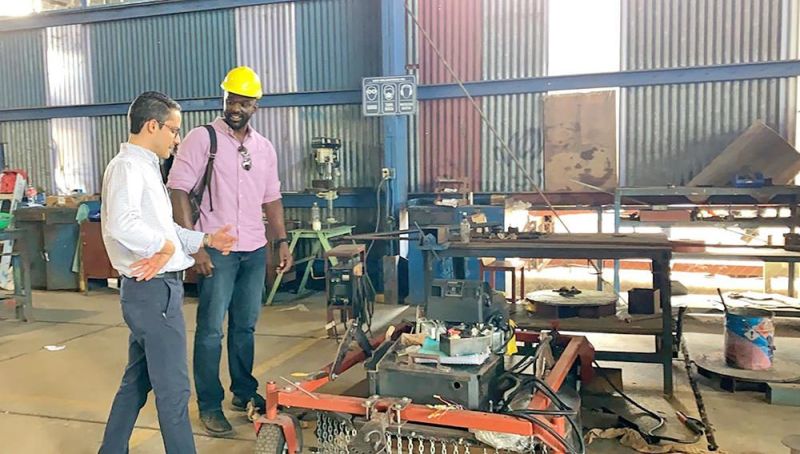 The team at Branches Worldwide was ready to roll out the red carpet and share its vision for 2021 and its success stories from 2020 with patrons at its community fundraiser banquet on Nov. 21.
Those plans changed when the event had to be canceled due to COVID-19 concerns, but that hasn't stopped the organization that is in the process of connecting with and mentoring 30 leaders in 30 different countries worldwide.
Branches Worldwide will instead host the live-streaming event, Branches Worldwide Online Benefit, on Dec. 5 from 7:30-8:30 p.m. on its Facebook and YouTube channel formats. The current sponsors and the public are invited to join and hear inspiring stories from BW's international leaders and learn more about where the organization will turn its focus in 2021.
"It was a difficult decision, but it was one we felt we had to make," said Dan Owolabi, executive director of Branches Worldwide. "Even though we won't be gathering in person like we had hoped, we will still be able to share our hopes and our vision, as well as share our stories with the four leaders we have already connected with in year one of our efforts."
Branches Worldwide was the creation of Brian Miller, who felt led to find ways to connect with blossoming Christian business leaders throughout the world. He brought on Owolabi to be the director and key contact person between BW and the leaders.
Owolabi now travels the globe to make connections with young entrepreneurs who the organization feels are a strong fit with their business model and their faith.
In its first year of reaching out into new countries, it was a struggle as COVID-19 limited the number of countries the team could visit and made international travel difficult. However, the team did manage to bring on four leaders, hailing from the Dominican Republic, Jamaica, Costa Rica and Nicaragua.
"The fact that we were able to work through the pandemic and confirm four different leaders was a huge step for us," Owolabi said. "We got to physically go meet with them, sit down at their tables, and break bread with them and learn firsthand about their businesses. It was great progress for our first year, and we have already set a goal of teaming up with 11 new business owners in 2021."
Owolabi said they find prospective businesspeople through research and word of mouth and begin doing their homework to find out as much as possible about each person and their business before even connecting with them. That is followed by countless phone calls and Zoom meetings, all necessary to find out if the business owner is the right fit.
Owolabi said these connections have led them to some incredibly gifted and unique Christian business leaders who have been an integral part of their community's livelihood. He said they have done enough research and communicating that by the time the BW team gets to a destination, the chosen people are eager to become a part of this growing movement.
"It's really exciting and fun to watch when God ordains an idea," Owolabi said. "He just pulls you along. Doors have been opening. We have mentors lined up, and there are some exciting things taking place."
A recent trip to Costa Rica showcased exactly what this connection means to the people whose lives are being uniquely touched. Owolabi said he made the 40-year-old leader an offer to join Branches Worldwide, and the man began to cry immediately.
"For these leaders, to be part of a global movement of Christian leaders, they are excited to be all in," Owolabi said.
Owolabi went on to talk about the relationship part of the process and said once the leaders are chosen, the team will spend weeks working with them closely before pairing them up with a mentor. In addition to working with the team, each of the new leaders has been excited to connect with the other leaders that have joined the team.
"It's been neat to see that part of the process develop because they know they aren't alone in this endeavor," Owolabi said. "We just started an international prayer meeting over Zoom, and even though our leaders all lead busy lives, they are willing to stop and pray for others."
The faith aspect of BW is a huge component of what it hopes to achieve. Owolabi said the leaders need to articulate how they are using their business to honor God and serve others in their communities. He said a willingness to share their faith with others is vital.
These leaders will share their stories during the streaming, sharing what this connection has meant to them. Owolabi said those who tune in will hear some inspiring stories from the leaders.
The live-stream event will give people a chance to not only see what is taking place, but also will serve as a way to support this mission financially. People and businesses will be given an opportunity to show their support, and in addition, the Jamaican leader has added a bonus. Anyone who donates $75 each month will be put into a drawing for a Jamaican vacation worth several thousand dollars.
Anyone interested may log on to the Branches Worldwide Facebook or YouTube pages, or they can donate directly to www.branchesworldwide.org.