Canine therapy can make difference in people's lives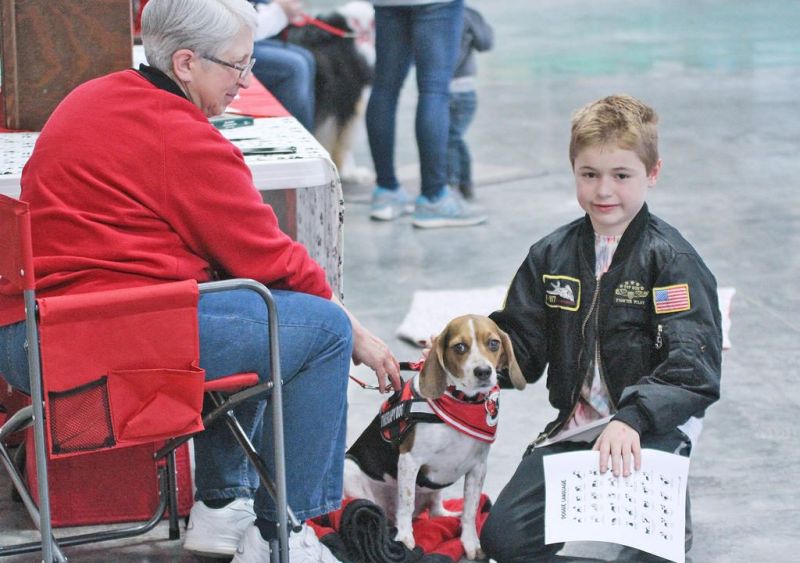 The healing power of having a dog for therapy is one that many people might not think about when it comes to relieving oneself from the daily stress and angst of life. The bond between a dog and a person is one that can improve people's lives in ways that sometimes humans can't.
Through connecting with dogs, people have learned how to triumph over chronic pain, paralyzing phobias, sedentary lifestyles and life-threatening conditions, proving the best medicine might be that four-legged friend that doesn't judge and can help bring peace into people's lives.
Caring Therapy Canines of Wayne County is an independent, nonprofit, social therapy dog organization dedicated to promoting therapy dog visits and animal-assisted activities to the local Wayne and Holmes communities.
The CTC has close to 60 members, most of whom own one therapy dog, while a few members do have more than one. Those members have grown to realize something very important about the healing capabilities of these furry friends.
"Dogs are nonjudgmental, they are loving and kind, and while people often judge by the outward appearance, dogs don't do that," member Rita Boyd said. "They are loving and accepting to those who are willing to let them be their friend."
CTC members have visited people who have experienced the benefits of dog therapy including lowering blood pressure and relieving stress. Members have often gone to colleges, like the College of Wooster, where they visit during finals week with students who are under stress.
"It gives the kids a chance to just relax and hang out for a few minutes to take their minds off of the stress they are under, and the dogs have an amazing way of helping them calm down and refocus," Boyd said.
The list of ways therapy dogs can touch people's lives and improve their mental, physical and spiritual outlook on life is varied, and over the years members of CTC and their dogs have played many different roles in bringing joy into people's lives.
The group continues to look for more members who want to become part of the CTC family.
"We provide support for all volunteers who have registered therapy dogs," Boyd said. "We have this big family of people who love the company of dogs and who understand how therapeutic dogs can be in people's lives."
All of the club's members have their dogs tested and certified through the national organization, Alliance of Therapy Dogs, which also supplies them with insurance for visitations.
Those visitations include nursing homes, schools, prevention programs that teach children how to be safe around dogs, reading programs at local libraries and hospice, and they try to attend as many functions as possible where they can share about what they do and the important role therapy canines can play in people's lives.
In order to become a therapy dog, a dog should be able to pass a therapy dog test that includes being able to adhere to commands like sit, stay, down and come.
They also must be able to accept a friendly stranger and being petted by a stranger, accept children and the elderly, be clean and well groomed, walk close on a loose leash, walk through a crowd of people, be neutral or mildly positive to another dog, recover well from startling distractions, not panic during group hugs or restrained hugs, put up with angry yelling and getting bumped, leave food alone on command, and be able to handle wheelchairs, walkers and crutches.
"Canine therapy is a win-win-win situation," Boyd said. "I win because I get to spend time with my dog; my dog wins because she gets to go out, meet new people, and go new places and visit with others; and the people win because they get the joy and the comfort of having a dog around them that can be very therapeutic."
CTC welcomes new members who do not currently have a therapy dog but are interested in the organization and support its cause.
Any breed of dog is able to qualify as a canine therapy dog, as long as it is loving, works well with its owner, gets along with people and qualifies by meeting all of the standards. Each dog must complete testing and then pass three supervised visits.
Anyone desiring to become a therapy dog owner or those who have questions can visit the CTC website at www.caringtherapycanines.com or visit www.therapydogs.com for more information.