13th annual Beet Festival Oct. 16 at Sonnenberg Village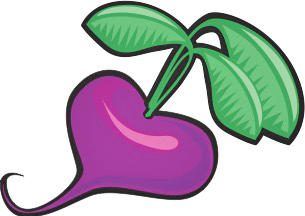 When it comes to that hearty red or purple root vegetable known as the beet, most people either love it or hate it.
Everyone will turn in to a beet lover on Saturday, Oct. 16 during the celebration of all things beets at Sonnenberg Village from 9 a.m. to 2 p.m. as the 13th annual Beet Festival takes place.
Free and open to visitors, attendees are invited to honor the beet at this festival that will feature live music, food and even beet ice cream, Beet Festival organizer Ray Leisy said.
"Beets get a bad rap, but they are really good for us, and we need them in our diet," Leisy said. "The Beet Festival was begun in 2009 in Kidron by Keith Schloneger at his ice cream stand to promote the propagation of the German Lutz Beet by giving free beet seeds to his friends and neighbors. Many returned to show him the beet they had grown, some of which weighed 15 pounds or more. The German Lutz Beet appeared in German-speaking parts of Europe in the Middle Ages and was grown to great size while remaining tender. They provided a stable diet throughout the harsh winters.
"The early Beet Festival included only the Lutz Beet. When the festival moved to Sonnenberg Village in 2014, additional categories were added."
Those interested in having their beets judged are welcome to enter in the following categories: Largest German Lutz Beet, Most Luscious Lutz Beet, Best Organic Lutz Beet, Best Heirloom Beet (all other beets), Best Salad with Beets, Best Appetizer/Side Dish Using Beets and Best Dessert Using Beets. Entries are due starting at 9 a.m. and end at 11 a.m. when judging begins. Prizes will be awarded at noon to winners in each category.
A smaller, scaled-down version of the Beet Festival was still held in 2020, but due to the COVID-19 pandemic, Leisy said attendance was rather low and kept to a minimum on purpose, with only those in the "beet circle" attending last year's event. This year everyone is welcome to join in the beet festivities, but precautions to combat the coronavirus will be taken, Leisy said.
"Last year we did still hold the festival, but we didn't do any of our usual advertising, and we just kind of let our beet people know we were doing it," Leisy said. "Things sort of went under the radar, so now we can kind of come back in full force but with restrictions of course. We just want to reach out to everyone who wants to come out in celebration of the beet."
Both the Sonnenberg Church food and the Schloneger ice cream wagons will open for business at 10 a.m. All Sonnenberg Village buildings — including the blacksmith shop that hasn't been in operation since 1964 — will be open for operation and demonstrations starting at 10 a.m. Orrville's Rob Gregory will present entertainment throughout the day with his calliope. Music will be provided beginning at 10 a.m. by the Stout Suzuki Studio Players, followed by Down and Kraut from Canton at noon.
Visitors to Sonnenberg Village on Oct. 16 don't have to claim beets as their favorite food to enjoy the day, Leisy said, because undoubtedly there will be something fun for everyone of all ages at the Beet Festival.
"I Googled beet festivals a while back, and this is the only one I could find in the entire United States," Leisy said. "We are prepared to welcome people and open back up to just have a really great day."
For more information on this year's Beet Festival, call Sonnenberg Village, located at 13497 Hackett Road in Apple Creek, at 330-857-9111 or visit its website at www.kidronhistoricalsociety.org.